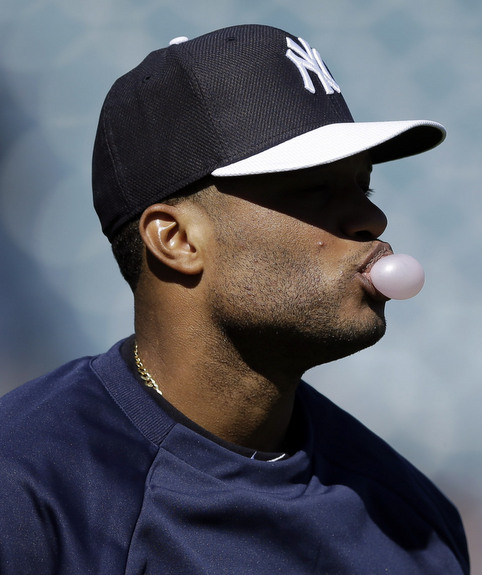 As I said in the second base preview this morning, Robinson Cano's impending free agency is the cloud that's going to hang over the Yankees until he signs a new contract, one way or the other. Brian Cashman admitted the team has already made a "significant offer" in an effort to retain their second baseman, but Cano didn't hire Scott Boras to take the first offer. The two sides will undoubtedly continue to talk right down to the very end.
The Yankees have already broken their policy of not signing a player (or coach or executive) to a new contract until their current one expires once for Cano and they're obviously willing to do it again. The primary advantage to breaking the policy is avoiding a bidding war, which could escalate quickly thanks to the suddenly free-spending Dodgers. You can be sure Magic Johnson & Co. will make a serious push to sign Robbie after the season if he hits free agency, and that is the kind of bidding war no team wants caught up in.
The other advantage of signing Cano before he hits free agency — and specifically this month before the season starts — has to do with their plan to get under the $189 million luxury tax threshold by next season. The Collective Bargaining Agreement is a bore to read and a nightmare to interpret, but Joel Sherman explains contract extensions are added to whatever is left on the the player's existing contract to create a new total for luxury tax calculation purposes. Rather than giving Cano a new contract after the season with whatever average annual value, signing him right now would include his 2013 salary — a paltry $15M compared to what he will earn in the future — and one more year to the extension, dragging down the annual average value (and luxury tax hit).
Just as an example, let's say the Yankees sign Cano to Mark Teixeira's contract, meaning eight years and $180M. I'm just using that as an example, I'm not advocating it. If they give him that deal after the season, it's a straight average annual value calculation: $180M divided by eight years equals a $22.5M luxury tax hit. Now, if they were to give him that deal this month before the season begins, the average annual value of the contract would be $195M (new contract plus his 2013 salary) divided by nine years (new contract plus 2013), or $21.7M annually. The difference isn't much in the grand scheme of things, but $800k is room for that one extra bench player or middle reliever under the luxury tax threshold.
That is just one example and obviously the numbers would change depending on the contract. Things would have been much better had the Yankees managed to sign Cano before last season — his luxury tax hit with that new eight-year, $180M deal would have been $20.9M had he signed it prior to 2012 — but Boras would have never let that happen. He wouldn't have had much leverage in talks and that's the name of the game here, creating leverage to get the biggest contract possible. Would have been a nice way to save some room under the luxury tax threshold for 2014 and beyond, but alas.
I don't expect the Yankees to sign Cano to a new contract this month but I don't think there is zero chance of it happening. It would surprise me though, you can count the number of big-name Boras clients to skip free agency in favor of an extension on one hand (Carlos Gonzalez, Jered Weaver, and … ?). The club would save a tiny bit of space under the luxury tax threshold by signing Robbie this month, not to mention any money they would save by avoiding a bidding war with the Dodgers. There are several reasons for New York to try to hammer out a deal in the coming weeks, but I don't expect Boras to make things easy.