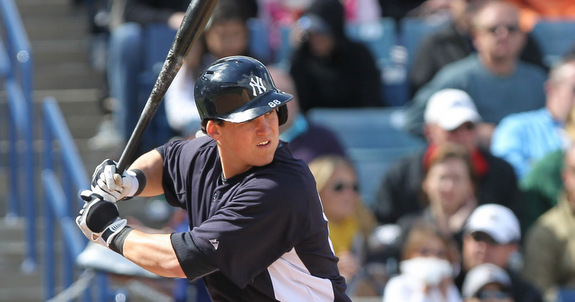 The Yankees opened their regular season on Monday afternoon, and the club's four full season minor league affiliates will do the same tomorrow night. Given the recent increase in long-term contract extensions for star players, the Yankees will need their farm system to start producing more big league players in the very near future. They pump out relievers and complementary players pretty much every year, but the need now is legitimate everyday guys.
On the eve of the minor league season, here is a look at the various affiliates and the dispersal of the team's top 30 prospects (in my opinion).
Triple-A Scranton/Wilkes-Barre RailRiders (full roster)
Top 30 Prospects: RHP Mark Montgomery (#10), RHP Brett Marshall (#13), IF David Adams (#18), C Austin Romine (#19), IF Corban Joseph (#20), RHP Dellin Betances (#23), OF Melky Mesa (#26)
Other Notables: OF Zoilo Almonte, RHP Preston Claiborne, OF Cody Johnson, OF Thomas Neal, LHP Vidal Nuno
Armed with a newly renovated stadium and a new team nickname/logo, the Triple-A squad will return to Scranton after spending all of last season on the road. Montgomery and Marshall feel like mortal locks to wear pinstripes at some point in the second half while Mesa should be the first outfielder recalled in case of injury. Adams, who was recently released and re-signed, lags behind Joseph as the extra infielder since he's no longer on the 40-man roster.
Marshall, Betances, and Nuno (the scheduled Opening Day starter) will anchor a rotation that will welcome Adam Warren (#17) back into the fold as soon as Phil Hughes rejoins the big league rotation. The fifth starter figures to be old buddy Chien-Ming Wang, who will spend some time getting himself into pitching shape in Tampa after after signing late. Looking at the roster, I'm not quite sure who the fifth starter in the meantime, maybe Chris Bootcheck or Ryan Pope? Either way, the Triple-A club is basically an extension of the 25-man roster, where the extra depth players reside.
Double-A Trenton Thunder (full roster)
Top 30 Prospects: OF Tyler Austin (#3), OF Slade Heathcott (#4), OF Ramon Flores (#5), LHP Nik Turley (#11), C J.R. Murphy (#15), LHP Matt Tracy (#22)
Other Notables: RHP Dan Burawa, RHP Caleb Cotham, RHP Tommy Kahnle, RHP Zach Nuding, RHP Branden Pinder, LHP Francisco Rondon, 3B Rob Segedin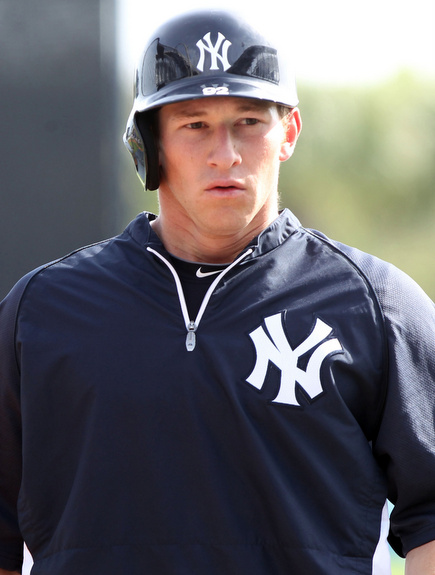 The Thunder will be the minor league affiliate to watch in 2013, and it all starts with an outfield that includes three of the organization's top five prospects. The combination of Austin's brute mashing ability and Heathcott's electric tools make it easy to forget that Flores is no hack — he's a pure all-around hitter from the left side with improving defense. That is an exciting group. Austin, by the way, will officially be our 2013 Prospect Watch player in the wake of last week's vote.
The pitching staff features three very interesting left-handed starters and a whole bunch of power bullpen arms. I disagree with the decision to put Rondon in the Double-A rotation rather than the Triple-A bullpen, but such is life. Tracy and Opening Day starter Turley are continually improving, the former despite not becoming a full-time pitcher until 2011. Burawa, Kahnle, and Pinder are swing-and-miss relievers with big fastballs and sharp breaking balls. Nuding and Cotham are cut from the same cloth but could wind up in the rotation.
High-A Tampa Yankees
Top 30 Prospects: C Gary Sanchez (#1), OF Mason Williams (#2), 2B Angelo Gumbs (#9), RHP Bryan Mitchell (#16), RHP Nick Goody (#21), RHP Corey Black (#24)
Other Notables: RHP Zach Arneson, OF Ben Gamel, RHP Shane Greene, RHP Phil Wetherell
I have yet to see anything resembling an official roster for Tampa, so I used the process of elimination here. Williams confirmed on Twitter he will start at this level this season, and it makes sense Sanchez would join him since he made a cameo with the club at the end of last year. Any time an organization's top two prospects are playing for one affiliate, it will be fun to follow.
Goody and Black are a pair of 2012 draftees who should climb the minor league ladder very quickly. Goody is pure reliever and while Black is likely to join him in the bullpen long-term, the Yankees will use him as a starter in an effort to develop his secondary pitches and hopefully get some more value out of him. Greene probably has the best stuff in the system that nobody talks about, but his command lags far behind and it's probably time for the Yankees to stick him in the bullpen so he can just let if fly.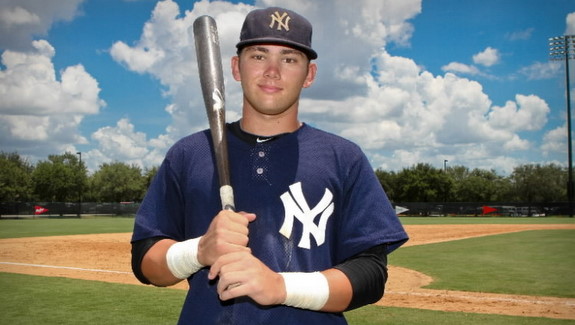 Low-A Charleston River Dogs (full roster)
Top 30 Prospects: RHP Jose Campos (#7), 3B Dante Bichette Jr. (#27), SS Cito Culver (#29), LHP Daniel Camarena (#30)
Other Notables: 1B Greg Bird, OF Yeicok Calderon, RHP Rafael DePaula, RHP Gabe Encinas, C Pete O'Brien, IF/OF Rob Refsnyder
Charleston will be the land of misfit prospects this summer. You've got guys coming off injuries (Campos and, to a lesser extent, Camarena), guys coming off disappointing years (Bichette and Culver), guys coming off positions changes (Bird and Refsnyder), and a guy who will make his stateside debut after being stuck in visa limbo for nearly two years (DePaula). It's an interesting group.
Obviously the storyline for the River Dogs this summer will be four high-profile prospects hoping to re-establish their value. Campos missed basically all of last season with an elbow injury while Culver and Bichette have yet to live up their billing after being drafted with New York's top selections in 2010 and 2011, respectively. DePaula is the fourth member of that group and no one knows what to expect from him.
Bird can really hit but isn't as interesting at first base, where he will now ply his trade after back trouble forced him to quit catching. I absolutely love Camarena and think he has a chance to emerge as the best prospect from this group by the end of the year.
Extended Spring Training/Injury Rehab
Top 30 Prospects: LHP Manny Banuelos (#6), RHP Ty Hensley (#8), RHP Jose Ramirez (#12), SS Austin Aune (#14), RHP Chase Whitley (#25), RHP Ravel Santana (#28)
Banuelos (elbow), Hensley (having surgery following an abdominal strain today), and Santana (ankle) are all coming off injuries and won't be ready for the start of the season. Banuelos, the team's top pitching prospect, will miss the entire season while Hensley should return in a few weeks. No idea what Santana's status is, but his ankle continues to have some nagging stiffness.
Ramirez impressed in Spring Training but is "dinged up a little bit" according to Josh Norris and will not start the season on time. He's been throwing in Tampa and should join Double-A Trenton relatively soon. I'm not quite sure what's wrong with Whitley (he isn't listed on any rosters), but if healthy he'll join the Triple-A bullpen. Aune is crazy raw and will open the year in ExST before joining one of the short season leagues in June. Those teams — Short Season Staten Island and the two Rookie Gulf Coast League clubs — will feature a lot of 2013 draftees and young kids signed as international free agents. They're always fun to watch because you can dream on literally everyone. The upper levels provide a better dose of reality.