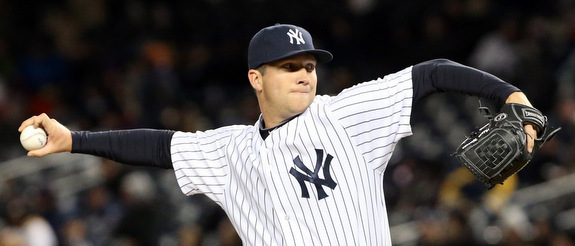 When the season opened, the Yankees made a point of carrying relievers capable of throwing multiple innings in an outing. That meant Adam Warren and Shawn Kelley got the nod over one-inning guys like David Aardsma and Josh Spence. Phil Hughes started the year on the DL and carrying bullpeners who could provide length for the first few weeks made sense. No team wants to wear out their pitching staff in April.
Now that we're three weeks into the season, the need for multiple multi-inning relievers — and multiple long relievers, especially — isn't as great. Ivan Nova remains a drain on the bullpen every five days, but otherwise the trio of CC Sabathia, Hiroki Kuroda and Andy Pettitte have shown the ability to pitch deep into the game each time out while Phil Hughes can do it on occasion. Sure, having a bunch of relievers who can throw multiple innings at a time is a nice luxury, but it's no longer a necessity. Quality over quantity should be the focal point when it comes bullpen innings now.
Since his 5.1-inning appearance in relief of Kuroda in the second game of the season — 19 days ago now — right-hander Adam Warren has thrown a total of three innings and 42 pitches. Two of those innings came during a blowout win against the Indians, the other yesterday. He hasn't warmed up on any other occasion during the last ten days, as our Bullpen Workload page shows. It's a dead roster spot, especially since Joe Girardi seems to prefer David Phelps in long relief situations. The only way Warren gets into a game right now is a super mop-up situation, a blowout or extra innings.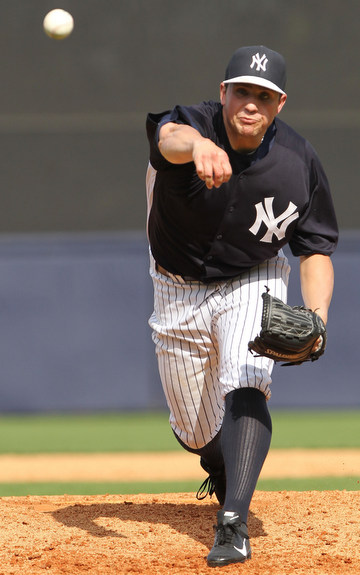 Phelps hasn't pitched well early on (6.23 ERA and 3.87 FIP), and it's not just these last two appearances. The four shutout innings against Baltimore last week is the only one of his five outings in which he hasn't allowed a run. He is a better pitcher than what he's shown so far, but he needs to figure some things out. It happens. He should work on those things in low-leverage situations though, not the situations he's seen recently. It should happen in the innings currently designated for Warren, basically. It's the bullpen circle of life, especially for a young reliever: if you stink for two or three weeks you lose some responsibility.
Ideally, I think the Yankees should adjust their bullpen situation by sending Warren down to Triple-A and replacing him with a power reliever who can miss bats in the middle innings between the starter and the Joba Chamberlain/David Robertson setup crew. Cody Eppley doesn't fit the bill — he's been awful since the start of Spring Training anyway — but Mark Montgomery sure makes a lot of sense for that role. The right-hander has 15 strikeouts and one walk in eight Triple-A innings so far after whiffing 99 in 64.1 innings last summer.
Because Phelps threw 62 pitches on Sunday and will be out of commission for at least one more game (likely two), holding onto Warren for another few days makes sense. Once Phelps is ready to go though, I think he should be put into a more traditional long reliever role while Warren is swapped out in favor of someone who can miss bats. Montgomery is the obvious candidate but not the only option. Maybe Preston Claiborne or Sam Demel is better suited to help the team right now, who knows. Either way, the idea is to optimize the bullpen by replacing the seldom-used second long man with a more useful middle reliever who can miss some bats.