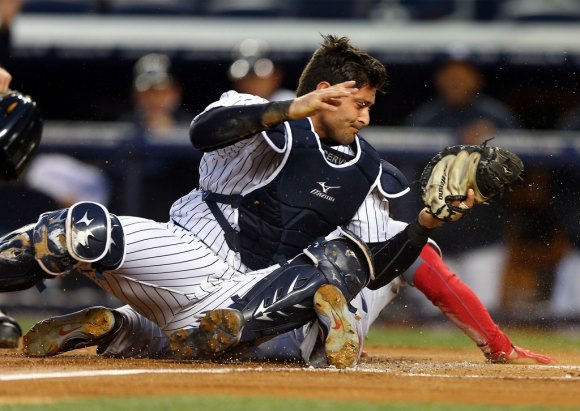 You're already familiar with the standard defensive stats. Load up any player's FanGraphs page and you'll see plenty of them laid out for you: UZR and DRS primarily, along with some other experimental stats and of course the traditional ones. Where these stats have always fallen short comes at perhaps the most important defensive position. Other than stolen base rate, we don't have many solid ways of measuring catcher productivity.
Part of the problem in evaluating catchers involves the number of variables involved. Does he call a good game? (Does he call the game at all?) Can he frame a pitch to steal his pitcher strikes that would have, with a less skilled framer, be called balls? How many potential wild pitches can he keep in front of him? Does he have the footwork necessary to make quality throws to second — and does he have a strong and accurate arm in general? And then we have the general, overarching question: how does he handle the pitching staff? That can be reworded as, do the pitchers like throwing to him?
While stolen base numbers are readily available, they don't reflect solely on the catcher. If you read Jonah Keri's article on stolen bases, you see that runners go on pitcher movement. If the pitcher has any deficiencies when delivering the ball with men on base, the catcher will likely have poor stolen base numbers. If a staff has more than one or two pitchers who are poor at holding on runners, a catcher could have numbers that teach us nothing about his true throwing abilities. That leaves us with even less an understanding of a catcher's true defensive abilities.
In the past few years a few researchers have attempted to quantify some aspects of catcher defense. In 2011 Max Marchi got the ball rolling on catcher framing. (Though my main man Dan Turkenkopf attempting framing analysis three years earlier.) A few months later Bojan Koprivica studied catcher blocking skills. In between those two Mike Fast released his extensive report on catcher framing. Somewhere along the way, Baseball Info Solutions started tracking how many runs catchers can save by throwing out runners and preventing them from stealing in the first place (Stolen Base Runs Saved, or rSB, which can be found on FanGraphs). A little over a year ago, Max Marchi tried to put it all together. So we are making progress. It's just difficult to tell what's accurate at this point.
Earlier this week, James Gentile of Beyond the Boxscore explored a simpler catcher framing metric. While the results are interesting, there was one part of the article that stuck out to me. Via a Ben Lindbergh article Gentile points to a recent Baseball Tonight podcast, in which Jose Molina discusses his framing. Remember, Molina comes out on top of almost every framing study, which is presumably a big reason why the Rays signed him to a two-year contract after the 2011 season, despite his flaws on offense. For his part, Molina credits none other than Tony Pena and Joe Girardi with his phenomenal receiving skills.
It was 2008. Mike Mussina and Tony Pena, with Joe Girardi, the coaches there. But mostly Tony told me that if I turned a little bit side to side, either way, either corner, I'm going to get more strikes. With Mussina, he wasn't throwing that hard at the time. So I was always open to learning new things. We worked on it, I got a little bit better at it. And it started working. I guess it worked, right? It was 20 wins for him that year, so it just worked, and from that point on, I think I took advantage of that.
This should come as little surprise. Pena has always been known as a knowledgeable guy who works extensively with the Yankees' catchers. Molina had always carried a reputation as a quality defender (but that could have been the Nichols Law of Catcher Defense). But given the numbers Gentile presents, it does appear that he picked up a little something from Pena and Girardi. Of the top 10 catching seasons since 2002, Molina holds four spots, and all but one came after the Yankees acquired him. The lone standout is 2007; Molina became a Yankee that July.
One of the reasons people lamented the loss of Russ Martin centers on his framing abilities. He ranked right behind Molina in Mike Fast's study, and watching him everyday in 2011 and 2012 helped confirm that evaluation. The man was swift behind the plate. At the same time Francisco Cervelli, Martin's replacement, is seen as a poor receiver who stabs at the ball rather than cradling it — not to mention his poor stolen base results. And forget Chris Stewart. The Yankees acquired him last year with an eye towards his defensive reputation. Yet in a season-plus I haven't noticed Stewart display any standout skills behind the plate.
A look at Gentile's numbers yields a different result. In his top 10 catchers since 2002, the list that Jose Molina owns, you'll see both Cervelli and Stewart. Cervelli's 2011 season ranks No. 2, while Chris Stewart's 2012 ranks No. 8. So perhaps there was a reason the Yankees let Martin walk after last season without as much as a courtesy offer. Perhaps they believed that they already had two capable catchers on staff.
(And maybe, though we'll hardly know it, the pitchers prefer throwing to Cervelli over Martin. It sure seems that way for CC Sabathia, who used Cervelli in 2010 and 2011 and Stewart in 2012.)
This isn't to say that these stats are definitive. Again, the position of catcher involves more complexity than any other. But it is nice to see that at least one method of evaluation appreciates the catchers the Yankees currently carry. Though having Pena and Girardi work with them could be the most valuable aspect of all.