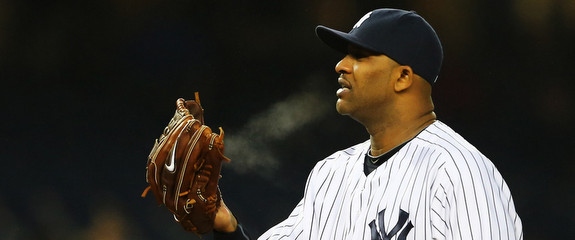 We all knew this would happen eventually. The unnatural act of pitching has a way of wearing down even the most durable athletes over the years, sapping velocity and arm strength after thousands of innings and tens of thousands of individual pitches. Andy Pettitte went through it, Mike Mussina went through it, Pedro Martinez went through it … heck, even Mariano Rivera went through it. Father Time remains undefeated.
At age 32, with just under 2,700 total innings on his arm, it appears CC Sabathia has lost his best fastball. He topped out at 91.2 mph with his fastball last night and averaged just 90.1 mph according to PitchFX, a bit short of the 90.7 mph he averaged during his first three starts. Last year he averaged 93.0 mph. The year before it was 94.7 mph. The year before he became a Yankee it was 94.9 mph. It's been a gradual decline over the years, just like it was for Pettitte and Moose and Pedro.
When most pitchers lose their fastballs, the initial results tend to be very bad. Sabathia is not most pitchers though; he's used his diminished heater to post a 2.57 ERA (2.69 FIP) in 28 innings across his first four starts of 2013. After allowing four earned runs to the Red Sox in five innings on Opening Day, the left-hander has allowed just four earned runs in his last three starts combined. The diminished fastball hasn't led to diminished results, at least not yet.
Adjusting to life with a new, slower fastball can't be easy. Mussina is one of the smartest pitchers I've ever seen, yet it took him all of 2007 to learn how to work with reduced heat. Roy Halladay is arguably the best pitcher of his generation, but he's having a devil of a time figuring it out in Philadelphia right now. Part of the problem, at least initially, is just denial. No world-class athlete wants to admit his skills are declining, especially pitchers and their fastballs. Sabathia, however, seems to be very aware that his heater doesn't have as much oomph as it once did.
"I'm hoping some more velocity comes back. If not, we'll work with this," said the southpaw to Mark Feinsand after last night's win. "It's reality. You never know. I've never been through anything like this, so I don't know. I'm not going to lose sleep over it. I've been pitching for a long time. Eventually, it was going to happen … It's something everybody is going to go through. We'll see if this is my time."
With the obvious sample size caveat, it does appear to be Sabathia's time. I'm almost certain he'll add a tick or two as the season progresses and the weather warms up, pretty much everyone does, but his fastball is down quite a bit this year compared to his first four starts of last year — 90.6 mph in 2013 vs. 92.6 mph in 2012. The velocity drop has been real early on and not even Sabathia is denying it.
"It's definitely going to be hard, but I've got guys in here that I can turn to like Andy," added CC. "We can work on game plans and just try to keep getting better as a pitcher … If I make pitches (I can be effective with less velocity). I always felt like that. I would take some off to make pitches when I had more velocity, try to stay at 91-92, then hump up when I needed to. I can pitch at this."
Saying and thinking he can pitch with reduced velocity is an entirely different thing than actually doing it. The early signs on promising, but who knows what will happen when the weather heats up and the ball starts carrying a bit more. We saw the Diamondbacks hit a number of long fly balls last night, long fly balls that would have presumably been a lot more dangerous had it been the middle of July or August. This is very much a wait and see thing.
Sabathia suffered the first arm injury of his career last summer and needed offseason elbow surgery. His fastball velocity has been dipping for a few years now. This is his new reality, and he not only seems to be completely aware of it, he doesn't seem to be bothered by it at all. That's reassuring but only to a point, because I don't know if Sabathia can continue to be an ace-caliber pitcher with reduced velocity, especially if it continues to slide in the coming months and years. One thing I do know is that whenever CC stops pitching like an ace — it will happen at some point, it's inevitable — it won't be from a lack of effort. If there's anyone who can figure this diminished fastball thing out, it's Sabathia.