Got five questions for you this week. Please use the Submit A Tip box in the sidebar to send us anything throughout the week.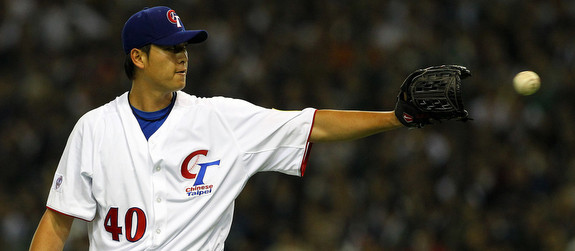 Nathan asks: Do you think Chien-Ming Wang can be more effective than either Ivan Nova or Phil Hughes (especially Nova)?
No, I don't. Not at all. Wang, who turned 33 in March, hasn't been an effective pitcher since hurting his foot in Houston in 2008. He's managed a 6.39 ERA (5.12 FIP) with a 53.2% ground ball rate in 136.2 innings since then, and most of that came in the NL East with the Nationals. Wang looked great in the World Baseball Classic, almost like his old self, but he faced two teams (Australia and Japan) with a combined zero big leaguers on the roster. It doesn't mean much.
The guy the Yankees had from 2005-2008 is long gone by now. Wang has had some very serious injuries since then, most notably the dreaded torn shoulder capsule. Guys who have had that surgery never come back the same. I'm talking Rich Harden, Johan Santana, Mark Prior, Chris Young, John Maine, and others. They never come back the same. Wang will join the Triple-A rotation today and if things go his way, maybe we'll see him in the big leagues at some point. I don't see any way he is better than Nova or Hughes right now. No chance at all.
Mark asks: Care to take a crack at predicting the 2014 outfield?
Unless Ichiro Suzuki manages to play his way off the roster this year — I don't think it will happen, but it's possible — I'm pretty sure it will be the same outfield they have now. Vernon Wells in left, Brett Gardner in center, and Ichiro in right. I think they'll let Curtis Granderson walk as a free agent and find a better right-handed hitting platoon guy than Ben Francisco. Brennan Boesch could also be in the mix if he impresses this year.
In a perfect world, some of the kids in the minors will start to push those guys for spots next year. Zoilo Almonte has had an insane start to his Triple-A career these last few weeks, but let's see how things play out this summer before ticketing him for the Hall of Fame. Tyler Austin, Slade Heathcott, and Ramon Flores could all wind up outfield options at some point in 2014, just probably not on Opening Day. I do think they'll start the year with the veterans though, they always do.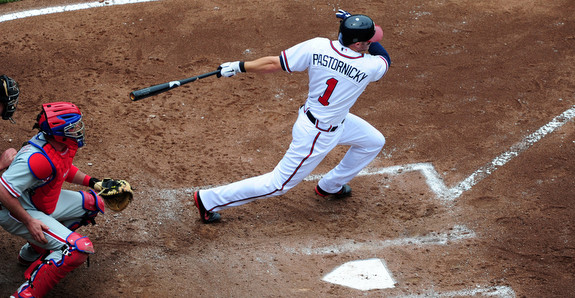 Taylor asks: With Jeter's injury and eventual retirement looming, would the Braves Tyler Pastornicky be a reasonable target to take over shortstop in the next few seasons? Blocked in Atlanta by Andrelton Simmons.
Pastornicky, 23, was originally drafted by the Blue Jays before going to the Braves in the Yunel Escobar trade. He opened last year as Atlanta's everyday shortstop before playing his way back to the minors (65 wRC+) and opening the door for Simmons. It's early, but he's raked in Triple-A so far this year (160 wRC+).
Baseball America ranked Pastornicky as the seventh best prospect in the Braves system prior to last year (he wasn't eligible for this year's list). Here's a snippet of the subscriber-only scouting report…
He has a good feel for hitting and makes consistent line-drive contact, though he could stand to draw a few more walks. He doesn't have a lot of strength, but he has a quick bat and could develop some gap power. Pastornicky has plus speed and the aptitude to steal bases. He has above-average range at shortstop, and he could get more out of his average arm with a more consistent arm slot.
They also note he's exceeded expectations during his march to the big leagues and is a big-time competitor with good baseball instincts.
I'm not sure if Pastornicky will ever hit enough to be a big league regular, even at shortstop, but I do think he has a better chance of playing the position everyday than Eduardo Nunez just because of his defense. Nunez's throws have been greatly improved in the early going, but he's still a below-average defender overall. They're very similar offensively players — contact guys with speed — but the defense separates them. I like both guys as stopgaps more than long-term shortstop solutions.
Justin asks: I know this question may lend itself to a long post, but can you address possible options for the Yankees to build/maintain a strong pitching staff for 2014-2016? Given the impending retirements of Andy Pettitte and Hiroki Kuroda and the lack of impact free agents, they've got a lot of eggs in the Michael Pineda/Manny Banuelos basket.
Oh don't worry, the Yankees will just sign some veteran pitchers to one-year deals and get crazy unexpected production. I'm thinking one-year deals worth $10M for Roy Halladay and Tim Lincecum this offseason, putting them in line for about 6 WAR in 2014. It is the Yankees way and it is their destiny.
In all seriousness, I do think veterans on one-year deals will be the crutch they lean on to fill out the roster while waiting (hoping) for some young players emerge from the farm system. The Yankees do the one-year veteran thing better than anyone, and as long as they use it as a way to supplement the roster rather than employ it as a core-building strategy, it works for me. It's tough to see them finding veteran pitchers as productive as Kuroda and Pettitte on a one-year deals, but who knows? Maybe Halladay or Lincecum will be that guy.
Mark asks: Single biggest reason attendance appears to be lagging over the last two years?
Probably ticket prices. It costs a family of four about $100 just to sit in the grandstand, and that doesn't include food and parking and all that. Suddenly a family outing to the ballpark on a weekend is a $200 event. There are countless other ways to spend that $200 and get more entertainment bang of the buck. So yeah, I do think they priced out a portion of the fan base and that's a big reason why attendance is lagging. Obviously there is more going on here than just that. Eventually the Yankees will come up with a solution (dynamic pricing? hello???) that doesn't involve blaming StubHub.