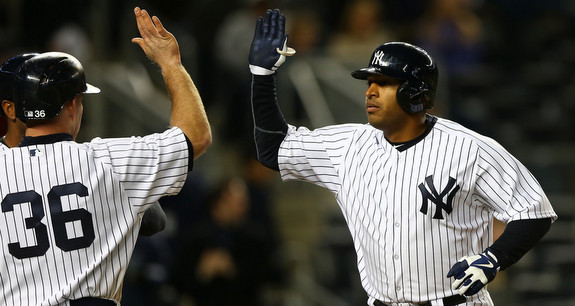 We all knew the Yankees' lineup would look a little different coming into the year, but an injury-filled Spring Training meant the offense looked even more different than expected when the regular season opened last week. Robinson Cano and Brett Gardner were the only players in the lineup for both Opening Day 2012 and Opening Day 2013, and a whopping six players made their debut for the team last Monday. That's the first time that's happened in over 100 years, since before the Yankees were the Yankees (they were the Highlanders at the time).
Two series and six games into the season, it's the new-look middle of the order that has carried the club offensively. The players who were with the team last year — specifically talking about Cano and Ichiro Suzuki here — have mostly been a drain on the offense. I'm talking about a combined .631 OPS for those two. No, seriously. If you add Cano's (.330) and Ichiro's (.301) OPS together, that's what you get. Good grief. Thank goodness it's only been six games.
Anyway, here are some happier numbers…
Kevin Youkilis: 9-for-22 (.409), two walks, one hit-by-pitch (.480 OBP), four doubles, one homer (.727 SLG)
Travis Hafner: 7-for-20 (.350), two walks (.409 OBP), one homer (.500 SLG)
Vernon Wells: 5-for-17 (.294), four walks (.429), one double, two homers (.706 SLG)
The Yankees have scored 24 total runs this year and those three guys have scored (11) and driven-in (11) basically half of them (46% to be exact). New York is hitting .272/.323/.399 as a team but without those three it drops down to .194/.273/.295. Youkilis, Hafner, and Wells have really carried the load in the first six games. They're driving the offense.
Now, here's the bad news: these guys aren't going to keep hitting like this forever. Youkilis seems like the best bet to continue providing big production, but he's still going to come back to Earth at some point. The good news is that some other players in the lineup — specifically Cano, Ichiro, and Gardner — will improve going forward to help balance things out. That's usually how things go, some players are slumping while others are hot and it evens out. When it happens during the first week of the season, we tend to notice. When it happens in the middle of the dog days, no one really cares.
Despite yesterday's seven-run outburst, the Yankees have struggled offensively in their six games this year. Those struggles pale in comparison to the pitching problems, but they exist nonetheless. They need (especially) Cano and some others to start hitting as much as they need the middle of the bullpen to straighten itself out because Youkilis, Hafner, and Wells won't be able to carry the offense all year as they have so far. That trio has been awesome, but they still need some help sooner rather than later.