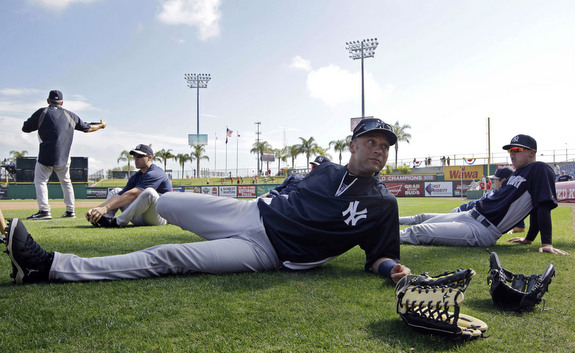 It has been nearly six months since Derek Jeter had his left ankle surgery and nearly one month since he was setback by inflammation and required a cortisone shot. Yesterday we heard the Cap'n had to scale back his rehab work over the weekend, and that was before Joe Girardi confirmed Jeter isn't particularly close to appearing in rehab games. From Andrew Marchand:
"[Early May] was a date that was thrown out there," Yankees manager Joe Girardi said. "The easiest way for me to say it is he will be back when he is back — when he can physically do it on an everyday basis, and I don't think any of us will know the exact date until we go through some trial and error.

"He is not ready to play in games. I don't think they necessarily have an exact date where they know he is going to play in games. We'll just go day by day and see how he feels."

(snip)

"Sometimes you can take too many ground balls," Girardi said. "They talked about lessening that load just because he was taking so many. Derek is such a creature of habit. To get him to break a cycle sometimes is difficult. He is going to want to do as much as he can as soon as he can, so we are just trying to make sure we don't go too fast. But there was no setback."
Girardi added that the scaled back the workload was not a setback — they're making sure he doesn't press too hard and aggravate anything, apparently — but saying Jeter "will be back when he's back," doesn't sound particularly promising.
The Yankees will continue to rely on Eduardo Nunez at shortstop for the time being, assuming pitchers stop hitting him with pitches at some point soon. Jayson Nix is safe as the utility infielder even though he's been dreadful on both sides of the ball so far. They simply don't have another option right now. I do think they should start combing the trade market for a better backup infielder though, especially since a 38-year-old shortstop with a bum ankle will be need a capable backup even once healthy.
Anyway, the Yankees will be without Jeter for what will almost certainly be the entire month of April. How much longer will be miss after that? Who knows. Let's find out what everyone thinks.
How long until Jeter is activated off the DL?