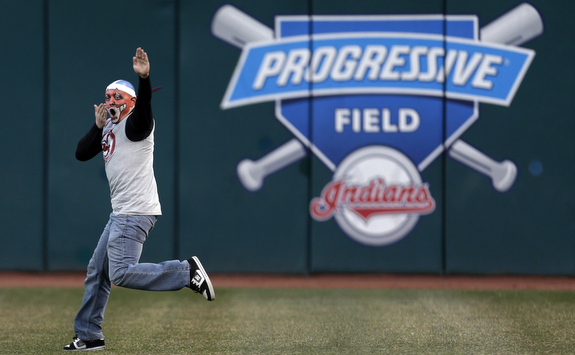 The Yankees have bludgeoned the Indians the past two days with two more games left to play in the series. I'm greedy and would like two more laughers before they head home for a three-game weekend set with the Orioles. I don't think I'm the only one who feels that way.
1. I don't think it is at all a coincidence the bats finally got going after an extended stretch against right-handed starters. The Yankees have seen seven straight righties after facing Jon Lester on Opening Day, which means the guys have been able to get into a bit of a routine and groove. Sure, it stinks for the Ben Franciscos of the world, but he's not all that important in the grand scheme of things. It's unclear what the Indians will do the next two days after using Brett Myers in relief last night, but the Yankees are scheduled to see at least three and possibly four (depending on what the Tribe do) more right-handers in the five games prior to Monday's off-day. Wei-Yin Chen on Friday is the line exception. That's very good news for the offense.
2. I think the Yankees should consider splitting up Ivan Nova and Phil Hughes in the rotation. I know Hughes averaged a very solid ~6.1 innings per start in his final 18 starts of last season, but those two back-to-back could create some bullpen headaches even with two long-man types on the roster. If they want, they could use Monday's off-day to push Phil back one day to Thursday and start CC Sabathia on Wednesday on normal rest. That way the two youngsters would have the big bullpen-saving workhorse between them going forward. Not a huge deal at this point in the season, but I think it is something the they should strongly consider.
3. This is not Yankees-related, but it is a bit of a bummer to see what Roy Halladay (14.37 ERA and 7.94 FIP so far) and Tim Lincecum (4.91 and 5.21) are going through right now, which dates back to last year as well. Those two were on the very top of their game as recently as 2011, but now they could be confused for journeymen. Halladay's stuff is lifeless and his command has taken a step back while Lincecum has simply lost about five miles an hour off the fastball in recent years. Here, look: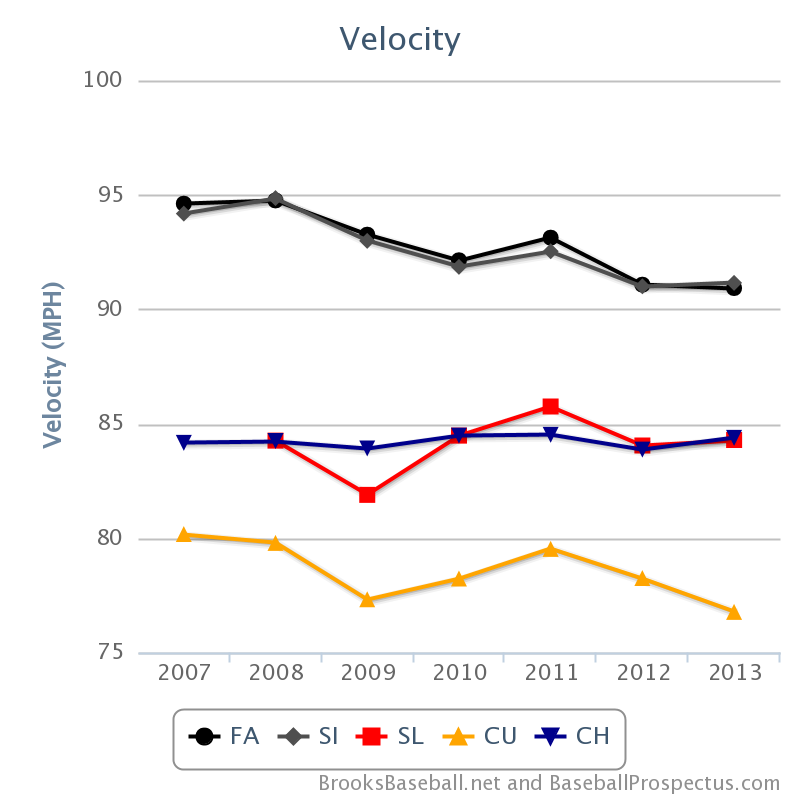 I do think there is some merit to the idea that someone Lincecum's size with that wild, twisting delivery wasn't built for the long haul, but who knows. Either way, both guys are a harsh reminder about just how quickly it can go south in this game, even when talking about elite players. Really a bummer.
4. Yes the season is a week old, but it's never too early to start thinking about possible trade deadline pick-ups. Just kinda spit-balling the obvious needs right now, I'd say a backup catcher, a right-handed hitting outfielder, a utility infielder, and general pitching depth are on the agenda at the moment. Obviously things could change depending how well the Yankees play and how well some of the injured guys return in the coming weeks, but those four needs stand out eight games into the season. We knew they could all potentially be a problem coming into the year and I haven't seen anything that makes me feel any differently.