Offensive problems? What offensive problems? The Yankees pounded a subpar Cleveland pitching staff for the second straight day on Tuesday, walloping the Tribe by the score of 14-1. For the first time in 2013, the Bombers have won three straight games.
Two-Out Rallies
After going 13 games without scoring more than four runs, the Yankees have now scored at least seven runs in each of the last three games. They pounded Indians starter Carlos Carrasco for seven runs in 3.2 innings thanks to two homers, two doubles, three singles, and two walks. Ichiro Suzuki (solo shot pulled to right) and Robinson Cano (two-run shot other way to left-center) hit the dingers while Brett Gardner (off the wall to left) and Cano (over the center fielder's head) had the doubles. Those plays accounted for five of the 14 runs, but they were the first five and gave the team a comfortable lead.
Although the Yankees were banging the ball all over the yard against Carrasco, the best part was that the four-run rally in the second all happened with two outs. Vernon Wells led off the inning with a single but was quickly erased by Ichiro's double play. Then, with two outs, the Yankees went single to left-center (Eduardo Nunez), single to center (Lyle Overbay), walk (Frankie Cervelli), two-run single (Gardner), then two-run double (Cano) before Kevin Youkilis struck out. Gardner's single came with two strikes and two outs, and 12 of the 14 runs overall were scored with two outs. Love it. Those two-out runs are real backbreakers.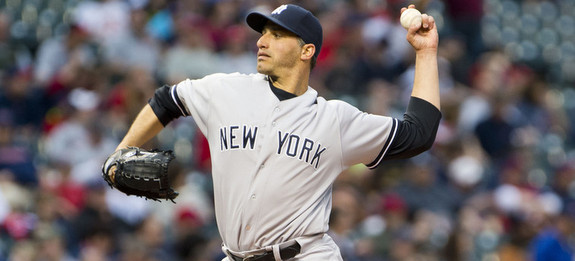 Slightly Less Dandy Andy
Andy Pettitte pitched well in his second start of the year, but he wasn't as sharp as he was the first time around. The game had already gotten out of hand by the time Asdrubal Cabrera tagged him for a solo homer in the sixth, but Andy also walked three and allowed five hits, including three for extra bases (two doubles in addition to homer). Yeah, seven innings of one-run ball is pretty awesome, but he was seemed to be behind in the count more than usual and pitching from the stretch a little more often. Not a problem or anything, just one of those nights.
The rotation as a whole has been better the second time around, though it would have been tough for them to be any worse. CC Sabathia and Hiroki Kuroda worked their way through effective starts despite being less than at their best, and Pettitte continued the trend on Tuesday. The bullpen got some much needed time off — Adam Warren mopped up the mess with two scoreless innings — and it seems like every part of the team is starting to move in the right direction. The offense is obviously clicking and now the rotation is coming together. Just need it to keep going, they're not all the way there yet.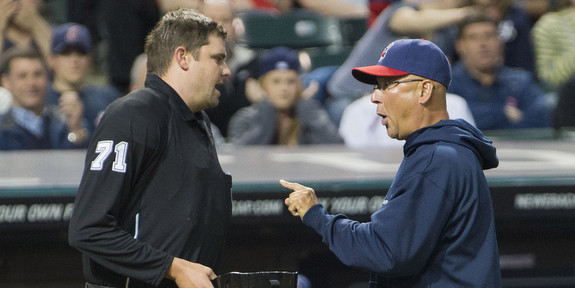 Leftovers
Carrasco, who was making his first start after serving a six-game suspension for throwing at Billy Butler's head (and having Tommy John surgery), was ejected for throwing at Youkilis after Cano homered to make it seven-zip in the fourth. Not sure if it was suspension worthy, but it was obviously out of frustration following the homer. Stupid kids. Youkilis got even by hitting a two-run dinger his next time up.
Overbay (solo) and Brennan Boesch (two-run) chipped in garbage time homers to really make this one a laugher. Gardner had four hits including two doubles, so he's starting to get it going from the leadoff spot. That is really big, the table-setters had not been doing their job for the last week or so. Cano went 4-for-6 with two doubles and the homer to raise his season line to .303/.381/.667. He had a sub-.400 OPS less than 48 hours ago. Hooray early season stats.
Box Score, WPA Graph & Standings
MLB.com has the box score and video highlights, FanGraphs the nerd score, and ESPN the updated standings.

Source: FanGraphs
Up Next
The Yankees and Indians will play game three of this four-game set on Wednesday night, but I'm not sure who will be on the mound for the Tribe. Noted jerk Brett Myers was scheduled to start that game, but he instead came out of the bullpen and threw 5.1 innings in this game. I guess former Yankees farmhand Zach McAllister will get bumped up a day — he would be on regular rest — and start tomorrow instead. Either way, Ivan Nova will be on the mound for New York.