The 2013 amateur draft will be held from June 6-8 this year, and between now and then I'm going to highlight some prospects individually rather than lump them together into larger posts.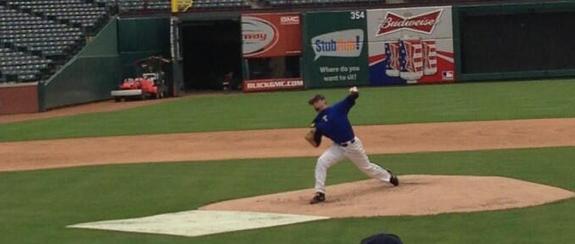 Cody Reed | LHP
Background
Stemming from the Memphis suburb of Horn Lake, Mississippi, Reed went undrafted both out of high school (2011) and as a freshman out of Northwest Mississippi Community College (2012). He's a so-called pop-up guy this spring thanks to improved stuff and strong performance — 2.39 ERA with a 96/40 K/BB in 73.1 innings across 12 starts — and he's committed to attend Ole Miss next year.
Scouting Report
Reed has the goods. He offers size (listed at 6-foot-5 and 220 lbs.), athleticism, fastball velocity (92-95 mph), an out-pitch breaking ball (low-80s curveball), and a clean and repeatable delivery. Reed has worked hard to iron out his mechanics, which feature a long stride and clean arm action, and he's working on adding a slider and changeup as well. Despite the delivery and added polish, he still struggles to command all his pitches and that's the biggest negative right now. Reed offers almost everything else otherwise, include a good work ethic. I can't find any video of him actually pitching, but are some interview clips on YouTube.
Miscellany
Keith Law (subs. req'd) and Baseball America ranked Reed as the 37th and 104th best prospect in the draft in their latest rankings, respectively, so there's a huge difference in opinions. That's not surprising considering all the improvement he's made this spring, it's natural to remain skeptical. The one thing everyone agrees on is the upside, which lies somewhere between frontline starter and mid-rotation workhorse if he figures out a third pitch and irons out his command. The fallback is a bat-missing lefty specialist. The Yankees haven't been too active on the JuCo front under Damon Oppenheimer, but Reed isn't most JuCo prospects. With four day one picks (26th, 32nd 33rd, 66th), they are in a position to gamble if they want.