The 2013 amateur draft will be held from June 6-8 this year, and between now and then I'm going to highlight some prospects individually rather than lump them together into larger posts.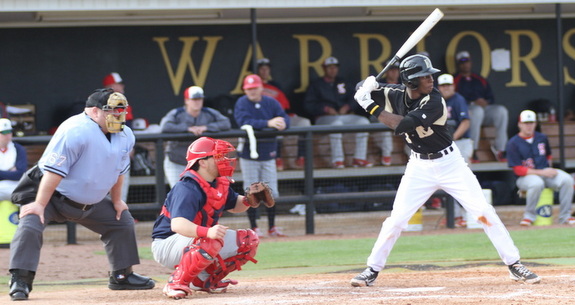 Tim Anderson | SS
Background
Primarily a basketball player at Hillcrest High School in Tuscaloosa, Anderson went undrafted in 2011 and headed to East Central Community College in Mississippi. He came into the weekend hitting .503/.564/.911 with nine homers and 36 steals in 45 games this spring, and he's committed to attend the University of Alabama at Birmingham next year.
Scouting Report
Listed at 6-foot-1 and 175 lbs., Anderson is an excellent athlete whose best present tool is his speed. He has bat speed and a level swing from the right side, but he doesn't use his lower half well and hasn't shown much power. He's basically a slap hitter at this point. Defensively, Anderson is one of the few players in this draft with a legitimate chance to remain at shortstop long-term thanks to his quick feet and reactions. His arm leaves something to be desired and his overall game is raw for a college sophomore because he's only been playing baseball full-time for two years. The speed, swing, and pure athleticism point to a very high ceiling but also a lot of risk.
Miscellany
Baseball America (subs. req'd) and Keith Law (subs. req'd) ranked Anderson as the 34th and 43rd best prospect in the draft in their latest rankings, respectively. The Yankees love those toolsy up-the-middle athletes, so Anderson is right up their alley. He needs a lot of work and won't climb the ladder all that quickly despite being two years removed from high school, so it's fair to consider him a project. The athleticism will get him drafted early despite that lack or refinement, and the Yankees have three picks right at the end of the first round (26th, 32nd, 33rd).