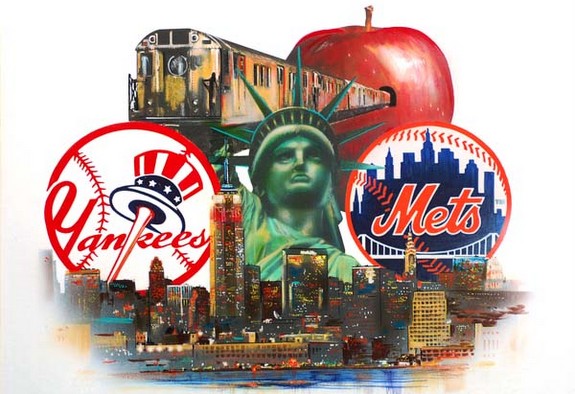 With the Astros moving to the AL and interleague play taking place everyday, the Subway Series has a new twist these days. Instead of two three-game series a month apart, the Yankees and Mets will play four games this week — the first two in Flushing, the next two in the Bronx. It's a pair of back-to-back home-and-home series. I love the setup.
What Have They Done Lately?
The Amazin's pulled off a Yankees-esque come-from-behind win last night, ending their five-game losing streak. They've won just four of their last 16 games and sit in fourth place in the NL West with a 18-29 record and a -42 run differential. They bad.
Offense
Much like the Yankees, the Mets have a below-average offense. They average just 4.0 runs per game with a team 89 wRC+ while the Bombers are at 4.3 and 93, respectively. The difference between the two is basically the DH. As far as position player injuries go, the Mets are perfectly healthy.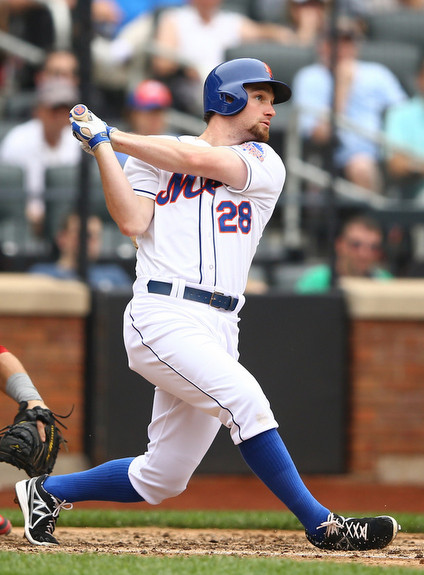 The conversion about manager Terry Collins' offense starts with 3B David Wright (143 wRC+), who has again been one of baseball's elite all-around players. OF Lucas Duda (136 wRC+) and 2B Daniel Murphy (123 wRC+) have been strong supporting players while C John Buck (111 wRC+) has cooled off following his strong start. CF Rick Ankiel (109 wRC+) strikes out a ton (44.9%) but also hits the ball a long, long way (.297 ISO).
The Mets have gotten nothing from SS Ruben Tejada (59 wRC+) and 1B Ike Davis (39 wRC+), though the platoon duo of OF Mike Baxter (82 wRC+ vs. RHP) and OF Marlon Byrd (103 wRC+ vs. LHP) have been better than expected. UTIL Jordany Valdespin (86 wRC+) is the pinch-hitter extraordinaire, C Anthony Recker (58 wRC+) the backup backstop, IF Justin Turner (86 wRC+) the backup infielder, and OF Juan Lagares (30 wRC+) the defensive specialist. Wright, Duda, and Murphy are dangerous, but everyone else can be pitched to.
Starting Pitching Matchups
Monday @ CitiField: RHP Phil Hughes vs. LHP Jon Niese
Niese, 26, broke out last season and was rewarded with his first career Opening Day start this year. Rather than continue to improve, the left-hander has taken a step back in 2013 (4.80 ERA and 4.71 FIP). His strikeout (5.13 K/9 and 12.5 K%) and walk (4.47 BB/9 and 10.9 BB%) rates are both career worsts, though his ground ball rate (55.1%) is a career best. Niese is a true five-pitch pitcher, using upper-80s/low-90s two- and four-seamers as well as a mid-80s cutter to setup his mid-80s changeup and mid-70s curveball. The curve is his bread-and-butter. Niese throws all five pitches at least 10% of the time and four of the five pitches at least 16% of the time. The changeup is the exception. The Yankees faced Niese three times during interleague play these last two years, and he's handled them well each time. Obviously he was much more effective overall back then.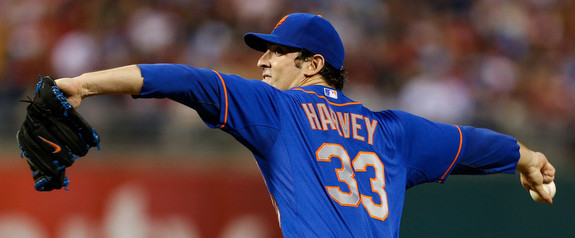 Tuesday @ CitiField: RHP Hiroki Kuroda vs. RHP Matt Harvey
You're not going to find a more exciting pitcher right now that the 24-year-old Harvey. The Connecticut native and former seventh overall pick owns a 1.93 ERA (2.45 FIP) in ten starts this year and a 2.30 ERA (2.84 FIP) in 20 big league starts overall. His strikeout (9.51 K/9 and 28.0 K%) and walk (2.19 BB/9 and 6.4 BB%) numbers are outstanding, and his ground ball rate (44.1%) is solid as well. Harvey throws three pitches regularly but lives off his mid-to-high-90s four-seam fastball. His wipeout upper-80s slider and fading mid-80s changeup are both swing-and-miss offerings. A low-80s curveball is his fourth pitch but is still a legit weapon. It's nasty, nasty stuff. The Yankees have never faced Harvey before; he wasn't called up until the second half last season.
Wednesday @ Yankee Stadium: RHP David Phelps vs. RHP Jeremy Hefner
When Johan Santana went down with his second torn shoulder capsule, the 27-year-old Hefner took his rotation spot. He's been pretty bad this year, pitching to a 4.76 ERA (5.25 FIP) in nine starts and one long relief appearance. Hefner's peripherals aren't anything special — 6.53 K/9 (17.5 K%), 3.53 BB/9 (9.4 BB%), 1.59 HR/9 (15.5% HR/FB), and 44.2% grounders — which isn't surprising. The right-hander is another true five-pitch guy, using his upper-80s/low-90s two- and four-seamers basically half the time combined. A mid-80s slider is his top secondary pitch, though he'll also throw a low-80s changeup and mid-70s curveball. He's thrown each pitch at least 10% of the time this year. Hefner threw a perfect inning of relief against the Yankees last season, the only time they've seen him.
Thursday @ Yankee Stadium: LHP Vidal Nuno vs. RHP Dillon Gee
Gee, 27, hasn't just been the worst pitcher on the Mets staff this year, he's been one of the worst pitchers in all of baseball. He owns a 6.34 ERA (4.93 FIP) in ten starts with not truly awful peripheral stats: 6.70 K/9 (15.9 K%), 3.08 BB/9 (7.3 BB%), 1.45 HR/9 (13.8% HR/FB), and 46.8% grounds. Still, when you allow 36 runs in 49.2 innings, you've stunk. Perhaps not coincidentally, Gee has lost about two miles an hour off his two- and four-seam fastballs this year, sitting in the upper-80s instead of the low-90s. A low-80s changeup is his go-to pitch, though he'll also throw low-80s sliders and mid-70s curveballs. He's a two-seamer/changeup guy, for the most apart. The Yankees have faced him once in each of the last two seasons and he's put together solid outings both times. Not great, not terrible. Winnable.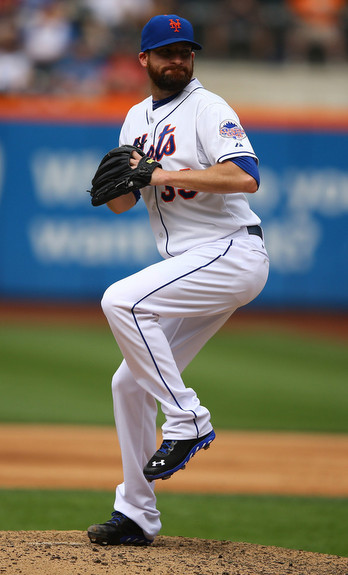 Bullpen Status
Mets GM Sandy Alderson is a bright baseball guy, but his bullpens since taking over three years ago have been just dreadful. The team's relief unit owns a 4.77 ERA (4.36 FIP) this year, the third worst in MLB. Take away the quietly elite closer RHP Bobby Parnell (2.20 FIP) and it would be a lot worse.
The rest of the bullpen is a mess of has-beens and never-wases. There's former Yankee RHP LaTroy Hawkins (3.69 FIP) and RHP Brandon Lyon (3.43 FIP) in the former category and RHP Greg Burke (2.05 FIP), oft-used LHP Scott Rice (3.40 FIP), seldom-used LHP Robert Carson (10.18 FIP), and RHP Collin McHugh (10.39 FIP in very limited time) in the latter. Hawkins and Parnell pitched yesterday, but everyone else should be fresh.
Although CC Sabathia got crushed yesterday, he did manage to spare the bullpen by soaking up seven innings. The key late-inning relievers have all had plenty of rest these last few days and are good to go this week. Check out our Bullpen Workload page for exact usage details. For the best Mets analysis, I recommend Amazin' Avenue. One of the best team-specific blogs in all the land.