The Yankees were hit hard by injuries and setbacks in Spring Training, forcing them to mine the scrap heap for stopgap solutions in the weeks and days leading up to Opening Day. One position that needed to be addressed since the end of last season was a right-handed hitting complement for their three-lefty outfield. Andruw Jones played his way out of New York in the second half and finding a replacement was near the top of the offseason agenda.
Brian Cashman & Co. flirted with pretty much all available options during the winter, including free agent Scott Hairston and trade target Vernon Wells. The team eventually acquired Wells from the Angels, but not until the very end of camp, when injuries left the team without a left fielder and the lineup devoid of power. It wasn't until the very end of the offseason that the Yankees imported Juan Rivera and Matt Diaz on minor league contracts to compete for Andruw's role.
Neither guy made the cut as New York instead opted to take Ben Francisco north after he was released by the Indians. Since youngsters like Melky Mesa, Thomas Neal, and Zoilo Almonte had little chance of making the veteran-loving Yankees, Francisco's relative youth and defensive competence won him the job over Rivera and Diaz.
So far this year, the 31-year-old Francisco has hit just .114/.220/.182 (12 wRC+) overall, including a measly 3-for-34 (16 wRC+) against left-handers. Three-for-34! A southpaw-heavy schedule allowed the Yankees to start Francisco in eight of 12 games at one point last month, and he responded with three singles in 25 at-bats. Worst of all, he batted either second or fifth in seven of those eight games.
"He's struggled," said Joe Girardi to Mark Feinsand two weeks ago. "He's had some good at-bats, and he's struggled somewhat. You don't want a guy to feel like every at-bat is the end of the world. Just go out and play and take care of what you can take care of, and that's really all you can do. Go out and have good at-bats … Just go out and have good at-bats."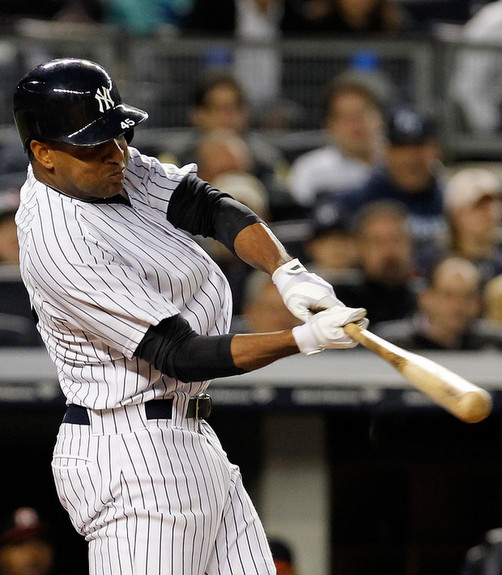 Are 40 plate appearances against lefties and 50 plate appearances against all pitchers a big, meaningful sample? No, but players on the right-handed half of a platoon aren't privy to big samples. They get 200, maybe 250 plate appearances in a given season. There's no guarantee Francisco will get enough playing time to see his .125 BABIP (.080 vs. LHP) return to his career .287 (.267 vs. LHP) average. Girardi is loyal to his players and has given Francisco every opportunity to bust out of this slump so far, but he has shown zero signs of snapping out of it.
"Just in terms of your fan comments section, just say I'm holding onto him to piss everybody off," said Brian Cashman to reporters over the weekend before going on to acknowledge the team always looks for upgrades and will pounce if a better right-handed hitting outfielder becomes available. Cashman is a great quote and he has an 80 troll tool, but he's no idiot. He knows Francisco and the lack of a quality right-handed bat — the Yankees are hitting .228/.299/.359 (75 wRC+) against lefties this year — is a major issue right now.
None of the team's righty bats in Triple-A are distinguishing themselves right now — Mesa is striking out in over 40% of his plate appearances while Neal and Zoilo own .739 and .623 OPSes against lefties, respectively — so any solution will likely have to come from outside the organization. The trade market should start to heat up with June on the horizon, but Francisco's time has come. We've seen enough to know a replacement is needed regardless of who is on the DL and when they're scheduled to be activated.