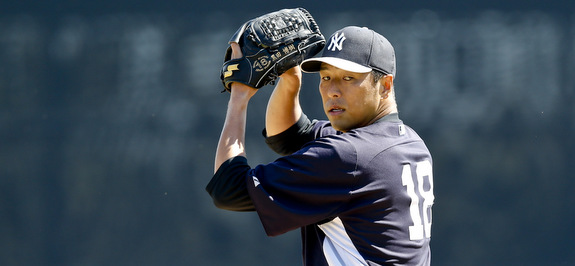 The Yankees and Orioles have split the first two games of this three-game series, and both games were so close they needed a tenth inning. It's been a continuation of last year, when these two clubs played tight game after tight game and fought for the division title right down the final week of the season.
With all due respect to CC Sabathia, the Yankees are sending their ace to the mound in the series finale today, hoping Hiroki Kuroda can send them into tomorrow's off-day with a win and a five-game lead over Baltimore. Hopefully this one only takes nine innings. Here's the lineup that will face righty Jason Hammel…
CF Curtis Granderson
2B Robinson Cano
LF Vernon Wells
DH Travis Hafner
1B Lyle Overbay
3B David Adams
RF Ichiro Suzuki
SS Reid Brignac
C Austin Romine — first rookie to start four straight games behind the plate for the Yankees since Jorge Posada 1997
And on the bump is right-hander Hiroki Kuroda, who will be making his first career start at Camden Yards. He somehow avoided the ballpark last year and never faced the Orioles during interleague play while with the Dodgers.
It's warm, cloudy, and humid in Baltimore, and at some point later tonight it'll rain. Hopefully long after the game is over. First pitch is scheduled for 7:05pm ET and can be seen on YES locally and ESPN nationally. Enjoy.
Rotation Update: Vidal Nuno will start on Saturday, giving Sabathia, Phil Hughes, and Kuroda an extra day or rest. David Phelps is starting Friday as scheduled.
Injury Updates: Mark Teixeira (wrist) and Kevin Youkilis (back) both had six at-bats in a simulated game … Eduardo Nunez (ribcage) hit in the cage for the first time since being placed on the DL … Joba Chamberlain (oblique) threw an inning in Extended Spring Training game. A minor league rehab game with High-A Tampa is probably next.