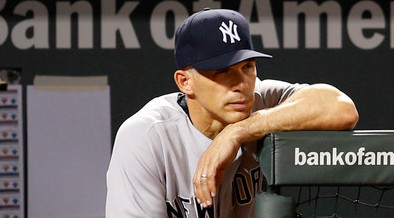 The Yankees and the Rangers are the only teams in baseball that have yet to lose three consecutive games this season, but the Bombers have lost two straight coming into tonight's contest against the Rays. This series could create some headaches for New York with Vidal Nuno starting tomorrow and Alex Cobb starting on Sunday, so winning the opener tonight would be a pretty nice regardless of how many games they've lost in a row. Here's the lineup that will face the pitcher former known as Fausto Carmona:
CF Brett Gardner
2B Robinson Cano
LF Vernon Wells
DH Travis Hafner
RF Curtis Granderson
3B David Adams
1B Lyle Overbay
SS Jayson Nix
C Chris Stewart — I guess the groin is okay
And on the mound is the former Falmouth Commodore (Cape Cod League), right-hander David Phelps.
The sky is clear and it's sweltering in St. Petersburg, but that doesn't matter because the Yankees and Rays are playing indoors. Tonight's game is scheduled to start at 7:10pm ET and can be seen on My9 locally and MLB Network nationally. Enjoy.
Injury News: Andy Pettitte (trap) will throw a bullpen session tomorrow after playing catch the last two days … Kevin Youkilis (back) could join Mark Teixeira (wrist) on a minor league rehab assignment next week … Joba Chamberlain (oblique) will throw two innings in an Extended Spring Training game tomorrow … Eduardo Nunez (ribcage) will play in a minor league rehab game soon … in case you missed it earlier, Ivan Nova (triceps) was activated off the DL while Dellin Betances was sent to Triple-A to clear a roster spot.