Six questions this week. Use the Submit A Tip box to send us anything throughout the week, mailbag questions or otherwise.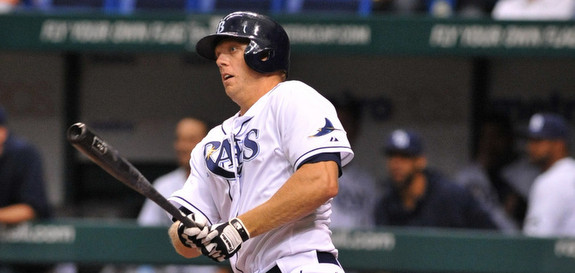 Several people asked: What about Shelley Duncan?
The Yankees are looking for a right-handed bat and the Rays designated former Yankee Shelley Duncan for assignment earlier this week, so this seems like a natural fit. The 33-year-old forearm-smasher hit just .182/.297/.309 (75 wRC+) in 64 plate appearances for Tampa, and during his three years with the Indians (2010-2012) he put up a .231/.309/.430 (103 wRC+) overall line in 770 plate appearances. That includes a .239/.316/.421 (102 wRC+) line against southpaws, meaning he didn't have a platoon split.
Duncan is a three true outcome type, with healthy power (career .193 ISO), walk (9.7%), and strikeout (24.4%) rates. He doesn't do much other than that, meaning he won't steal any bases or play even average defense in left or at first base. Is he better than Ben Francisco? Yeah, probably, but it's not slam dunk. If the Yankees can pluck him off waivers, then go for it. Francisco's been terrible. I wouldn't go out of my way to acquire Shelley or sweat missing out on him, though.
Nick asks: Given his start, how likely is it the Vernon Wells matches/exceeds Nick Swisher's performance this year? If he does (or gets close), should we credit the front office with a brilliant move or did the Yanks just get lucky?
I don't think that will happen, honestly. Even with the hot start, Wells is on a .298/.362/.532 (139 wRC+) line while Swisher is at .265/.386/.410 (123 wRC+). There's a nice gap there, but Swisher is underperforming his career norms while Wells is far exceeding his. They'll wind up meeting in the middle at some point. I expect Verndog to wind up closer to his updated ZiPS projection (113 wRC+) than his current numbers.
Brian Cashman basically admitted the Yankees got lucky with Wells a few weeks ago, saying "there was no magic, unearthed data point" they uncovered. They expected him to fill the Andruw Jones role according to the GM. Maybe Cashman's just playing coy, but Wells has been so outrageously good that I can't imagine anyone saw this coming. It's 95th percentile stuff.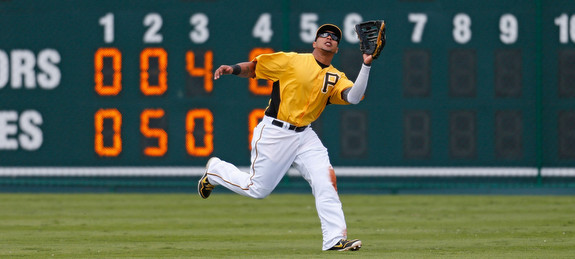 Mark asks: Are you surprised by Jose Tabata's free fall in Pittsburgh since his debut season in 2010 at the young age of 21? Maybe I'm off base here, but I have to think he'd be a prime candidate to replace Curtis Granderson next year as I suspect the Yanks would have kept him in the minors to develop and mature his game — something he hasn't had the opportunity to do in Pittsburgh playing in the big leagues.
Not really, you can never be truly surprised when a prospect fails. Tabata was never the same caliber of hitter/prospect as say, Jesus Montero, plus he is apparently older than originally believed. He never showed much power for a corner outfielder and that's continued to this day.
The Yankees value makeup too highly to bring Tabata back. He had (at least) two incidents in the minors that led to his trade in the first place, plus he's had off-field issues with the Pirates. The guy's a .269/.335/.369 (97 wRC+) career hitter in over 1,300 plate appearances, plus he's probably closer to 30 than his listed age of 24. Tabata can get the bat on the ball — career 14.8 K% and 82.8% contact rate — that's always been his thing, but otherwise there's not much to see here.
Dustin asks: Any chance the Yankees could pry Justin Ruggiano from the Marlins?
Oh I'm sure of it. No reason to think the Marlins wouldn't move him for the right offer. Ruggiano, 31, had an insane BABIP-fueled (.401!) half-season with Miami last year, when he hit .313/.374/.535 (146 wRC+) in 320 plate appearances. He's back down to .239/.300/.402 (95 wRC+) this year, which is right in line with his career norms.
As a right-handed hitting outfielder, Ruggiano owns a career .263/.328/.516 (128 wRC+) line in 236 plate appearances against southpaws. That's spread across seven seasons, so it isn't very useful. Ruggiano plays okay defense in the outfield corners and will steal a bag here and there, so he's definitely someone worth looking into as a Francisco replacement. I don't know what it would take to acquire him, but Scott Hairston was traded to the Athletics for a middling Triple-A relief prospect (Ryan Webb) following his breakout with the Padres. Seems like decent framework, no?
Jonathan asks: What do you think about possibly acquiring one of Atlanta's catchers this year? It's a strange situation because we don't know if Evan Gattis is for real, Gerald Laird was awful for years and Brian McCann is coming off the surgery. Which, if any would you be interested in acquiring and what do you think it would take to get them. Thanks!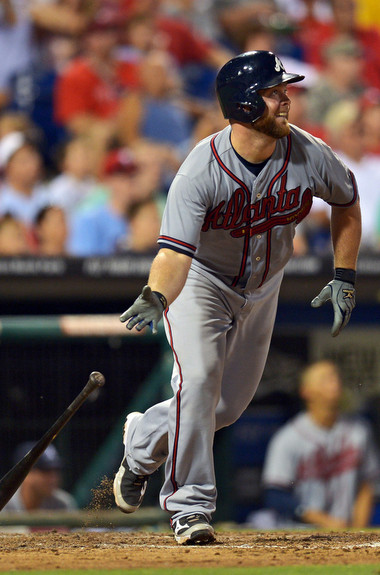 I wouldn't touch Laird, the Yankees have enough backups as it is. That's the easy part. Gattis is a great story — seriously, read this — and the 26-year-old has hit .253/308/.542 (132 wRC+) as McCann's replacement early this year. The consensus is that he isn't good enough defensively to be an everyday guy behind the plate.
McCann, 29, was arguably the best catcher in baseball for the better part of a decade (118 wRC+ from 2006-2012) before hurting his right shoulder and struggling last year (86 wRC+). He had offseason surgery and is due to return to the team soon, as in next week. That will likely send Gattis back to Triple-A, though I suppose they could finagle the roster and work out a way to keep all three, at least for the time being.
I love the idea of acquiring McCann for half-a-season — he'll be a free agent this coming winter — even considering the risk following his surgery. He's strong defensively and a left-handed bat with power and patience. The team would also get a few weeks to evaluate him firsthand before decided whether to pursue him after the season. The price would have to be reasonable though, maybe something along the lines of two pretty good but not great prospects (assuming a deal happens right at the deadline).
Alex asks: Under the rules of the 1992 expansion draft, which players would you protect on the Yankees roster? Subsequently, if you were then picking, which unprotected player would you take?
We do this question every so often and it's always fun. The expansion draft rules are right here, but here's the short version: each team can protect 15 total players, but players with no-trade clauses must be protected. Players who were free agents during the offseason and players drafted in the previous two drafts (so 2011 and 2012 for us) are not eligible for the draft. AL teams can protect an additional four players after each round. Here's who I would protect, assuming the draft was held last November 17th (same date as 1992 draft)…
| No-Trade Clauses (4) | Protected Pitchers (5) | Protected Position Players (6) | Notable Unprotected |
| --- | --- | --- | --- |
| Alex Rodriguez | Phil Hughes | Robinson Cano | Boone Logan |
| Mark Teixeira | David Robertson | Brett Gardner | Joba Chamberlain |
| CC Sabathia | Ivan Nova | Curtis Granderson | Frankie Cervelli |
| Derek Jeter | David Phelps | Gary Sanchez | Eduardo Nunez |
| | Michael Pineda | Mason Williams | Vidal Nuno |
| | | Tyler Austin | Slade Heathcott |
| | | | Adam Warren |
I think this is pretty self-explanatory, no? I was on the fence with Nunez because of the dearth of even decent middle infielders, but I opted to protect the third prospect (Austin) instead. The Yankees could probably trade him for a better infielder than Nunez anyway.
Hiroki Kuroda, Andy Pettitte, and Mariano Rivera would not be eligible for the draft since they were free agents last winter. Nunez, Nuno, Heathcott, and Warren would the four guys I would add after the first round, but a few of them would probably get plucked in the draft. Such is life. If was the expansion team picking from that lot of players, I'd take Heathcott first, no doubt about it. Warren and Nuno are useful pieces, but Heathcott has star potential and that's what you're looking for when you're building a team from scratch.