We're not even half way through the 2013 season — seems like a perfect opportunity to discuss Phil Hughes' looming contract situation! The once-heralded prospect from California reached The Show back in 2007. Six-hundred and seventy-five innings (and several injuries) later, he's amassed a career 4.40 ERA (4.25 FIP), which equates to a cumulative 10.1 WAR according to FanGraphs. In terms of peripheral stats over the course of his career, he's struck out 7.62 per nine, walked 2.82 per nine, and surrendered 1.27 homeruns per nine. With that said, he's only 26 year's old and seems to be heading in the right direction (though his last start wasn't wonderful). This season, he's pitched to a 4.43 ERA which is actually just a touch over his 4.15 FIP. His strikeout and walk rates have been better than his career norms so far, and with any luck, his HR/9 rate will end up closer to his career norm than the inflated rate we witnessed all last season.
So here's the rub. The Yankees have the option of proposing a qualifying offer to him after this season. Should they go that route, Hughes would remain in pinstripes for another season at a salary in the neighborhood of roughly $13-15M.  This would delay his free agency for another year should he accept the offer (and would presumably qualify the Yankees for a supplemental first round draft pick if he chooses to take services elsewhere).  Subsequently, if Hughes reached free agency in 2015, he'd be potentially competing for another contract against guys like Chad Billingsley, Clayton Kershaw, Justin Masterson, or Max Scherzer among  others — obviously, the list of potential free agents can and probably will change rather drastically as teams attempt to retain their players between now and then (complete 2015 list here).
The Yankees could forgo the qualifying offer altogether after this season and let Phil simply test the free agent market — which would probably be in Phil's best interest financially.  2014 brings a mediocre group of free agents that includes notable names such as Tim Lincecum, Matt Garza, Roy Halladay, Dan Haren, Jon Lester (who has a $13M club option), Colby Lewis, Shaun Marcum, and Josh Johnson. Lincecum and Halladay seem to have lost a lot of their star power (due to declining ability and injuries), and I'd be surprised to see Lester's option does not get picked up. I'd also be surprised to not see Johnson, Garza, and maybe even Shields get traded (and extended) before then, which would all of a sudden makes that list a lot less interesting.  Depending who else is available on the market will heavily influence Hughes' perceived value.
Or, the Yankees could take an alternate and perhaps more desirable path, and buy out Hughes' 2014 season in addition to a few more with an extension.  Technically, the Yankees could also try to trade Phil before this decision has to be made, but seeing as though they'll likely not be sellers by the deadline, I just don't see this happening, nor do I think they would get a ton in return anyway.  On the one hand, the Yankees face a perilous rotation situation next season.  Pretending Michael Pineda is healthy and effective (and that alone may prove to be an excercise in absurdity), that leaves the Yankees with … well, it leaves them with CC Sabathia and Pineda.  After that, it's some combination of David Phelps, Ivan Nova, and not much else.  I'd love to believe Manny Banuelos could be in the mix, but that's probably waaay to optimistic given his rehab timetable and overall progress.  Maybe Hopefully Andy Pettitte and/or Hiroki Kuroda are coaxed into another year in pinstripes, but that is not a garauntee by any means given their age and vocalized interest in retirement.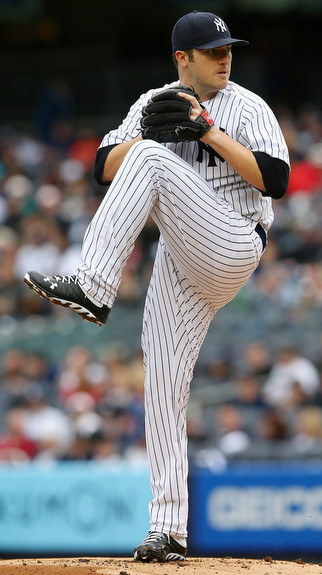 On one hand, having Hughes in the mix would certainly make the rotation a bit more digestable on paper, plus it's comforting to know what weaknesses you have in a player rather than finding out down the road what baggage someone else brings.  On the other hand, there are the talks about an austerity budget which poses a definite financial dilemma, and might be the biggest contributing factor as to why the Yankees may pass on Hughes (along with others) altogether.  To be absolutely clear, I hope the Yankees elect to bring Hughes back — not because he has become the wunderkind that was advertised throughout the minors, but because I think he's a younger alternative to many of the options out there, and honestly just about as effective at this point.  To Hughes' credit, he has also shown occasional capacity to be more than just a back-of-the-rotation type of arm.  Also, I don't necessarily envision the Yankees acquiring another headline-caliber pitcher — the Sabathias of the world are hard to come by after all, but who knows.
So let's say for a moment that the Yankees roll the dice on Phil and offer him an extension.  What might that contract look like?  When asked this very question during Thursday's RAB Live Chat, I whimsically answered five years, $50M.  In retrospect, that price seems a bit conservative – though the number of years seems realistic enough.  Really, that's the price I would want the Yankees to pay, although I would definitely not complain with a four year, $52M agreement similar to Edwin Jackson's.  In actuality, I'd be surprised if it didn't cost more though.  Perhaps five years, $60M seems more plausible.  At that rate, Hughes would still have some legitimate wealth, and wouldn't completely break the bank for the Yankees (not to mention the contract would still include his peak years).  For what it's worth, we've also seen guys like Jered Weaver sacrifice a few dollars to stick around with a team he's comfortable with, and maybe Hughes would do the same for the Yankees (though that's not necessarily the norm nor would I expect it).
Interestingly enough, Baseball-Reference's comparitive list of pitchers' performance most similar by age includes Kyle Kendrick and John Lackey.  Kendrick isn't really useful for contract comparisons as he's basically going through the same process himself.  Lackey could make for an interesting discussion though.  If Hughes performs very well for the remainder of the season (especially if the pitchers market becomes increasingly scarce), an inflated contract could become more likely.  In his final year with the Angels, Lackey was making $10M.  Boston rewarded him with a five-year, $82M salary.  This is also similar to the deal that Anibal Sanchez received from the Tigers (though his included a club option).  Both of these contracts are probably "best case" scenarios for Phil — but they are still within the realm of plausible.  After all, how many times have we seen a team overpay a guy for whatever reason.  Also, other organizations may not worry as much about his fly ball tendancies if their stadium is more pitcher friendly.
Conversely, if Hughes has a really disappointing season from here on out, he could end up with an offer closer to Rickey Nolasco, say, a three-year, $36M pact — or, a few years to re-prove himself at a standard rate.  Given the premium placed on pitching, the fact that teams have money to spend and Hughes' favorable age, I'd bet he lands a contract closer to Lackey before I'd bet on one similar to Nolasco — though my guess is he'll fall somewhere in between, ultimately ending up slightly above Edwin's arrangement.  In any event, the Yankees have some tough decisions to make.  Whatever they ultimately do, I'm sure it'll be scrutinized heavily.  In the meantime, what would you do?
Which contract should the Yankees offer Phil Hughes?