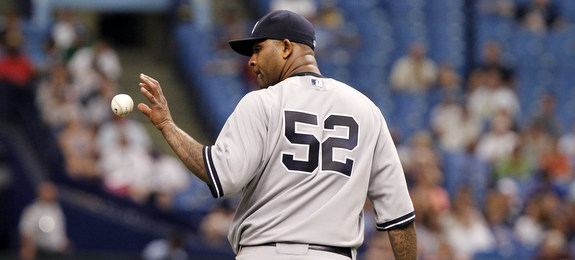 For the first time since signing with the Yankees, CC Sabathia is truly a concern. His last three starts have gotten progressively worse, culminating with Sunday's seven-run, seven-inning disaster against the Rays. It was the fourth time he allowed four or more runs in his last seven starts, raising his season ERA to 3.96 (4.09 FIP). The eleven homers he's surrendered are half last season's total in a little more than one-third of the innings, and the weather hasn't warmed up much yet. He's a concern, there's no sugarcoating it.
"It's everything," said Sabathia to Mark Feinsand following Sunday's game when asked what was wrong. "Not being able to make pitches with two strikes, fastball command. It's just not being good … I've been through bad stretches in my career, but it's tough. It's just one of those things where you've got to keep working, keep going and believe that you're going to get better. I've just got to make better pitches, do a better job of getting outs pitching to contact and not getting behind in hitter's counts."
That's some fine generic pitcher speak right there, which unfortunately isn't very helpful. We shouldn't be surprised by a player declining to explicitly discuss his struggles, however. It's typical. Sabathia is clearly frustrated though, it's evident in his body language. Here, just look at his reaction to the Sean Rodriguez homer from Sunday:
When was the last time you saw Sabathia show outward frustration like that? I can't remember it ever happening, certainly not before this season at least. He's pitching poorly and it's starting to wear on him. It's perfectly normal. We're talking about one of baseball's best pitchers over the last half-decade suddenly struggling as much as he has at any time in his career. It's a shock to the system.
Anecdotally, it seems like hitters are squaring up Sabathia much more often this year, at least compared to his other four years in New York. That isn't showing up in his line drive rate — 21.8%, which is only a touch higher than last year (21.1%) and his career average (20.3%) — but batted ball data is fickle since it's subject to score bias. More balls squared up could mean deeper fly balls that are still caught for outs, harder hit ground balls that still go for singles. That's what it seems like to me, anyway.
Is that problem related to his velocity drop? It very well could be. Fastballs are not independent events — they setup everything else, and for Sabathia that's his slider and changeup. It's an awful lot easier to sit back on mid-80s sliders and changeups when the fastball is humming in at 89-91 instead of 93-95. Sabathia hasn't altered his pitch selection a ton, at least in the sense that he threw 53.9% fastballs last year and 52.0% this year. That's a small difference. He has thrown more changeups and fewer sliders than last year, but at this point of the season it could just be a sample size thing. Overall, he isn't throwing more non-fastballs in 2013.
"The only way the velocity (is a problem) is if it's changing his arm angle because he's trying to muster or anything else," said pitching coach Larry Rothschild to Feinsand on Sunday. "I don't really see that. I think he's trying to make pitches with what he's got on a given day and staying within deliveries and trying to execute pitches. Early in the season he had the same velocity and pitched really well. I think it's just executing pitches a little bit better."
Command has appeared to be an issue for Sabathia at times this year, but there really isn't a way to show that statistically. Walk rates and zone rates speak more to control and throwing strikes in general than command, which is throwing quality strikes. Dotting the edges, staying at the knees, pitching to the hole in the hitter's swing, hitting the mitt, stuff like that. You can always tell when CC is off because his fastball sails up and away to righties, which I suppose could stem from overthrowing and trying to force velocity rather than just letting the ball come out naturally. I haven't noticed if that is happening more frequently this year, however.
I have no idea what's wrong with Sabathia. I don't think it's as simple is "he lost some velocity and therefore took a big step back in effectiveness," though. His days of doing anything more than touching 94+ are probably long gone, which is perfectly normal for a 32-year-old pitcher with over 2,700 big league innings on his arm. Adjustments have to be made and that could take time — it took Mike Mussina all of 2007 to reinvent himself, for example — but it's becoming more and more clear with each start that the Sabathia of old isn't coming back. Given the offense and the team's desperate need for strong pitching, the Yankees need those adjustments to come sooner rather than later. Until they come, CC's performance is a problem.