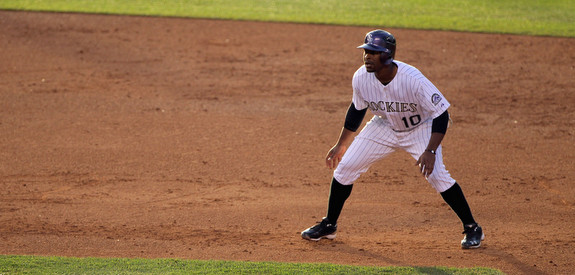 The Yankees are in desperate need of infield help these days due to injury problems (and bad timing), so on Wednesday they added some depth by acquiring Chris Nelson from the Rockies for cash or a player to be named later. Frankie Cervelli has been transferred to the 60-day DL to clear a 40-man roster spot, and I assume Corban Joseph will be sent back to Triple-A to clear a 25-man roster spot.
Nelson, 27, was designated for assignment by Colorado last weekend. The Yankees had interest in him both at that time and during the Winter Meetings in December. He hit .242/.282/.318 (51 wRC+) in 71 plate appearances before the Rockies took him off the roster, but just last year he hit .301/.352/.458 (105 wRC+) in 377 plate appearances. Nelson is a career .279/.322/.416 (86 wRC+) hitter in parts of four big league seasons, and the right-handed bat doesn't have a massive left/road (84/87 wRC+) or home/road (97/72) split.
Although Baseball America ranked him as the 26th best prospect in the game as a shortstop in 2005, Nelson is mostly a second and third baseman these days. He can fill-in at short in a real pinch, but otherwise the defensive metrics rate him as average or a tick below. He doesn't steal or run the bases particularly well either. Nelson is out of minor league options — he can't be sent to Triple-A without first passing through waivers — and there really isn't anything about his game that stands out.
The Yankees just need a warm body on the infield for the time being, and Nelson is exactly that. He fits the roster better than Joseph because he's a righty bat and can actually play third base. More than likely, he's just a two-week stopgap until Kevin Youkilis is ready to be activated off the DL. It might even be shorter than that if the team is planning to give Ronnie Mustelier a shot as soon as he finished rehabbing from his bone bruise. New York needed infield depth and that's what they got, nothing more. Nelson's a band-aid.