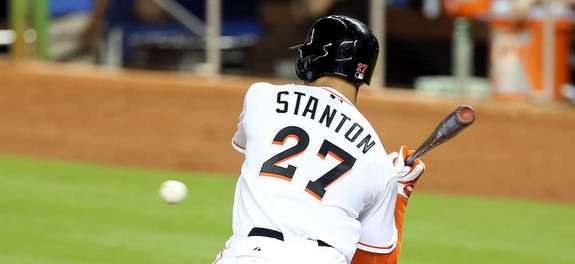 After a fairly dismal road trip, the Yankees now stand in third place with a 39-32 record and a run differential of zero. With just under 60% of the season remaining, there's a lot of baseball to be played and a lot of time for rosters to change. As to be expected, Brian Cashman has already mentioned the team is "open for business," so let's take a look at some possible targets* who have been swirling about here at RAB.
Giancarlo Stanton
The 23 year old outfielder formerly known as Mike hasn't had the best luck this season. He was sidelined in late April for five weeks with a fairly severe hamstring strain. Since returning Stanton has batted .344/.382/.813 (1.195 OPS) with four home runs. He's a career .270/.350/.550 (.382 wOBA, 140 wRC+) hitter with three cost controlled years remaining. This is exactly the type of guy the Yankees should pursue. Chances are the Marlins won't completely screw their fanbase move their disgruntled superstar by the deadline, but they very well may consider moving him come the offseason.
The problem is that Stanton's a superstar and superstars require major hauls. The Yankees would be required to give up at least four or five of their top prospects (which I would definitely be okay with) – we're talking Gary Sanchez, Tyler Austin, Mason Williams, and maybe Rafael DePaula for starters – and that very well might not be enough to get it done, nor would a package such as that necessarily compete with other insane prospect packages offered by other organizations. Chances of this trade happening, in my opinion, are gloomy with a chance of "get-the-eff-outa-here," but it's fun to dream nevertheless.
Chase Headley
Headley has had a disappointing start to the 2013 season, at least by his standards. He's batting .221/.328/.350 (.304 wOBA, 99 wRC+); hence the "Quick! It's time to buy…" chants. The problem here is threefold. First, the Padres, despite sitting right at .500 are only three games out of first place, so they probably aren't going to be sellers, at least as it stands now.
Second, San Diego GM Josh Byrnes isn't a fool. He's not going to just hand over a young, talented third baseman just because he's struggled early on this season – it just doesn't behoove the team to act in such reactionary fashion. In fact, the organization actively tried to discuss a long-term extension with Headley already. Third, and along the same lines as Stanton, if Byrnes were to trade Headley, it wouldn't be cheap nor would NY necessarily have enough MLB-ready, elite prospects to get a deal done. If this was doable, I'd be all for it even if it meant gutting the farm. I just don't see it happening though. Bummer.
Alfonso Soriano
This one's kind of interesting because it's much more plausible. The former Yankee second baseman has a full no-trade clause, though that really isn't a big deal as he can still approve a move to NY (and all indications suggest he would be willing to consider them). Contractually, Soriano is still owed about $30.5M total for the remainder of this season and next. Presumably, if the Cubs were to make a move, the expectation would probably be for them to eat a significant chunk of the contract if they're expecting any sort of return. If the Cubs just wanted to unload the remaining salary on to another team (which is also possible), they probably wouldn't get anything back — kind of like how the Yankees handled A.J. Burnett.
Maybe the Cubs are willing to eat $15-20M, in which case I could see a C-level prospect getting thrown into the deal. In terms of upgrading the Yankee lineup, Soriano has hit .249/.280/393 (.290 wOBA, 79 wRC+) this season but is one year removed from posting a 116 wRC+, 3.6 fWAR season last year. He also has a very discernible splits against right-handers and he's never shown a whole lot of patience at the plate (career 5.9 BB%). Would he be an improvement over what the Yankees are currently trotting out into left field? Probably. Do we really want another him though? I'd say no unless the Cubs eat almost all the remaining dollars, in which case, my official stance becomes "meh." Eventually Curtis Granderson will return anyway.
Andre Ethier
Now here's another guy who's name gets mentioned frequently around here. Ethier has batted .251/.333/.377 (.308 wOBA, 98 wRC+) this season, which is about on par with what ZiPS projected. On the plus side he's consistently been a 100-plus wRC+ hitter who has hit for some power over the years. On the downside, he has very obvious splits – lefties haven't been particularly kind to him which inevitably translates into another platoon bat. He's also shown increasing strikeout trends over the past few seasons. Moreover, his defensive value in right field has been judged as anywhere from slightly below-average to outright lousy.
The real elephant in the room though is the contract. The Dodgers saw fit to give Ethier a five year, $85M deal which carries him through 2017 (plus a 2018 club option). That translates out to about $8M owed this year, $15M in 2014, $18M in 2015 and 2016, then $17.5M in 2017. Yikes. Then there's the age. He's already 31 years old. I don't want to see the Yankees on the hook for a ton of cash during his decline years, and I don't want to see anyone noteworthy get shipped out to LA in return for him. Fortunately, should the Yankees elect to send prospects to LA, I imagine it would be nothing beyond a B-level prospect. Granted, I have never been a big Ethier supporter, but I really have no interest in seeing another corpse stumbling along the bases over the next several years.
*For the record, I have been saying from day one that there aren't going to be any big names heading to NY by the trade deadline. Until I see otherwise, I'm sticking by this prediction. Also, if you have any trade targets you'd like me to consider, please submit them using the "Submit a Tip" feature, and I'll try to incorporate it into my follow up piece which will hopefully be written in the next week or so.