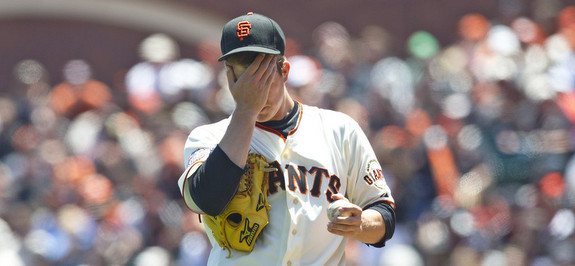 The Giants and Yankees have an awful lot in common, and it extends beyond being two of the three teams to win a World Series in the last four years. San Francisco's coaching staff is a who's who of former Yankees — Dave Righetti (pitching coach), Bam Bam Meulens (hitting coach), Roberto Kelly (first base coach), Joe Lefebvre (assistant hitting coach) — and GM Brian Sabean spent eight years in New York's front office on the scouting and player development side. Under him the team drafted/signed and developed Derek Jeter, Bernie Williams, and others.
This year, the Yankees and Giants share the fact that they're contenders with holes. They have a solid roster core that has been weakened by injuries, specifically to their traditional strengths — offense for the Yankees and pitching for the Giants. Earlier this week, Danny Knobler reported San Francisco is already looking hard hard for starting pitching help in advance of the trade deadline. Madison Bumgarner is the team's only Opening Day rotation guy with a sub-4.00 ERA (3.58) while both Tim Lincecum (4.70), Barry Zito (4.79), and Matt Cain (5.09) are all much closer to 5.00 than 4.00. Ryan Vogelsong (7.19 ERA) was a disaster before hitting the DL with a broken hand.
Baseball America ranked San Francisco's system as the third worst in baseball coming into the year, and their most big league ready pitching prospect (lefty Mike Kickham) got clobbered in his lone spot start last month (four runs in 2.1 innings). Lefty Eric Surkamp, their top pitching prospect a year ago, is out following Tommy John surgery. Exactly one of their regular Triple-A starters has a sub-4.50 ERA and none have a sub-4.00 ERA. The Giants have no help coming from the farm system whatsoever, which is why long man Chad Gaudin (!) moved into the rotation earlier this month.
The Yankees, on the other hand, have perhaps more rotation depth right now than they've had at any point in the last ten years. Behind the veteran front three they have Phil Hughes, David Phelps, Vidal Nuno, Ivan Nova, and the rehabbing Michael Pineda. None are stars but all five are capable big league starters, assuming Pineda's rehab continues to progress well and Nuno's groin problem is indeed as minor as reported. The Yankees could move one in a trade to shore up the offense and still have depth to spare, and that's not even counting an emergency starter type like Adam Warren or Brett Marshall.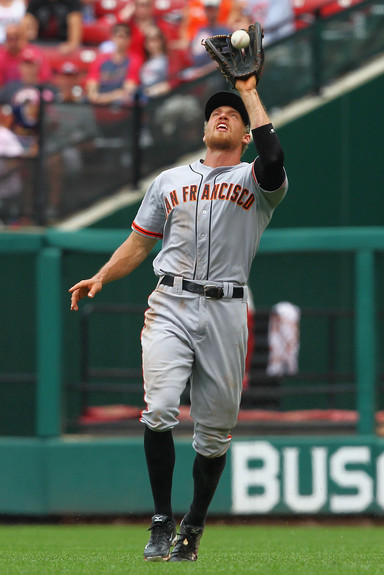 Brian Cashman & Co. have some arms to offer the Giants, so now the question is what do the Giants have to offer the Yankees? The answer is not much, realistically. The Bombers need a corner outfield bat, a shortstop, and a catcher. San Francisco has one legitimate corner outfield bat in Hunter Pence, but they aren't moving their second best hitter for pitching help, especially not with Angel Pagan on the DL. Brandon Crawford and Buster Posey aren't going anywhere, plus the Giants are already down two regular infielders in Marco Scutaro (finger) and Pablo Sandoval (foot). Their collection of backup catcher stink like most backup catchers. Nothing to see there either.
Because the Yankees a) are trying to contend, and b) live and die with their pitching, I doubt they'd look to move a spare starter for prospects. That would defeat the purpose. Plus, as Baseball America's preseason ranking indicates, the Giants don't exactly have many prospects to offer. Fans love to conjure up quantity over quality trades, meaning my three meh prospects for your above-average big league, which is exactly what Giants fans would do when look at New York's pitchers. I don't want the Yankees taking a multi-player package of bit pieces for one of their young arms with years of team control remaining. Remember, they don't have to move a pitcher, it's just an option.
Ultimately, the Yankees match up well with the Giants for a trade but the Giants don't match up well with the Yankees. San Francisco doesn't have a corner outfielder bat to offer, ditto a catcher or shortstop. The Bombers could take some lesser prospects in return for Nova or Hughes — I can't imagine they'll trade Hughes for anything less that the equivalent of the first round pick they'll get when he leaves as a free agent, however — but that doesn't make a ton of sense right now. They'd be weakening the big league team for a moderate improvement in the farm system, which is the exact opposite of what they should be doing. Unless the Giants are willing to talk Crawford or Pence (won't happen), there's no real trade fit for these two teams.