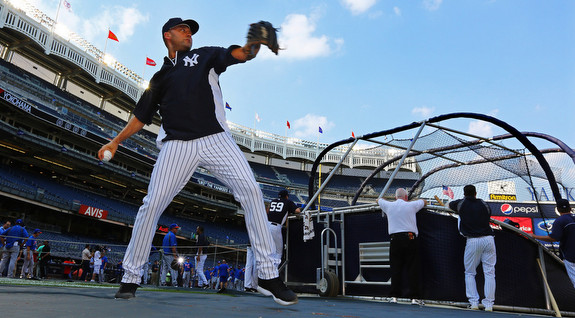 With a little luck, it shouldn't be too much longer until some of the prominent Yankee regulars start returning from their respective DL stints. Although Cashman's cast of fill-ins have generally done a fine job keeping the team in contention, the team will surely benefit from the return of its traditional starters. Let's take a look.
Alex Rodriguez
Once upon a time, Alex was one of the best players on the planet. Unfortunately, this really hasn't been the case for the past several years. In addition to an increasing number of injuries and subsequent trips to the DL, he's appears to have lost bat speed and continues to produce more dramatic batting splits as time goes on.
In 2012, A-Rod batted .272/.353/.430 (.342 wOBA, 114 wRC+) with 18 home runs. Frankly, given his age and health, who really knows whether he can produce at even this level moving forward. For what it's worth, ZiPS projected Alex at .253/.335/.412 in 2013 (.327 wOBA). If I had to guess, he'll probably hit about 8-10 home runs once he returns, assuming his activation date still falls around the All-Star break.
Is he the guy who's going to turn the team's offense around and ensure the 28th championship and live up to his mega contract? No. He is not, nor should that be the expectation at this point. I think we have to look at A-Rod in terms of incremental benefit. Basically, is he better than league average, and at the very least, does he represent an upgrade over what the team currently has?

Given that the Yankees have received fairly lousy production from their third basemen so far, I'd say there is a distinct possibility that the answer is "Yes!" to the latter question. According to B-Ref, league average would be approximately .255/.320/.408, so that benchmark may be attainable too.
Defensively, I imagine he'll be stiff as a board out there, but what else is new as far as Yankee infielders are concerned? Joe Girardi will likely give him some time at DH as well, along with a few off days or partial off days to keep him fresh.  Color me naive, but I'm actually looking forward to seeing A-Rod back on the field if for no other reason than Kevin Youkilis looks completely cooked (and now injured).
Of course, A-Rod's difficulties with Biogenesis could certainly complicate the matter depending how that plays out.
Derek Jeter
Are we all feeling super confident about the Yankees ageless Captain? Of course not. Derek is pushing 39 (!) years old at this point, and is coming off of a pretty substantial ankle injury. Personally speaking, I think Derek is the biggest wild card here. Unlike Alex, who has been steadily declining the past few seasons, Jeter's been more sporadic with his performance. After having arguably the worst season of his career in 2011 (and really a very mediocre year by his standards in 2010), he bounced back and was effective in 2012. ZiPS has Jeter batting .277/.344/.369 (.311 wOBA) when he returns which would represent a drop off from last year. Still, I think he too would have to fall into the better-than-the-alternatives category and given how tight the A.L. East is, every bit counts.
My guess is he'll spend a fair amount of time DH, which still leaves plenty of room on the roster for the likes of Jayson Nix or Eduardo Nunez (if he ever returns). Honestly though, this would probably be an ideal scenario as it would allow the team to deploy a more capable defensive alternative to Jeter while still retaining whatever's left of his bat.
While I typically don't put much stock into the intangibles, I tend to change my stance a bit when it comes to Derek Jeter. Every time I doubt him, he proves me wrong. Great players don't always follow the trend line neatly. Eventually Father Time will catch up and he'll stink. Whether that's this season remains to be seen, but until I see it, he'll have the benefit of the doubt.  Having his name back in the lineup card will be a welcome addition.
Curtis Granderson
The Grandy-man can! He will be back, and he will be fine. That's my official stance. His two freak injuries this season were unfortunate and frankly, I'm still a little worried that the power may be sapped a bit after having his forearm/hand broken. Still, he's still relatively young and seemed to be just starting to contribute positively during his brief return. If I were a betting man, I'd mark him down for 10-15 home runs once he returns. His 2012 campaign, which resulted in a .232/.319/.492 (116 wRC+) line, seems like a reasonable starting point though I certainly wouldn't mind a little bit more contact and a little less feebleness against lefties, but such is life.
Aside from Granderson's personal contributions, he'll also offer the gift of outfield reconfiguration. All of a sudden, there won't be black holes sitting in both corner outfield positions. Ichiro Suzuki and Vernon Wells can go back to situational hitting (and dare I say, even show some improvement). Between Grandy, Jeter and A-Rod, you'd have to think Travis Hafner would benefit from some additional rest as well.  If this is the last year we get to see Curtis in pinstripes, hopefully he'll make the remainder of it a good one.