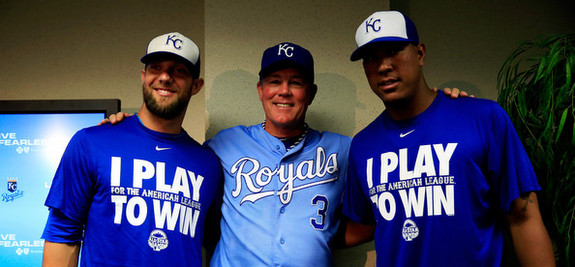 The schedule could not be any more favorable leading up to the All-Star break. The ten-game homestand continues this week with four against the Royals, who are improved but continue to spin their wheels in the middle of the AL Central. The Yankees swept a three-game series in Kansas City back in May, as you surely remember.
What Have They Done Lately?
The Royals lost yesterday and lost two of three to the Athletics at home over the weekend. They've dropped ten of their last 17 games overall. At 41-44 with a +4 run differential, Kansas City is mediocrity defined in the middle of the division, not good enough to contend and not bad enough to sell.
Offense
Believe it or not, manager Ned Yost's team has scored fewer runs (345) than the Yankees (348) this year. Of course, they've also played three fewer games, so don't get too excited. Kansas City averages 3.92 runs per game with a team 88 wRC+, so they're comfortably below average. They don't have any position players on the DL but OF Alex Gordon (118 wRC+) is dealing with a substantial butt bruise (not joking) and might need a day or two to heal up.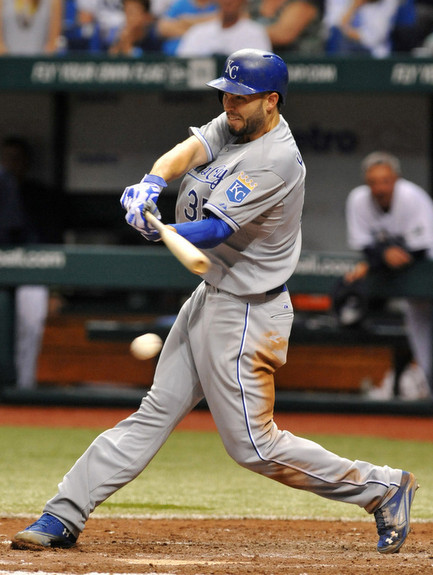 The top four … well, three of the top four spots of Yost's regular lineup are really good. Gordon typically leads off and DH Billy Butler (111 wRC+) cleans up, and these days 1B Eric Hosmer (107 wRC+) bats third. He's got a 156 wRC+ with eight homers over the last 30 days, so it looks like he's starting to live up to all that promise. SS Alcides Escobar (63 wRC+) bats second and is Yost's way of sabotaging things. C Salvador Perez (104 wRC+) and OF David Lough (100 wRC+) have had nice years. Lough essentially led to Jeff Francoeur being released.
3B Mike Moustakas (65 wRC+) has been awful, as has IF Chris Getz (49 wRC+). 2B Johnny Giavotella (41 wRC+ in limited time) was just called up and plays everyday. OF Lorenzo Cain (91 wRC+) and OF Jarrod Dyson (118 wRC+ in limited) work the revolving outfield door with Lough. IF Elliot Johnson (42 wRC+) kinda stinks, but otherwise the Royals have a solid bench with IF Miguel Tejada (94 wRC+) and backup C George Kottaras (121 wRC+ in limited time). Kansas City has hit the fewest homers (55) in the league by a lot — the Twins have hit the second fewest at 78 — and have compensated by stealing the fourth most bases in the game (66).
Starting Pitching Matchups
Monday: RHP Phil Hughes vs. RHP Jeremy Guthrie
The Royals have loaded up on former AL East pitchers over the last 12 months or so, and that crop of pitchers includes the 34-year-old Guthrie. He's posted a 4.29 ERA (5.76 FIP) in 17 starts with very bad peripherals: 4.37 K/9 (11.3 K%), 3.28 BB/9 (8.5 BB%), 1.68 HR/9 (14.7% HR/FB), and 42.6% grounders. He was always a guy who outperformed his peripherals, but not to this extent. Guthrie still runs his four-seamer and sinker in the 92-94 mph range, and he backs them up mid-80s changeups, low-80s sliders, and mid-70s curves. Despite that deep repertoire, lefties have tattooed him this year (.380 wOBA) and he's got a huge platoon split (.309 wOBA vs. RHB). Although the Yankees saw Guthrie plenty during his time with the Orioles, they haven't faced him since July 2011. Been a while.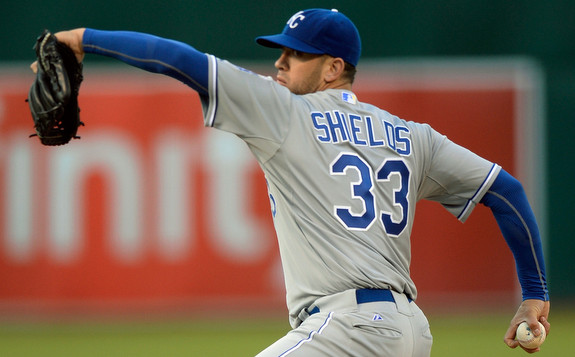 Tuesday: LHP CC Sabathia vs. RHP Jamie Shields
Shields, 31, is in the middle of yet another marvelous season (3.23 ERA and 3.55 FIP) but is somehow getting even less recognition after moving from Tampa to Kansas City. His strikeout (7.85 K/9 and 21.3 K%) and walk (2.57 BB/9 and 7.0 BB%) numbers are both pretty damn good and his worst rates in several years. The same goes for his ground ball rate (43.0%), though he is giving up fewer homers (0.88 HR/9 and 10.1% HR/FB) than he has in recent years. Shields remains a master at pitching backwards, especially with his world-class mid-80s changeup. His two- and four-seamer sit in the low-90s while his cutter is a touch below that in the upper-80s. An upper-70s curveball and an infrequently used upper-80s slider round out his repertoire. Shields held to the Yankees to three runs in eight innings earlier this year, and of course they saw him plenty during his time with the Rays.
Wednesday: RHP Ivan Nova vs. RHP Wade Davis
Unsurprisingly, the 27-year-old Davis has reverted back to his 2009-2011 performance after spending 2012 in the bullpen. He was nasty last season, with a 2.43 ERA (2.78 FIP), but this year he's sitting on a 5.42 ERA (4.20 FIP) with okay peripherals: 8.13 K/9 (19.6 K%), 3.81 BB/9 (9.2 BB%), 1.10 HR/9 (12.4% HR/FB), and 38.8% grounders. As a starter, Davis sits in the upper-80s/low-90s with his three fastballs (two-seamer, four-seamer, cutter) while using a low-80s slider as his primary offspeed pitch. A mid-80s changeup is his fifth offering. The Yankees pummeled Davis for seven runs in five innings back in May and saw him more than a few times during his years with Tampa.
Thursday: LHP Andy Pettitte vs. RHP Ervin Santana
A year ago, the 30-year-old Santana was one of the very worst starters in baseball. This year, he has a 2.90 ERA (3.93 FIP) in 17 starts. His strikeout (7.17 K/9 and 20.0 K%), walk (1.83 BB/9 and 5.1 BB%), homer (1.22 HR/9 and 13.6% HR/FB), and ground ball rate (47.6%) have all improved, substantially in some cases. Santana is basically a two-pitch pitcher, sitting in the low-90s with his four-seam fastball and the low-to-mid-80s with his slider. He throws that slider almost 40% of the time. A mid-80s changeup is his rarely used third offering. The Yankees scored four runs off Santana in 6.1 innings earlier this season, and they have faced him plenty of times over the years, mostly hitting him very hard. No real surprises here.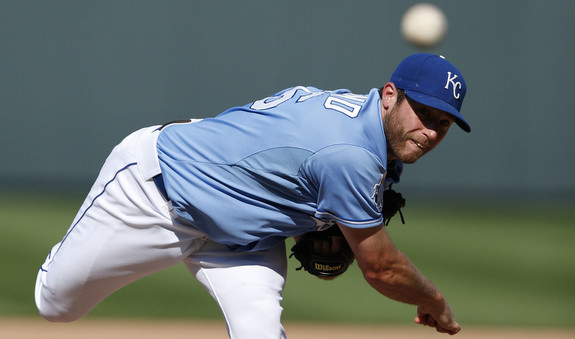 Bullpen Status
The bullpen is the strongest and deepest part of the Royals roster. Closer RHP Greg Holland (1.47 FIP) is the best reliever no one talks about, and these days he's being setup by RHP Aaron Crow (3.69 FIP) and RHP Luke Hochevar (3.43 FIP). Hochevar seems to have found a niche in relief. LHP Tim Collins (3.80 FIP) is the matchup guy while LHP Bruce Chen (4.14 FIP) and LHP Will Smith (3.99 FIP in limited time) are multi-inning guys. RHP J.C. Gutierrez (3.66 FIP) rounds out the pen. Chen and Smith each had to throw 3+ innings and 50+ pitches yesterday because Luis Mendoza got clobbered, so their either going to make a roster move today or Yost will be short two arms for at least one day and probably more like two or three days.
The Yankees, meanwhile, have a pretty big bullpen mess on their hands. At least in the late innings. Both David Robertson and Mariano Rivera have pitched in two straight and five of the last seven games, meaning both are likely to be unavailable tonight. I'm guessing Joe Girardi would love to get then both two days off if possible. The various middle relievers are in good shape and long man Adam Warren is probably nice and rusty after throwing a total of five pitches in the last 18 days. Check out our Bullpen Workload page for reliever usage and Royals Review for the latest on this week's opponent.