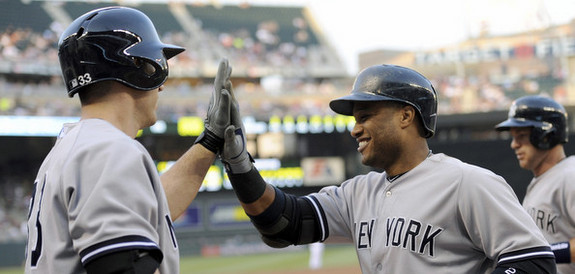 The losing streak is over and the Yankees actually scored a whole bunch of runs in last night's win over the Twins. It felt just like old times. The Bombers aren't out of the woods yet though, not even close really. They have to jump three teams if they want to win the divisions and two if they want to sneak into the postseason as a wildcard. As I said yesterday, they really need to take advantage of all these games against the Twins and Royals before the All-Star break. One win ain't enough. Here's the lineup that will face right-hander Samuel Deduno:
CF Brett Gardner
RF Ichiro Suzuki
2B Robinson Cano
DH Travis Hafner
LF Zoilo Almonte
1B Lyle Overbay
C Chris Stewart
3B David Adams
SS Alberto Gonzalez
And on the mound is the 2004 First Team High School All-American, right-hander Phil Hughes.
Clear skies and sunshine in Minneapolis, so they won't have any trouble getting this game in. First pitch is scheduled for 8:10pm ET and can be seen on YES. Enjoy.
Injury Updates: Jayson Nix (hamstring) is day-to-day. He felt some tightness after running out his double last night. Joe Girardi said it's not considered a DL injury, but they don't know when he'll be able to return to the lineup … Mark Teixeira (wrist) had surgery as scheduled yesterday and everything went "as planned," the team announced.