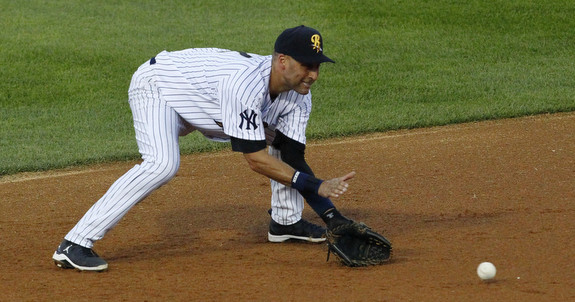 Two-hundred and forty-three days after crumbling to the Yankee Stadium infield with a fractured left ankle in Game One of the ALCS, Derek Jeter returns to the lineup this afternoon. He was expected to be back much sooner, but sometimes things don't go according to plan. Better late than never, of course.
With just four Triple-A rehab games under is belt — and a bunch of simulated at-bats in Tampa before that — after close to nine months of no baseball activity, I really have no idea what to expect from Jeter at this point. I do expect there to be some rust, that seems inevitable after such a short rehab assignment, but I don't know how long it will take him to shake that off. At the same time, the team's shortstops have been a collective disaster this year, so it won't take much for the Cap'n to improve the lineup. Either way, I'm glad he's back and I hope his presence gives the club the shot in the arm they so desperately need.
Here's the lineup Joe Girardi is sending out there against Ervin Santana:
CF Ichiro Suzuki
DH Derek Jeter
2B Robinson Cano
RF Vernon Wells
1B Lyle Overbay
LF Zoilo Almonte
SS Eduardo Nunez
3B Luis Cruz
C Austin Romine
And on the mound is left-hander Andy Pettitte, who really needs to put together a strong outing from start to finish. Things have not been going well since he returned from the DL seven starts ago.
It was raining for a good part of the morning but the tarp is off the field and the game is expected to start on time. There is a chance of showers later this afternoon, however. First pitch is scheduled for 1:05pm ET and can be seen on YES locally and MLB Network nationally. Enjoy.
Roster Move: Travis Ishikawa has been designated for assignment to clear both a 25-man and 40-man roster spot for Jeter, who was officially activated off the 60-day DL. I hope Ishikawa wears a Yankees hat into the Hall of Fame.
Final Vote: You have until 4pm ET to case your vote and help send David Robertson to the All-Star Game. Here's the ballot. You can also vote using the #HighSocksForVotes hashtag on Twitter. Just tweet that out and it count as one vote. At last check, Robertson was second behind Steve Delabar in the voting.