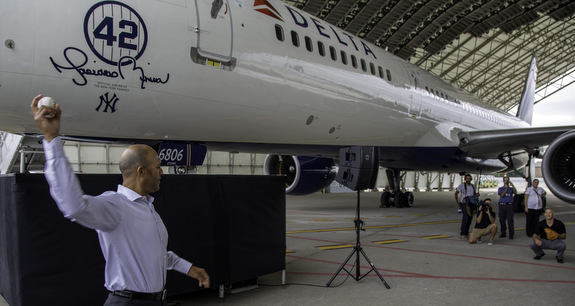 There is no team I'd rather see the Yankees play more than the Twins … well, ever. The Bombers have had way too much success against them over the years — I'm going to repeat this because it's worth repeating: New York is 71-20 against Minnesota during the Ron Gardenhire era, and four of the 20 losses came against in-his-prime Johan Santana — and they make for comfortable games. I could use some of that this weekend heading into the break. Here's the lineup that will face lefty Scott Diamond:
CF Brett Gardner
RF Ichiro Suzuki
2B Robinson Cano
DH Vernon Wells
LF Zoilo Almonte
1B Lyle Overbay
SS Eduardo Nunez
3B Luis Cruz
C Chris Stewart
And on the mound for his final start of the traditional first half, right-hander Hiroki Kuroda. I'm sure older pitchers appreciate the All-Star break for the extra rest. Well, appreciate it more than everyone else.
It's been cloudy and humid all day in New York, which means rain. The forecast calls for a short shower right around first pitch, but that's all. The game is scheduled to start a little after 7pm ET and can be seen on YES. Enjoy.
Injury Updates: Curtis Granderson (hand) started taking dry swings yesterday but has yet to take batting practice … Travis Hafner (foot) is expected to be available as a pinch-hitter … in case you missed it earlier, Derek Jeter (quad) will not play this weekend due to a Grade I strain.