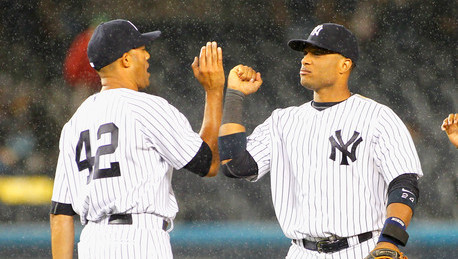 Just two more games left in the traditional first half, and so far the Yankees have taken care of business on this ten-game homestand leading into the All-Star break. They've won five of eight games so far and are riding a three-game winning streak with two more to play against the Twins. Given the Yankees' dominance of Minnesota over the last decade, it's impossible not to feel good about the team's situation this weekend. Here's the lineup that will face right-hander Samuel Deduno:
CF Brett Gardner
RF Ichiro Suzuki
2B Robinson Cano
DH Vernon Wells
1B Lyle Overbay
LF Zoilo Almonte
SS Luis Cruz
3B Alberto Gonzalez
C Austin Romine
And on the mound looking for his fourth straight start of two runs or less, right-hander Phil Hughes. One of those last three starts was rain-shortened, of course.
It's warm and muggy in New York, and for once it looks like the rain will actually hold off until after the game ends. There are showers expected later this afternoon/early this evening. First pitch is scheduled for 1:05pm ET and can be seen on YES locally and MLB Network nationally. Enjoy.