For just the third time in the last three weeks, the Yankees have won back-to-back games. Gotta love those Twins, they always seem to come through whenever the Bombers need a pick-me-up. Tuesday's win was by the score of 7-3.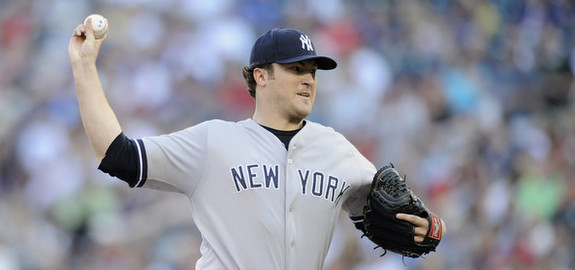 Seven-Inning Phil
For the second straight start and the third time in the last five starts (fourth time in the last seven starts as well), Phil Hughes completed seven innings of work. He ran into a little rough patch a few weeks ago where getting through five was a chore, but that appears to be in the rear view mirror. Hughes turned in his second consecutive very good and borderline excellent start, holding the Twinkies to one run in those seven innings of work.
The highlight of Phil's night, clearly, was his escape job in the fourth inning. He walked the leadoff man and then allowed a perfectly placed double to put runners at second and third with no outs, but he got out of the jam without allowing a run thanks to two strikeouts and a routine ground ball to second. Minnesota was up 1-0 at the time and a hit would have made it a 3-0 game, which these days feels kinda insurmountable. Great job getting out of that inning.
The run scored on a Joe Mauer single, which is one of those things that will happen. I mean, it's Joe Mauer. He's awesome. Hughes allowed the run on six hits and two walks, striking out just three. Obviously two of them came at the perfect time in that fourth inning. Seventy of his 114 pitches were strikes (61%), though his MLB-best first pitch strike percentage (70.1%) dropped because he started only 17 of 29 batters faced with strike one. Oh well. Very well done, just what the team needed given the rotation's recent struggles.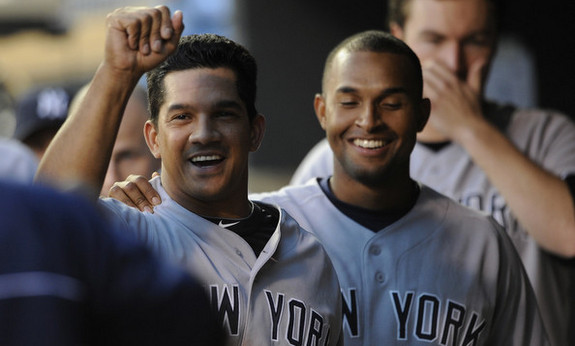 Twenty-Seven Innings
Prior to the fifth inning of this game, the last time the Yankees scored a run while Hughes was on the mound was the third inning of the series opener in Seattle, when they pounded Aaron Harang. That was June 6th (!). The Bombers went a span of 27 innings between runs with Phil on the mound, but they did him a solid and pushed three across in the fifth against Samuel Deduno on Tuesday.
The inning started with a little bit of baseball serendipity — yes, I just used serendipity in a post on a Yankees blog — as Lyle Overbay beat out a dinky little infield single. Naturally, the next batter (Chris Stewart) hit a ball right on the screws that went for an out. That's kinda how it goes. David Adams followed with a solid single to center to put men at first and third with one out, then Alberto Gonzalez sliced a double the other way into the right field corner. Perfect speed and perfectly placed to get both runs in even though there was just one out.
Ichiro Suzuki plated Gonzalez later in the inning with an assist from Samuel Deduno — the Minnesota starter muffed a weakly hit ground ball that hugged the first base line. He tried to pick the ball up and tag Ichiro as he ran by in one quick move, but the ball never actually made it into his glove. It's about time the Yankees scored a run on a dinky little infield hit like that. They've had more than their fair share go against them of late.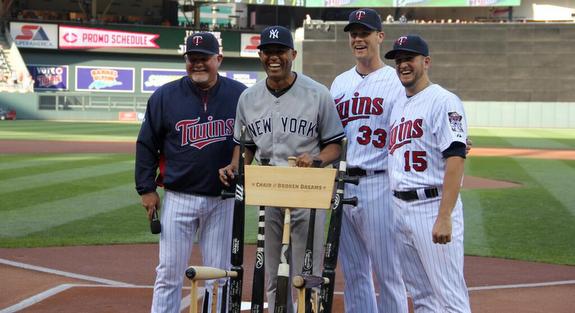 Leftovers
Remember the Nick Green Game™ in 2006? When the spare part utility infielder with 1-for-3 with an upper-deck homer, two walks, and a pair of great defensive plays in a spot start for the Yankees against the Mets? This was the Alberto Gonzalez Game™. The spare part utility infielder went 2-for-4 with the two-run double, a one-run check swing single, and a great defense play going back on a ball in shallow center. Pretty great night for the former Attorney General.
The Twins made some noise in the ninth, during Preston Claiborne's second inning of work. They got to him for two runs on three hits in that inning before he gave way to Adam Warren, who walked Mauer on five pitches. He was predictably rusty after appearing in just three games (!) over the last month. The whole two long men thing is kinda silly. Mariano Rivera came in for the one-out, two-pitch save.
Robinson Cano broke the game open with a three-run homer in the seventh, his fourth homer in the last three games. There are few things in this game more enjoyable than watching a locked-in Robbie Cano. The homer was his 20th of his season, and he becomes just the fourth second baseman in history with five straight 20+ homer seasons. The others: Jeff Kent, Dan Uggla, and Chase Utley. 'Tis the era of the offensive-first second sackers.
Before Adams' single in that fifth inning rally, Yankees third basemen were mired in an 0-for-32 (!) slump. That was the longest active slump by any position for any team in baseball, including pitchers. That is quite ridiculous. Adams tacked on a double (when to third on an error by the right fielder) in the seventh for his first multi-hit game since June 9th. Yeah, it's been a while.
Brett Gardner, Travis Hafner, and Stewart combined to go 0-for-13 while the rest of the team went 10-for-24. Ichiro, Cano, Adams, and Gonzalez all had two hits apeice. For the second straight game and fourth time in the last five games, the Yankees picked up double-digit hits. Hooray.
Box Score, WPA Graph & Standings
MLB.com has the box score and video highlights while some other stats are available at FanGraphs. ESPN has the updated standings. The Yankees are five back of first place in the loss column and three up on last place in the division. They're two losses back of a wildcard spot.

Source: FanGraphs
Up Next
Game three of this four-game set is scheduled for Wednesday night, when CC Sabathia gets the ball against right-hander P.J. Walters. The Yankees will be going for their first three-game winning streak in almost exactly a month.