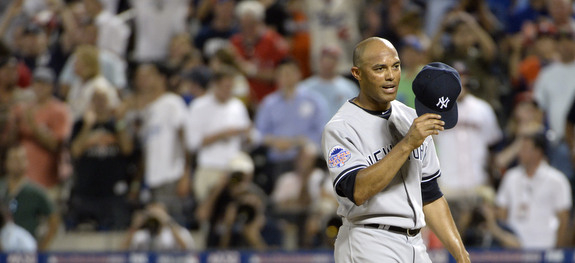 I'm very happy I got to see Joe Nathan close out Mariano Rivera's final All-Star Game in person. I'll cherish this forever.
Ugh, this felt so wrong. I mean, yeah, I know there was a chance Mo may not have pitched if a bullpen full of All-Stars couldn't hold a three-run lead in the eighth. I get that. But I don't like it. It was a great moment, the two-minute standing ovation and cap tip to the crowd, but man it felt so wrong to see Rivera — who was named the All-Star Game MVP — out there in the eighth instead of the ninth. Jim Leyland out-thunk himself a little too much.
Anyway, the AL won 3-0 because the pitching staff held the NL to just three hits. Jose Bautista had a sacrifice fly in the fourth, J.J. Hardy a run-scoring ground out in the fifth, and Jason Kipnis a run-scoring double in the eighth. Robinson Cano left the game after being hit by a pitch in the first inning but is expected to be fine.
MLB.com has the box score and video highlights while FanGraphs has the WPA Graph. For the first time since 2009, the AL will have homefield advantage in the World Series. That'll be useful if the Yankees get their act together in the second half.