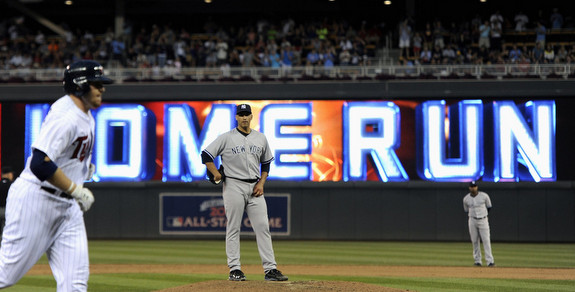 Despite last night's uplifting win, the Yankees have still lost six of their last eight games and 21 of their last 34 games. That dates back to the game after the 11-inning win/ninth inning comeback against Fernando Rodney and the Rays in Tampa. One win against a mediocre Twins club who was very willing to beat themselves by throwing the ball away on more than one occasion doesn't mean the Yankees are out of the woods yet.
The offense has been the primary culprit behind this month-long slide. The so-called Bronx Bombers have scored just 112 runs during that 34-game skid, an average of 3.29 runs per game. The AL average this year is 4.36 runs per game, so we're talking a full run below-average for more than a month by a team that plays in a very hitter friendly home ballpark. The Yankees have hit .228/.289/.335 as a team during that stretch, on par with the washed up Victor Martinez (.233/.290/.339). It's bad.
The offense is not alone, however. The starting rotation, considered the strength of the team by pretty much everyone coming into the season, has been a let-down over the last month as well. The starters as a whole have a 4.64 ERA and 3.82 FIP during the last 34 games, so better than average peripherals with below-average results. Here are how the individual starters have fared during the slide:
| | IP/Start | ERA | FIP | K/9 | BB/9 | HR/9 | Opp OPS | BABIP |
| --- | --- | --- | --- | --- | --- | --- | --- | --- |
| CC Sabathia | 7.1 | 5.08 | 3.95 | 7.19 | 1.40 | 1.40 | 0.684 | 0.257 |
| Hiroki Kuroda | 6.2 | 3.33 | 3.92 | 7.04 | 1.37 | 1.37 | 0.664 | 0.261 |
| Andy Pettitte | 6.0 | 5.15 | 3.19 | 6.63 | 2.70 | 0.49 | 0.739 | 0.336 |
| Phil Hughes | 6.0 | 3.93 | 3.60 | 7.61 | 2.45 | 0.98 | 0.695 | 0.284 |
| David Phelps | 4.1 | 6.84 | 4.54 | 7.18 | 4.79 | 1.03 | 0.814 | 0.360 |
I've excluded Vidal Nuno (two runs in six innings) and Ivan Nova (three runs in 6.2 innings) because both made just spot one start during the 34-game stretch and haven't contributed to the carnage every five days. Outside of Kuroda and maybe Hughes, it's the regulars who have been let downs.
Sabathia has been crazy homer prone of late — he's allowed 17 homers at the halfway point, just five fewer than the career-high he set last season — and he hasn't just fallen victim to Yankee Stadium cheapies either. Hit Tracker classified five of the eight homers he's allowed during the 34-game slide as "plenty," meaning they cleared the fence by more than ten vertical feet or landed more than one fence height beyond the wall. Between his overall velocity loss and increased propensity for mistake pitches, the increased homer trend seems more likely to continue than improve going forward.
Since coming off the DL early last month, Pettitte hasn't given up a ton of homers (just two) but he has given up a lot of hits overall (42 in 36.2 innings). Ten of those 40 non-homer hits have been doubles, so opponents are still hitting for power against him even though the ball isn't going over the fence. Andy has never been shy about giving up hits, but he hasn't had his usual stinginess with men on-base recently. Opponents are hitting .328/.377/.422 (.433 BABIP) against him with men on and .333/.367/.462 (.429) with runners in scoring position since coming off the DL. It's easy to say that will improve as the season goes on, but you never really know with 41-year-old finesse pitchers. Andy Pettitte is guarantees to be awesome just because he's Andy Pettitte.
Phelps' poor numbers are the product of two exceptionally bad outings. He allowed five runs in one-third of an inning in late-May and nine runs in 2.1 innings over the weekend. In the four starts between the two duds, he's allowed just seven runs in 23.2 innings (2.66 ERA and 3.27 FIP). That doesn't excuse the two disaster starts obviously, but I prefer seeing two disasters and four strong starts than six consistently mediocre ones. At least the former suggests he might have just had two really bad games relatively close together and isn't fighting through some kind of mechanical problem or injury. Either way, the Yankees do need him to be better than he has been of late.
Last night's ten-run outburst is hardly an indication New York has gotten over their offensive woes. They have a lot of trouble scoring runs and they need their pitching staff to not just be good, they need them to be damn near great. The rotation has not been very good of late and that's a big reason why they've been unable to string wins together. Nova is waiting in the wings if they need to make a change, but he hardly inspires any confidence. Nuno is out with a groin injury with no return in sight. Michael Pineda's rehab window expires Monday but I find it very hard to consider a guy coming off major shoulder surgery to be a potential rotation savior. Besides, it seems more likely that he'll be optioned to Triple-A next week than added to the big league roster. Long story short, the guys in the rotation simply have to start pitching better to keep this team in any kind of race.