The Yankees started 2013 with four of their five best hitters on the DL, so the plan was to ride out the storm on the shoulders of an experienced and deep pitching staff. That worked well for a while, but the injured guys have yet to return — or, in some cases, they returned only to get re-injured — and there's only so long you can be a pitching and defense team in a small ballpark in the AL East.
The starting staff has held up reasonably well this year, though there have been some individual ups and downs. That inevitable over the course of the season. Here's what the rotation has done month-to-month this season:
| | IP/Start | K/BB | BABIP | ERA | FIP |
| --- | --- | --- | --- | --- | --- |
| April | 6.0 | 3.27 | 0.311 | 3.77 | 3.70 |
| May | 5.2 | 2.86 | 0.272 | 3.81 | 4.05 |
| June | 6.1 | 2.87 | 0.297 | 4.71 | 3.92 |
| July | 6.2 | 3.48 | 0.269 | 3.16 | 3.96 |
| Overall | 6.0 | 3.05 | 0.292 | 3.96 | 3.90 |
June and July kinda cancel each other out in terms of ERA, but otherwise the rotation has been pretty steady overall. It's not an elite rotation though — a 3.96 ERA and 3.90 FIP place them 16th and 19th in baseball, respectively. Firmly middle of the pack.
A middle of the pack rotation and a bottom four offense (85 wRC+) is not a combination that lends itself to playoff contention. The Yankees have remained in the hunt — five back in the division, three back of a wildcard spot in the loss column — because a good bullpen (with an elite eighth/ninth inning combo) and good timing have helped them to a 16-9 record in one-run games. That's the kind of good fortune you don't want to have to rely on to contend.
Adding a bat(s) will be the top priority leading up to the trade deadline, but would it make sense for the Yankees to seek out a rotation upgrade as well? Hiroki Kuroda (2.65 ERA and 3.62 FIP) has emerged as the team's ace, but he's their only starter to make at least ten start with a sub-4.00 ERA. CC Sabathia (4.07/4.05) is trending downward and Andy Pettitte (4.39/4.75) has been very sketchy since returning from the DL. Ivan Nova (3.63/3.00) has pitched well of late, but two starts doesn't mean much of anything. Phil Hughes (4.57/4.48) and the injured David Phelps (and Vidal Nuno) are back-end fodder. Michael Pineda is a complete unknown.
The Yankees have rotation depth, but it's all back of the rotation depth. There is only so much lineup help they can reasonably add in the coming weeks, so maybe another way to improve the club is to replace one of those back-end types (Nova, Hughes, Phelps, etc.) with a better starting pitcher Strengthen the team's strength, basically. Besides, it's not like the team won't need a starter or two next year either; adding an arm they could control would be a nifty pickup.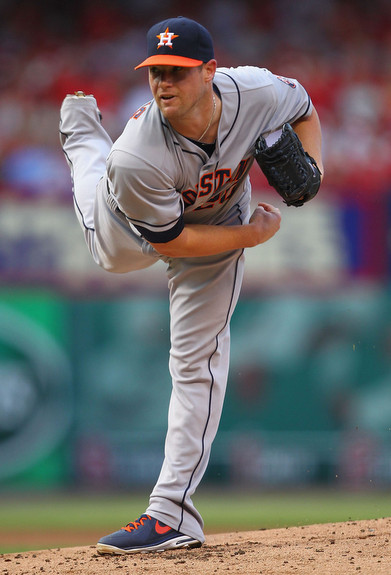 The issue with adding a quality starter is that there aren't a ton of them on the market. With Ricky Nolasco already moved to the Dodgers, Matt Garza is top pitcher on the trade market. He's an impending free agent and while he would certainly help New York in the second half, he wouldn't do them any good next year. Yovani Gallardo is owed a bunch of money and comes with major red flags, ditto Jake Peavy. The surely available Joe Saunders, Joe Blanton, and Mike Pelfrey don't help and are probably downgrades at this point.
If the Yankees were to add a starting pitcher, the best target might be Astros right-hander Bud Norris. The 28-year-old has a 3.63 ERA and 3.55 FIP this year, though his strikeout rate (6.39 K/9 and 16.7 K%) has dropped now that he's no longer facing the opposing pitcher three times a game. Pitching coach Larry Rothschild has a history of improving strikeout rates, so maybe hethat would help. Norris has spent his entire career in a hitter's park and will earn just $3M this year, plus he's under team control as an arbitration-eligible player through 2015. That's the kind of guy the Yankees could add at the deadline to improve their rotation both in the second half and into the future.
I don't expect the Bombers to seriously pursue a rotation upgrade prior to the non-waiver deadline in 13 days. They need to focus on finding some help for the offense. That should be their very top priority. I don't think they should rule out adding another starter though, especially considering Sabathia's decline and Pettitte's recent shakiness. There is definitely room for improvement in that rotation. Having a bunch of back-end types in reserve only helps so much.