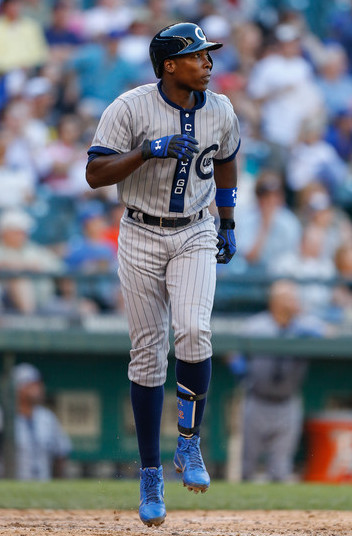 Depending on who you ask, the Yankees may or may not be close to acquiring Alfonso Soriano from the Cubs for a mid-level prospect. New York desperately needs right-handed power — Joel Sherman laid out the team's righty hitting futility pretty well yesterday — so much so that Soriano's sub-.300 OBP is hardly a dealbreaker. He's actually out-homered the Yankees this month (8-7), just to give you an idea of how badly they need to add pop to the lineup.
A small-ish move for Soriano would be a good first step prior to the trade deadline, but the Yankees can't stop there. Their offensive needs are far from answered, especially on the left side of the infield. Eduardo Nunez has been serviceable since coming off the DL (hitting an empty .288), but third base remains a complete black hole, especially since Alex Rodriguez may never return to due injury and/or suspension. Lyle Overbay needs a platoon partner, the catchers still aren't hitting, and DH has been a disaster.
Soriano would fill that DH need, either outright or as part of a rotation. I'm guessing the latter given Joe Girardi's tendencies over the last few seasons. The Yankees were said to have interest in Carlos Ruiz, and maybe will Phillies will seriously consider selling now that they've lost four straight and their little hot streak is over. That said, I get the sense the Bombers consider catching help a low priority and are perfectly happy with Chris Stewart and Austin Romine. The duo is hitting .208/.273/.268 since Frankie Cervelli hit the DL.
The hot corner might be the only position other than DH were the Yankees can add a legitimate upgrade between now and next week's trade deadline. A righty bat to complement Overbay is important, but not imperative. The club has checked in on both Michael Young and Chase Headley, and I'm sure the Brewers would give Aramis Ramirez away at this point. His power has slipped (.144 ISO), he's dealing with nagging knee problems (two DL stints and more than a month's worth of games missed), and he's owed $20M next year ($16M salary plus $4M buyout of 2015 option). There's a lot to not like with Ramirez.
The only other realistically available third basemen right now are Young (107 wRC+), the switch-hitting Alberto Callaspo (powerless 90 wRC+), the Cubs platoon of Luis Valbuena (108 wRC+ vs. RHP) and Cody Ransom (156 wRC+ vs. LHP), Placido Polanco (71 wRC+), and maybe Mark Reynolds (93 wRC+). Young is clearly the best of the bunch even though he plays defense like this. He won't hit for much power, but he can actually get on base (.343 OBP) and hit lefties (119 wRC+). The Yankees have gotten so little out of their third baseman that even a decent player like Young would be a huge upgrade.
Here's the thing though: the Yankees actually have to go out and get someone now. The season is 101 games old and the trade deadline is six days away, plus they're falling further and further out of the race, almost by the day. A three-game deficit in the wildcard race is definitely surmountable, but they need help and very soon. Three of their four biggest competitors — Red Sox (Matt Thornton), Orioles (Scott Feldman and Francisco Rodriguez), and Rangers (Matt Garza) — have all gone out and improved their teams already. The fourth team (the Rays) has a history of deadline inactivity but has simply stopped losing. They're 19-3 in their last 22 games.
The Yankees tried the whole patience thing, but waiting for the injured guys to return has failed spectacularly. That has left the team with an uphill battle and multiple needs to address if they want to make a serious run at contention. That they've been able to stay in the hunt this long with the lineup they've been running out there is a minor miracle. Soriano will definitely help some (assuming the trade goes down), but the Yankees need much more than that if they want to give themselves a real shot at the postseason. There's less than one week left until the trade deadline, and the club's actions during that time will more or less determine if they have legitimate shot at the playoffs.