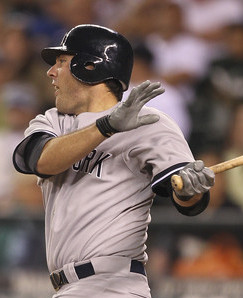 If the Yankees are serious about successfully completing the Hail Mary pass that is their playoff hopes, they'll need to win for the remainder of the season. For the first time all season, they've had a roster that resembles something competitive, despite still not being at full strength. Last week, Joe discussed a couple ways the team could improve their chances as it pertains to the pitching staff.
Today, I'm here to discuss another idea that seems to be gaining popularity — specifically, upgrading the lineup from within. It's time for Joe Girardi to give Austin Romine more opportunities. This doesn't necessarily mean Romine has to be the full-time catcher after this year; if the team wants to pursue the likes of Brian McCann, by all means, they should. We're talking right now.
Let's start with Chris Stewart. Through 277 plate appearances this season, he's batted .231/.305/.302 (.276 wOBA, 68 wRC+). He's managed four home runs all season (.070 ISO) and has been valued at 0.8 fWAR. He doesn't walk a ton and doesn't strike out a ton, but he also doesn't really get on base. I'm not claiming he's a bad catcher, but I don't think he's cut out to be the main guy.
It seems pretty clear by this point that the team values his defensive contributions. In terms of fielding metrics, FanGraphs lists him at 4.3 Fld (based on UZR) which is good but not great. Even though I personal question the legitimacy of fielding metrics in general, particularly as they pertain to catchers, I'm willing to concede that Stewart is probably a capable catcher defensively in general (though he has only thrown out 28% of base runners which is slightly below average, and it seems like he's bobbled more pitches than one would expect out of a defensive-oriented guy).
What's interesting though about Stewart is that he's basically been utilized far more this season than he ever has throughout his career at the MLB level. In 2011, he started 67 games with the Giants (183 plate appearances), which was significantly more than he had prior with any of his former teams (the Padres, Yankees, Rangers, and White Sox). This year, he's already played in 86 games (and counting), and has already accumulated about 100 more plate appearances (and counting). Anecdotally, Stewart has looked gassed at times. If this theory is indeed true, it would make sense that he would be struggling by this point in the season. After all, he does play a very demanding position.
Interestingly enough, Stewart's splits seem to support this theory to some degree. Through the first half of the year, Stewart produced a .283 wOBA (73 wRC+). While the first half of the season wasn't great by any stretch of the imagination, the second half of the year (at least thus far), by comparison, has been considerably worse (.260 wOBA, 57 wRC+). Although Stewart has picked up his production in August, his July was completely abysmal (.200 wOBA, 16 wRC+). Hilariously, his lone home run this month was the first one he hit since May. Although August has been better for Stewart (.316 wOBA, 96 wRC+), he's also had several more breathers.
On the other hand, Romine is young, healthy, available and has shown increasing value of late. Of course it's a gamble; I'm sure the fact that he was awful early on in the season hasn't inspired a ton of confidence in Girardi either. I think the team is in a position though where it has to take risks that could pay off if they're serious about remaining in the hunt – even if those risks only provide incremental benefit.
Admittedly, Romine's overall season stats aren't exactly inspiring (.227/.271/.327, .265 wOBA, 61 wRC+, 0.1 fWAR). He's hit one home run, walks very little (5.0 BB%), strikes out at a fair pace (25.6 K%) and has been graded as below average defensively (-0.2 Fld), though the same caveats about defensive metrics apply to Romine as well, in addition to the small sample size disclaimer (23% caught stealing rate for what that's worth).
So what's the draw you may ask? It's simple; Romine is the hot bat and has been for a while. If he cools off, fine, sub him out without blinking. But for now, take advantage of him and get offense from a position traditionally void of offensive production. During Romine's eight games started in July, he produced a .385 wOBA (143 wRC+). In August, through eight games he's improved further (.395 wOBA, 150 wRC+). Am I claiming Romine is the next Posada? Of course not, nor do I have those expectations. I'm just saying give the kid's bat a chance with more frequency as Stewart really hasn't giving the team any incentive not too.
Of course, the small sample size disclaimer applies to Romine's offensive contributions as well. But isn't it worth considering the idea at this point? At the very least, if Girardi wants to approach this matter conservatively, he could always just level out the playing time between the two catchers rather than giving Romine the starting gig altogether. It may not be desirable for those two players on am emotional level, but it may be what's best for the team. Changing the roles of Stewart and Romine probably won't be the ultimate factor that decides the fate of the season, but if it could help, the team should consider it. Unfortunately, it seems like Girardi isn't quite as sold on the idea.