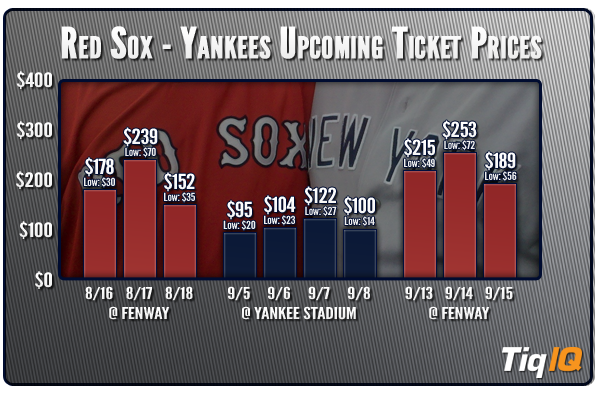 By Jesse Lawrence, TiqIQ
At 8.5 games back, the Yankees play their first of 10 remaining games against the Red Sox tonight at Fenway Park. With a sweep of all 10, the Yankees would be back in first place, and the first five months of frustration would be forgotten. That's a long shot; there's a better chance that the Sox use these 10 games to bury the Yankees 2013 season. Based on prices for the three remaining series, it appears that Sox fans taste blood in the water and are looking to do everything they can do ensure the Yankees don't see the light of postseason day. The six games at Fenway have an 88% premium above the Red Sox home average of $107. By contrast, the three Yankees games in early September only have an 18% premium above the Yankees season average of $89.
Fenway has 13,000 less seats than Yankee Stadium, which means that Red Sox tickets will always be more expensive than Yankees tickets. The premium, however, indicates that demand for the best rivalry in baseball has rebounded in Boston after last year's disastrous Bobby Valentine experiment. As a point of comparison, the final series at Fenway last year on September 11th to 13th had an average price of $92, and you could get in for as little as $15. This year's September series at Fenway has an average of $221 and the cheapest ticket is $51 to the Sunday night game and $88 to either of the other two games.
For tickets to any of the remaining home games at Yankee stadium, or Fenway, visit RAB Tickets.