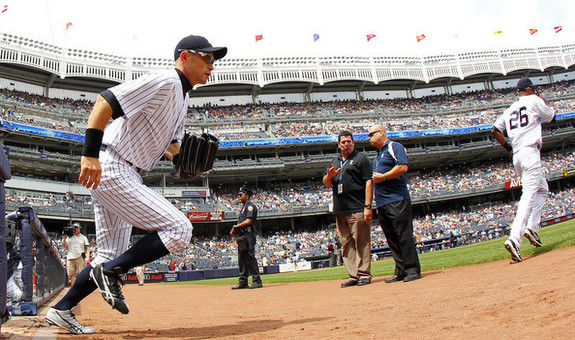 It has been more than a month since the Yankees last won a series outright. They took two of three from the Orioles at Yankee Stadium from July 5th through 7th, and since then they've gone 0-5-3 in eight series. The ties came against the Royals, Rangers, and Dodgers. Three teams with winning records and playoff aspirations, at least.
The Bombers can get off that schneid with a win this afternoon after splitting the first two games of this three-game set against the Tigers. They'll have to beat Justin Verlander — formerly the best pitcher of the world, but now just really freakin' awesome — to earn that series win, or at least hold out long enough to beat the bullpen. Either way, they'll have to earn it. Here's the lineup that will face the 2011 AL MVP:
CF Brett Gardner
RF Ichiro Suzuki
2B Robinson Cano
3B Alex Rodriguez
1B Lyle Overbay
LF Alfonso Soriano
DH Curtis Granderson
SS Eduardo Nunez
C Chris Stewart
And on the mound is left-hander Andy Pettitte, who looked to be finding himself before allowing seven runs in 2.2 innings against the White Sox in his last start. He's got a 5.32 ERA and 3.69 FIP in a dozen starts since coming off the DL. Pettitte has never had a losing season in his career, but his record sits at 7-9 with roughly ten starts to go.
The weather is gorgeous in New York today. Just a perfect day for baseball. First pitch is scheduled for 1:05pm ET and can be seen on YES locally and TBS nationally. Enjoy.