For the first time in more than a month, the Yankees have won a series outright. All it took was two Mariano Rivera blown saves and an opponent that had won 12 straight games coming into the series. Baseball is weird sometimes. Brett Gardner's second walk-off hit in three days gave New York a 5-4 win over the Tigers on Sunday.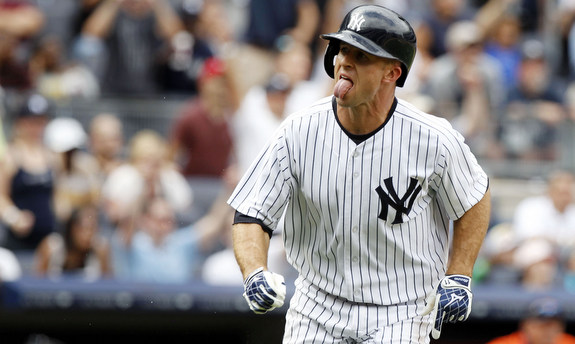 WWWMW™ Continues
For the first time in his Hall of Fame career, Rivera has blown three consecutive saves. Solo homers by Miguel Cabrera and Victor Martinez tied the game at four in the ninth. At least they're good hitters, I suppose. It was only the third time since becoming a reliever that Rivera allowed multiple homers in an outing, and the first time he's ever done it in a save situation. Needless to say, this was a rarity.
Thankfully, Gardner was there to save the day again. He won Friday's game with a walk-off ground ball single through the left side, but Sunday's walk-off hit was far more convincing. Former Yankee Jose Veras caught way too much of the plate with a two-out fastball, a two-out fastball Gardner pounded into the second deck in right field for the game-winning homer. His career-high eighth homer was far from a cheapie. It was a no-doubter off the bat. I had no idea Brett had that in him. Kinda cool.

A-Rod Makes An Impact
Alex Rodriguez's first four games back with the Yankees were mostly forgettable (3-for-15 with two walks and a hit-by-pitch) outside of the constant boo/cheer watch, but on Sunday he reminded everyone just how big of an upgrade he is to the team's lineup. Rodriguez tied the game at one with a leadoff solo homer in the second, pulling a 92 mph Justin Verlander fastball on the inner half out to left field. It was the first homer the Yankees received from a third baseman since David Adams went deep against the Orioles on May 22nd. That's absurd.
The solo homer tied the game at one and later that inning, the Bombers took a 2-1 lead on Eduardo Nunez's sac fly. A-Rod drove in his second run and the team's third run of the game an inning later to extend the lead with a two-out, excuse-me single to score Robinson Cano from second. He actually stayed in the batter's box looking for the ball thinking he'd fouled it into the stands on the first base side before realizing it was fair down the line. Pretty funny, actually. It's been a long time since the Yankees got an offensive contribution from their third basemen like this.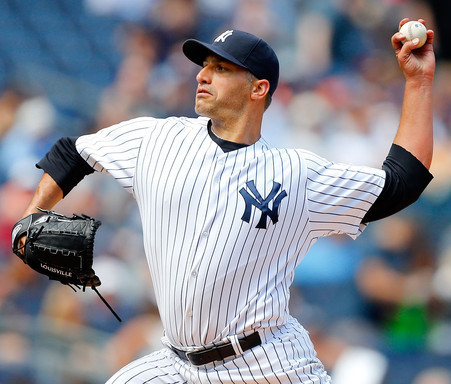 Four And A Third And Fly
The Yankees have had some serious problems getting length out of their starting pitchers of late. Andy Pettitte managed to hold the high-powered Tigers to just one run on Sunday afternoon, but he put eleven men on-base and threw 101 pitches in only 4.1 innings or work. It was the fourth time in the last seven games the starter failed to complete five innings of work. Pettitte and Phil Hughes are responsible for all four of those games. This is a big problem; the bullpen can't continue to work this hard. Andy really battled on Sunday and is still part of the problem right now.
Hang On For Dear Life
The bullpen has worn thing these last few days, and even though David Robertson (solo homer by Bryan Pena) and Rivera (two homers) combined to blow the three-run lead in the eighth and ninth, the middle innings guys still deserve some props. Shawn Kelley inherited a bases loaded, one-out situation from Pettitte in the fifth before escaping with a strikeout and a fly ball. Boone Logan inherited a two on, two-out situation from Kelley in the sixth before escaping with a strikeout of Prince Fielder. He then chipped in a perfect seventh inning against three right-handed batters. Kelley and Logan combined for 2.2 important innings, allowing just an infield single and a walk. Well done, fellas.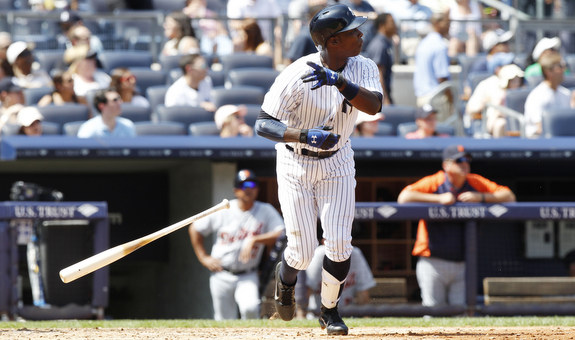 Leftovers
Congrats to Alfonso Soriano, whose fourth inning solo homer off Justin Verlander was his 2,000th career hit. He had been hitless in his previous ten at-bats (with seven strikeouts), and earlier in the game Michael Kay was wondering why Soriano felt pressure chasing a meaningless milestone — "It's not like it's his 3,000th hit, " he said, paraphrasing — before going nuts after the dinger. Anyway, 582 of those 2,000 hits have come in pinstripes.
Possibly forgotten moment: Gardner's leaping catch to rob Torii Hunter of an extra-base hit with one out in the eighth. He lunged to catch the ball on the warning track before crashing into the wall and falling to his knees. Gardner flipped the ball to Soriano so he could throw it back into the infield, and apparently Austin Jackson thought he dropped it. Jackson stayed at second and didn't go back to tag first, so the Yankees doubled him up to escape the inning. That kept Cabrera from batting as the tying run.
A-Rod was the only player with multiple hits and Curtis Granderson (single and walk) the only other player to reach base more than once. Gardner (homer), Cano (double), Lyle Overbay (single), Soriano (homer), and Eduardo Nunez (single) had the other hits. Nunez had a nice game, driving what looked like a sure extra-base hit to the warning track in the ninth before Hunter ran it down. Ichiro Suzuki and Chris Stewart were the only players to fail to reach base.
The solo homer Robertson gave up to Pena was the first run he'd allowed since June 16th, a span of 20.2 innings. He allowed eleven singles, one double, and five walks with 23 strikeouts between runs. Pretty great.
Believe it or not, the Tigers have won just six of Verlander's 15 career regular season starts against the Yankees. What is baseball? Baseball is weird sometimes. Write that down. The Yankees went eight series between series wins, their longest such stretch since 1991.
Box Score, WPA Graph & Standings
MLB.com has the box score and video highlights, FanGraphs some other info, and ESPN the updated standings. The Yankees remain seven games back of the second wildcard spot with a 2.6% chance to make the postseason according to Cool Standings.

Source: FanGraphs
Up Next
The Angels are coming to town for a trite four-game series between two disappointing clubs. Hiroki Kuroda and right-hander Garrett Richards will be the pitching matchup in Monday night's opener. Want to see what the Yankees missed out on by not signing Josh Hamilton in person? RAB Tickets can help get you there.