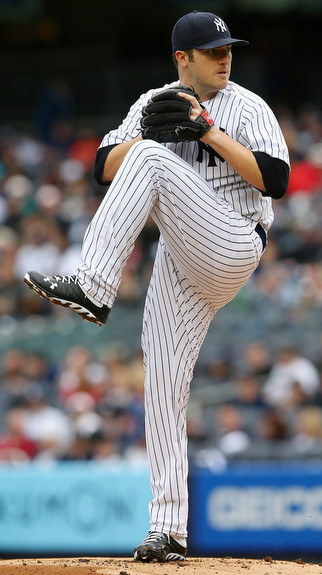 Back in May, I took a shot at predicting Phil Hughes's upcoming contract. Ultimately, at the time, I figured Phil's next contract would wind up looking comparable to Edwin Jackson's deal, or roughly four years and $52M (with guys like John Lackey or Anibal Sanchez representing the best-case scenario for Hughes if he was fantastic this season). Unfortunately for Phil, a lot more of the season has gone by since I first posted on this matter, and most have it has been negative, at least as it pertains to his contributions. So, have circumstances changed? Let's take a look.
At this point, it seems very unlikely that New York will offer an extension to Phil for good reason. He's been pretty terrible this season. At 4-10, Hughes has pitched to a 4.87 ERA (4.67 FIP) and has accumulated 0.8 fWAR — a mark well-below-average. That's pretty lousy. In terms of peripherals, he's striking out 7.38 batters per nine innings (good but not great), and walking 2.67 per nine (again, good but not great). His strikeout rate is about in line with where it normally is (1.57 HR/9), which is decidedly not great.
Phil's looked especially feeble recently, having surrendered five runs in each of his last two starts while being driven out of each game before the fifth. I think the case could be made pretty convincingly that the last time Phil actually helped the team was July 2nd, when he limited the offensive juggernaut that is the Twins to one run over seven innings. Hughes isn't quite as useless as Joba Chamberlain right now, but he's close.
And so enters the qualifying offer into the discussion. Basically, the team has the option to offer Phil a one year agreement at roughly $14M for next season. There are some "pros" for choosing to this path. First, next year's rotation is in shambles. CC Sabathia has to be considered a question mark. Who knows whether Hiroki Kuroda or Andy Pettitte will be back. That doesn't leave much beyond unproven arms such as Michael Pineda, Ivan Nova, and David Phelps. Hughes isn't perfect by any means, but at least that's one less question mark … well, sort of anyway.
Second, and for all you optimistic types, maybe Hughes puts up better numbers next season; they can't be worse right? Aside from benefiting the team, a rebound raises Hughes' personal value, which in turn could lead to a better return should the team try to trade him next season, or at the very least, make everyone a hell of a lot more confident about re-signing him again moving forward. Third, should Hughes decline the qualifying offer, it'd ensure the team gets a nice compensation pick in the first round. The con is pretty self-evident of course; the team could wind up paying $14M for more of what they're getting right now, which is a perfectly legitimate concern.
After performing so poorly this season, I'd have to imagine Hughes would strongly consider the qualifying offer should New York pose it. That's $14M in the bank right now, and he'd still be young enough to get a decent paycheck in 2015 if he could rebound a bit next season. Unfortunately, 2015 looks to have more competition on the free agent market, but you have to figure most of the big names (i.e. Clayton Kershaw or Max Scherzer) will be unavailable when the time comes as teams will look to lock up their young stars. If for some reason the qualifying offer doesn't appeal to Hughes, he could test the free agent market after this season, which seems less competitive.  For what it's worth, if Hughes tests free agency now, he'll be one of the younger arms available which will probably work to his favor.
Maybe Phil is seeking a change of scenery. Everyone knows he's an extreme fly ball pitcher. Maybe a place like San Diego or Minnesota makes a lot of  sense for him going forward, and maybe he's willing to take his chances elsewhere if circumstance allows. Unless Phil finishes the season very strong, I don't see any team giving him the Edwin contract (though I've certainly be wrong before). Perhaps, a Wandy Rodriguez arrangement is plausible though in the open market – say, something in the vicinity of three years and $30M. After all pitchers are always in demand, and it only takes one team to jack up the price. I could see a team offering Hughes a two-year, $26M gig (similar to Ryan Dempster) too. What I don't envision is any team offering a one-year rebound opportunity that looks more appealing than the Yankees qualifying offer. As far as the dollars, some of the examples listed may feel inflated considering his overall production. Unfortunately, supply and demand will create just such a dilemma.
What happens with Hughes after the season?