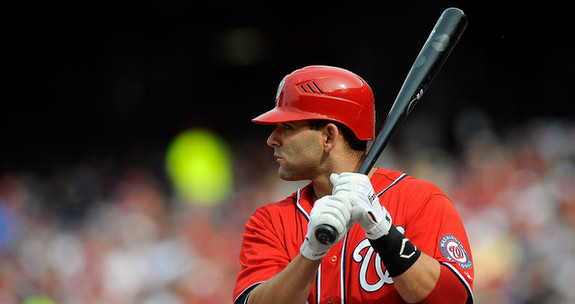 If there's one thing we learned from Derek Jeter's injury this year, it's that the Yankees have very little shortstop depth in the minor leagues. Especially at the upper levels. There's nothing after the now-injured Eduardo Nunez, which is why guys like Reid Brignac, Chris Nelson, and Alberto Gonzalez found their way onto the team at various points of the season. They didn't bring those guys in out of boredom. They were necessary because the farm system had nothing to offer.
That lack of shortstop — and really middle infield all together — depth will carry over to next season. David Adams and even Corban Joseph could step in at second base on an emergency basis, but it's tough to consider either guy an everyday option. Finding quality infield depth to either put on the bench or stash with Triple-A Scranton should be a priority this winter, and frankly they could use some help right now with Jayson Nix out for the season and Nunez heading for an MRI today.
Bill Ladson reported yesterday that the Nationals are trying to trade 26-year-old Danny Espinosa, their starting second baseman since Opening Day 2011. He wound up in Triple-A back in June because he was awful and Ladson says the team isn't even committed to bringing him back up when rosters expand in September. They've very clearly soured on him. Does it make sense for the Yankees to pursue a trade, either before the August 31st deadline (so he can be eligible for the potential playoff roster) or over the winter? Let's look.
The Pros
Espinosa broke into the show in September 2010 and hit .242/.319/.408 (99 wRC+) with 38 homers and a 7.9% walk rate during his two full seasons from 2011-2012. He's a switch hitter who did his best work against lefties (124 wRC+) while being a non-embarrassment against righties (91 wRC+).
The various defensive metrics have all rated Espinosa as above-average at second (+16 DRS, +14.5 UZR, +20 Total Zone) and no worse than average at short (+4, +5.0, +7) in parts of four big league seasons. His playing time at short is limited (335 innings) because of Ian Desmond, so sample size and all that.
Espinosa is 38-for-52 (73%) in stolen base attempts as a big leaguer and 61-for-86 (71%) in his minor league career. He's been almost exactly league average in terms of non-stolen base base-running, like going first-to-third on a single. That kinda stuff.
Espinosa is right on the Super Two bubble. If he comes up in September, he'll qualify. If he stays down, he won't. Either way, he can't become a free agent until after the 2017 season and has at least one and likely two minor league options remaining.
The Cons
Espinosa has been an absolute disaster at the plate this season. He hit .158/.193/.272 (23 wRC+) in 167 plate appearances before being sent to Triple-A Syracuse, where he's hit .215/.2717/.289 (58 wRC+) in 297 plate appearances. Ghastly.
Even when productive, Espinosa was always a high-strikeout player. He whiffed in 27.0% of his plate appearances from 2011-2012 and 27.1% of his big league plate appearances overall. In Triple-A this season, it's a 33.0% strikeout rate. Contact from either side of the plate is not his strong suit.
Espinosa's recent injury history is grim and he makes matters worse by playing hurt all the time. He had a torn rotator cuff in his left shoulder late last season and a fracture in his right wrist (caused by a hit-by-pitch) earlier this year. A thumb issue has been bothering him in the minors of late. Espinosa spent 16 days on the DL for the wrist immediately before being sent down and that's it. Played through everything else.
Obviously the various injury problems could be the root cause of Espinosa's terrible year at the plate. You almost hope they are because then at least you have an explanation. If he was perfectly healthy and performing like this, it would be much bigger red flag. I understand the whole tough guy/playing through pain thing, but Espinosa has done himself a disservice these last two seasons. We're not talking about a sore finger or a banged up knee here. If he needs surgery for the shoulder or wrist or whatever, his team (Nationals or otherwise) should get it taken care of ASAP this offseason.
Anyway, Espinosa represents a buy low opportunity right now. His recent performance has been terrible and Washington doesn't seem eager to keep him around, which is exactly when you want to pounce. Maybe they can get him for pennies on the dollar, a la Nick Swisher a few years ago. Swisher's poor year and clashes with then-manager Ozzie Guillen all worked to the Yankees advantage. Espinosa is in a similar situation. Three years of Jed Lowrie, another true switch-hitting middle infielder with injury problems, cost a big league reliever in a trade when he went from the Red Sox to the Astros last year. That seems like a decent reference as far as trade talks for Espinosa, but it's not a perfect match.
The Yankees need to prioritize middle infield depth this winter and Espinosa offers both roster flexibility and some upside. Upside in the sense that he could return to his 2011-2012 form and become an everyday player who provides average offense and above-average defense at a hard to fill position. If he's just an up-and-down spare infielder going forward, that's okay too. The Yankees need one of them. Espinosa is not a savior. In a perfect world he's an eighth or ninth place hitter who hits the occasional homer, steals the occasional base, and makes all the plays in the field. It boils down to this: Espinosa is a 26-year-old middle infielder with another four years of team control who put together back-to-back 3+ WAR seasons before an injury filled 2013. That's someone the Yankees should go after while his stock is down.