I have something to show you: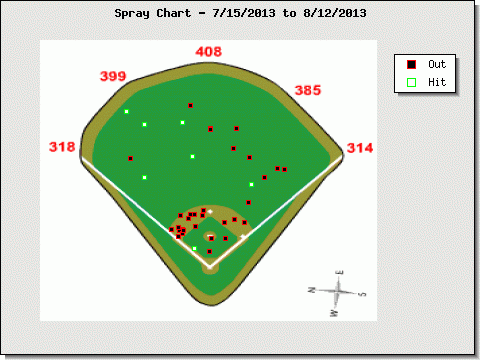 That is Chris Stewart's spray chart since the All-Star break (via Texas Leaguers). You know how they set up those short little outfield fences behind the infield for charity softball games or whatever? I think Stewart would have hit like two homeruns since the break using those fences. According to the batted ball data at FanGraphs, he hasn't hit a fly ball since August 3rd (!).
This isn't much of a surprise, of course. Stewart has never hit in his career and no one expected him to this year, yet he's still somehow falling short of expectations at .219/.296/.279 (60 wRC+). Among the 33 catchers with at least 200 plate appearances this year, Stewart ranks 30th in offensive output. As an added bonus, he's stopped throwing out base-runners — opponents are 13-for-15 (87%) in stolen base attempts against him since the All-Star break. He's worn out. It happens when a guy who hasn't started more than 85 games behind the plate since 2005 catches 70 of your first 117 games.
Austin Romine, meanwhile, has shown some signs of life since the All-Star break after being completely unplayable in the first half. He's gone 8-for-23 (.348) with some power (three doubles and a homer) since the break and that's kinda cool. Romine also had a few nice games at the plate immediately prior to the Midsummer Classic and has actually thrown runners out of late — four steals and four caught stealings since the break. It's not much, but when you're talking about a 24-year-old kid who missed basically half of each of the last two seasons with back problems, it's encouraging. A silver lining in these rough last few weeks.
"He's been swinging the bat pretty good," said Joe Girardi to Mark Feinsand last week when asked about upping Romine's workload down the stretch. "I might give him a little bit more playing time here and there. Stew's still going to catch a lot, but he's been swinging the bat pretty good."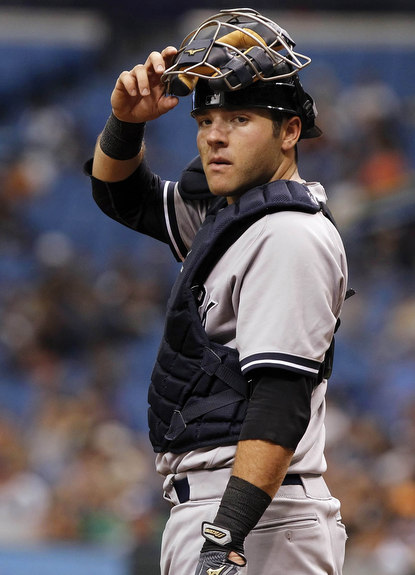 To Girardi's credit, Romine has started seven of the team's last 17 games. But that's not really enough. Stewart is generally bad at this baseball thing and now he's even worse at it because he's out of gas. Romine should play more and not just two or three times a week. He should take over as the starter — three-fifths of the rotation has pitched so poorly that they don't even deserve the luxury of a personal catcher, so that's not an issue — and that's it. See what happens. He won't continue to hit .348 the rest of the way, but he can actually hit the ball in the air and still play pretty good defense.
There's a pretty good chance Romine might stink at baseball too. Baseball is hard, especially as a young catcher. It took Yadier Molina three years to get his OPS over .700 and seven years to get it over .750, for example. But there's also a chance Romine might not stink at baseball. It was just last year that Baseball America said his "defense still could make him New York's long-term future catcher, with the offensive upside of a .270 hitter with 10 homers annually." That's pretty good by catcher standards. Certainly better than Stewart, who we know isn't anything special because he's 31 and hasn't been anything special his entire career.
The Yankees are stuck in the unenviable spot of having way too many old players and way too few young players. Their long-term catching outlook is promising with J.R. Murphy in Triple-A and Gary Sanchez in Double-A, but prospects are no sure thing, especially catching prospects. Look at Matt Wieters. Romine has shown actual signs of life at the Major League level these last few weeks and that's an amazing thing. The Yankees should be thankful for it and they should give him every opportunity to show it isn't a fluke. As crazy as it sounds, they might even have a long-term building block sitting right under their noses, which is something they desperately need regardless of position.