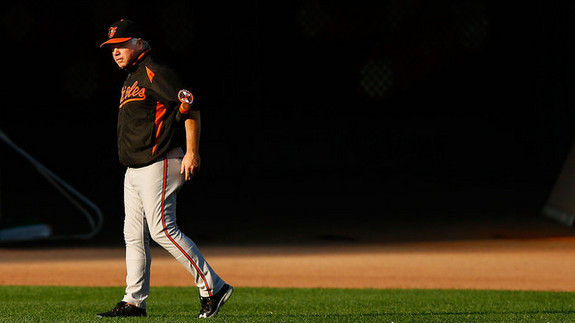 Despite yesterday's walk-off win, the first four games of this incredibly important eleven-game stretch have been a disaster. The Yankees are now off to Baltimore for another four-game series after four nightmarish games against the Red Sox in Yankee Stadium. Needless to say, they can't afford to get smacked around like that again. This is a huge series for both teams.
What Have They Done Lately?
The Orioles lost yesterday but otherwise took three of four from the White Sox over the weekend. They lost two of three in three straight series prior to that, all against teams in the playoff hunt (Red Sox, Yankees, Indians). Manager Buck Showalter's team comes into this series with a 76-66 record and a +45 run differential, two back of the Rays and one up on the Yankees in the second wildcard race.
Offense
Although they aren't as deep and relentless as the Boston lineup, the Orioles are one of the best offensive teams in baseball with an average of 4.7 runs per game and a team 102 wRC+. It is a lineup full of hackers through, with a team 6.7% walk rate that is the lowest in the AL. You don't need to attack the zone to beat them. Baltimore's only two injured position players are OF Nolan Reimold (51 wRC+) and former Yankee OF/1B Steve Pearce (92 wRC+). Neither will return this series.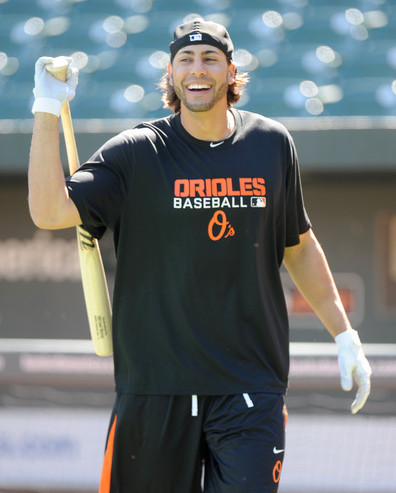 Showalter's lineup revolves around three guys: 1B Chris Davis (173 wRC+), CF Adam Jones (125 wRC+), and 3B Manny Machado (108 wRC+). Davis has only hit two homeruns in his last 16 games, but don't let that fool you. He can go deep at a moment's notice. DH Danny Valencia (163 wRC+ in limited time) has done some mighty fine platoon work while SS J.J. Hardy (103 wRC+) and OF Nate McLouth (103 wRC+) have been solid as well. OF Mike Morse (86 wRC+ overall) hasn't done a whole lot since coming over from the Mariners.
Neither OF Nick Markakis (84 wRC+) nor C Matt Wieters (87 wRC+) is hitting like expected. 2B Brian Roberts (83 wRC+) and UTIL Wilson Betemit (-100 wRC+ in very limited time) have part-tie roles. The Orioles didn't screw around with September call-ups; Showalter has a nine-man bench that includes C Chris Snyder, C Steve Clevenger, IF Alexi Casilla, IF Ryan Flaherty, IF Jonathan Schoop, OF Henry Urrutia, and former Yankee OF Chris Dickerson. The O's lead baseball (by a lot) with 197 homers.
Starting Pitching Matchups
Monday: LHP CC Sabathia vs. RHP Chris Tillman
Tillman, 25, was an undeserving All-Star (over Hiroki Kuroda) because of his sexy win-loss record earlier this summer, but he has been legitimately above-average in the second half (3.26 ERA and 3.77 FIP) after a blah first half (3.95 ERA and 4.94 FIP). He's sitting on a 3.71 ERA (4.53 FIP) overall in 28 starts this year with good but not great strikeout (7.53 K/9 and 20.3 K%) and walk (3.24 BB/9 and 8.7 BB%) rates and awful ground ball (38.7%) and homer (1.41 HR/9 and 14.0% HR/FB) rates. Tillman works primarily off a low-90s four-seamer but will also mix in the occasional low-90s cutter. A low-80s changeup and mid-70s curveball are his top two offspeed pitches, though he'll also throw a handful of mid-80s sliders in each start. He doesn't have much of a platoon split this year. The Yankees have seen plenty of Tillman over the years and they usually crush him. He's had one good (two runs in six innings) and one not so good (five runs in 5.1 innings) start against New York this year.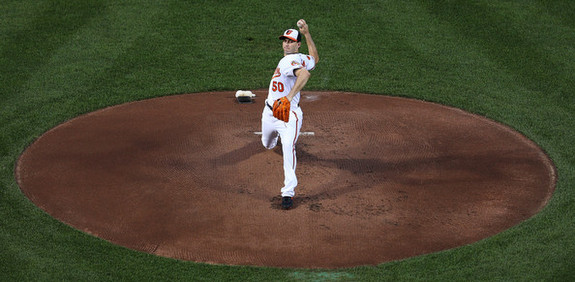 Tuesday: RHP Ivan Nova vs. RHP Miguel Gonzalez
The 29-year-old Gonzalez has been decent (3.98 ERA and 4.41 FIP) in 24 starts (and two relief appearances) this year after breaking out with a 3.25 ERA (4.38 FIP) in his big league debut last summer. He is getting a few more grounders (40.1%) in 2013 but otherwise his peripherals are almost entirely unchanged: 6.43 K/9 (17.1 K%), 2.88 BB/9 (7.7 BB%), and 1.22 HR/9 (11.6% HR/FB). Gonzalez uses low-90s two and four-seamers to set up his wipeout low-to-mid-80s split-changeup hybrid, which is a true put-away pitch. He'll also throw mid-80s sliders and upper-70s curves. He doesn't have a platoon split thanks to the split-change. Gonzalez completely dominated the Yankees up until last weekend, when they hung seven runs on him in four innings. Their approach in that game seemed to be to swing early in the count to prevent him from using the split-change, so we'll see if that's how they attack this time around.
Wednesday: LHP Andy Pettitte vs. RHP Scott Feldman
Feldman, 30, has been a nice little pickup for the Orioles and solid (3.54 ERA and 3.76 FIP) in 26 starts overall this season. He's all about getting grounders (49.9%) and limiting walks (2.53 BB/9 and 6.8 BB%) and homers (0.79 HR/9 and 9.3% HR/FB). Strikeouts (6.46 K/9 and 17.3 K%) aren't really his thing. Feldman is basically a three-pitch pitcher: low-90s sinker, upper-80s cutter, and mid-70s curveball. He doesn't use his mid-80s changeup all that often and like most of his rotation mates, he doesn't have a platoon split. Feldman held the Yankees to one run in seven innings last time out and they've faced him a bunch of times in recent years while he was with the Rangers.
Thursday: LHP David Huff vs. LHP Wei-Yin Chen
An oblique injury has limited Chen, 28, to just 19 starts this season. He's been rock solid (3.82 ERA and 4.04 FIP) with a good walk rate (2.65 BB/9 and 7.2 BB%) and tolerable homer rate (1.01 HR/9 and 8.9% HR/FB). The Taiwanese-born southpaw has seen both his strikeout (6.32 K/9 and 17.2 K%) and ground ball (33.9%) totals drop big time this year. Chen's five-pitch arsenal includes low-90s two and four-seamers, a mid-80s changeup, a low-80s slider, and a low-70s curveball. He doesn't use the curve all that much but will throw the other four pitches regularly. Chen has a nice-sized platoon split — he's held lefties to a .268 wOBA while righties have tagged him for a .331 wOBA — and the Yankees got to him for three runs and five walks in four laborious innings last weekend.
Bullpen Status
None of Showalter's core late-game relievers were used yesterday but all have worked a lot of late. Closer RHP Jim Johnson (3.73 FIP) has pitched three of the last five days, RHP Tommy Hunter (3.70 FIP) has appeared twice in the last four days, and RHP Darren O'Day (3.62 FIP) threw two innings on Saturday. Opening Day starter RHP Jason Hammel (5.07 FIP) is working out of the bullpen now following an elbow strain. He threw two innings yesterday.
LHP Brian Matusz (3.07 FIP) is the team's go-to southpaw while RHP Kevin Gausman (4.56 FIP) handles long relief assignments. RHP Francisco Rodriguez (3.71 FIP), LHP Troy Patton (4.48 FIP), and LHP T.J. McFarland (3.72 FIP) get the call in the middle innings. Again, the Orioles didn't screw around with September call-ups. They're carrying an eleven-man bullpen at the moment. RHP Steve Johnson and RHP Josh Stinson fill out the rest of the reliever staff.
The Yankees have a bullpen mess on their hands right now. Mariano Rivera threw two innings and 35 pitches yesterday. Both David Robertson (shoulder) and Boone Logan (biceps, forearm) are out with injuries. Shawn Kelley threw an inning yesterday after missing a week with a triceps problem. There are currently 13 relievers on the roster, but fewer than that are actually available tonight and even fewer are actually trustworthy. Like I said, a bullpen mess. Check out out Bullpen Workload page for the usage details and then check out Camden Chat for the latest on the O's.