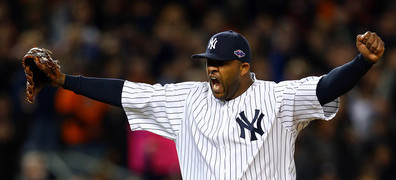 The Red Sox really worked over the Yankees pitching staff this weekend, so the Joe Girardi's team comes into tonight's series opener against the Orioles with a bullpen short of healthy and reliable arms. Mariano Rivera probably won't be available after throwing 35 pitches and two innings yesterday, and both David Robertson (shoulder) and Boone Logan (biceps, elbow) definitely won't be available. If there was ever a time for a) CC Sabathia to step up and eat some innings, and b) the offense to score a boatload or runs, this is it. Here's the lineup that will face right-hander Chris Tillman:
CF Brett Gardner
3B Alex Rodriguez
2B Robinson Cano
LF Alfonso Soriano
DH Curtis Granderson
SS Eduardo Nunez
1B Lyle Overbay
RF Ichiro Suzuki
C Austin Romine
And on the mound is the left-hander Sabathia. He has completed seven full innings of work just once in his last five starts and twice in his last ten starts. One of those two was last time out, so hopefully he repeats that effort. The Yankees need Sabathia to soak up some serious innings tonight.
It's cloudy in Baltimore but there is no threat of rain tonight. It is hot and humid though, typical B'more weather. First pitch is scheduled for 7:05pm ET and can be seen on YES locally and MLB Network nationally. Enjoy.
Roster Update: Zoilo Almonte (ankle) is with the team and has been activated off the DL. He played in two rehab games with Double-A Trenton last week.
Injury Updates: Robertson (shoulder) will play catch today. If that goes well, he'll throw a light side session tomorrow. He hopes to be available for tomorrow's game, but the Yankees made Shawn Kelley wait one extra day this weekend and I assume Robertson will have to do the same … Derek Jeter (ankle) won't do any baseball activity today and it seems unlikely he will play tomorrow … Travis Hafner (shoulder) is with the team and could be activated any day now.