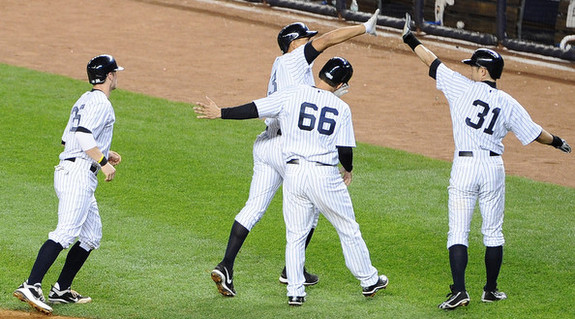 The final homestand of the season opened last night with a win that was straight out of the 2009 playbook: CC Sabathia pitched well and Alex Rodriguez hit a key homerun. Those were the days. The Yankees are trying to stave off elimination — their tragic number is seven with eight games to play — for another day this afternoon, and I suppose they want to do whatever they can to get back into the race until they are mathematically eliminated. Here's the lineup Joe Girardi is running out there against righty Ryan Vogelsong:
RF Ichiro Suzuki
DH Alex Rodriguez
2B Robinson Cano
LF Alfonso Soriano
CF Curtis Granderson
3B Eduardo Nunez
1B Mark Reynolds
SS Brendan Ryan
C Chris Strewart
And on the mound is right-hander Ivan Nova. He's been dealing with a nagging triceps problem for a few weeks now and has a 4.25 ERA (4.96 FIP) with the same number of walks (17) as strikeouts in his last six starts. Yuck. That needs to stop.
It is cool and cloudy in New York but there doesn't appear to be any threat of rain. First pitch is scheduled for 1:05pm ET and can be seen on FOX. Unless they sneak into the playoffs and make a nice run, this will be the last time Tim McCarver ever calls a Yankees game. He's retiring after the season. Enjoy the game.