Considering everything that's going on in the wildcard race, this was the biggest and most important game of the season for the Yankees. They were six outs away from being essentially buried in the standings, but they instead rallied for four runs in the eighth and held on for the 7-5 win on Tuesday.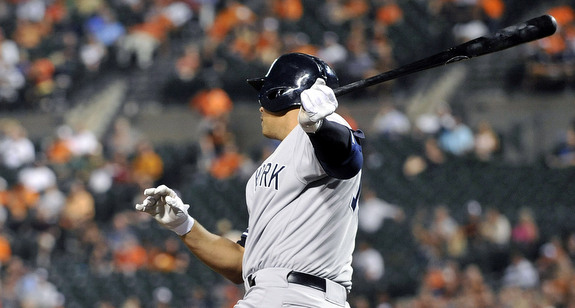 Too Many Homers Extra-Base Hits
For the first time in exactly four months, the Yankees recorded eight extra-base hits in a game. Seven of the eight led to runs too, with the only exception being Brett Gardner's double to leadoff the game. Go figure. Alex Rodriguez — he looks fantastic at the plate, doesn't he? — started a) the scoring with a booming two-out double into the gap to score Chris Stewart all the way from first in the third inning, and b) the four-run rally in the eighth with a leadoff double into the left field corner. The Yankees had just three hits between A-Rod's doubles, including solo homers by Alfonso Soriano and Mark Reynolds.
Not to sound overly dramatic, but that eighth inning rally was pretty close to a season-saver. A temporary season saver, at least. Losing another game to direct wildcard competitor would have pushed the Yankees even further back in the race with another day ticking off the calendar. That would have been bad. Robinson Cano plated A-Rod with a single up the middle to tie the game in the eighth before the really big bats showed up. Soriano hit an opposite field two-run bomb to give New York a two-run lead, then Curtis Granderson and Reynolds hit back-to-back doubles into the left field corner for another insurance run. In the span of 14 pitches, the Yankees went from down one to up three that inning. Most important inning of the season? To date, yes.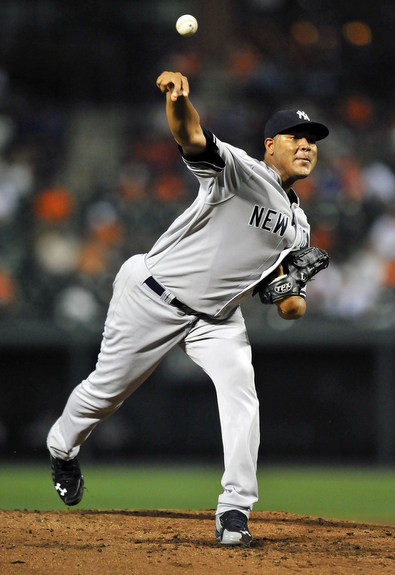 A Comedy Of Errors
The Orioles did the majority of their damage in the four-run fifth, an inning that featured way too much defensive hilarity by New York. The inning started when Eduardo Nunez pulled Reynolds off first base on J.J. Hardy's infield single, but to be fair, it was a very tough play in the hole. I'm not sure he would have gotten him even with a perfect throw. Nunez is pretty terrible on defense but that was far, far from a routine play. It happens.
Later in the inning though, Nunez threw away a slow infield chopper by Henry Urrutia to allow a run to score and put men on the corners with no outs. This one wasn't routine either but it is a play a big league shortstop should make. Replays showed the throw beat Urrutia but was simply too wide for Reynolds to catch while keeping his foot on the base. The next batter hit a fly ball to left to score another run, though it appeared Soriano's throw would at least make things close at the plate had A-Rod not cut it off near the pitcher's mound for whatever reason. The throw might have been off line and I kinda sorta get keeping the trail runner from advancing to scoring position, but it sure looked like there was a chance to get the runner out at the plate. Alas.
Those two (or three of you want to be hard on Nunez) defensive mistakes led to the first two Baltimore runs of the inning. The other two scored when Ivan Nova hung — like, put it on a tee hung — a curveball that Chris Davis hit out to dead center for his 49th homer. It was a no doubter and Nova's only real mistake of the inning. At the end of the night, Ivan allowed those four runs in six innings of work while throwing only 79 pitches (46 strikes). More on that seemingly quick hook in a second.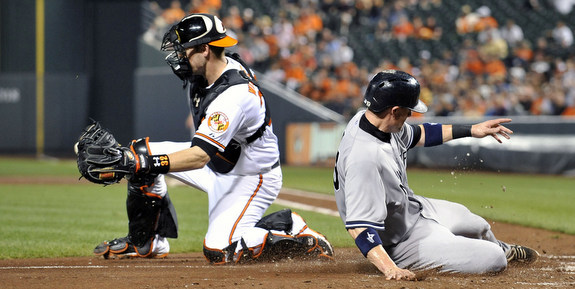 Leftovers
Shawn Kelley allowed a run in the eighth inning thanks to a walk, two wild pitches, and a sacrifice fly. Replays showed J.R. Murphy's throw beat Davis to the third base bag on the second wild pitch, but David Adams simply whiffed on the tag. Adam Warren tossed a perfect seventh and Mariano Rivera retired all four men he faced without a ball leaving the infield. It's the third time in his last four appearances that Rivera was asked to record more than three outs in a save situation. He's retiring in a few weeks one way or the other, so Joe Girardi might as well get his money's worth down the stretch.
The Yankees struck out 12 times as a team for the second straight game, the first time they've done that in back-to-back games since August 2003. A-Rod, Soriano, and Reynolds had two hits apiece and they were all extra-base hits. In fact, those three guys went a combined 6-for-13 with three doubles and three homers. Pretty awesome. Gardner, Cano, Granderson, Nunez, and Stewart had one hit each. Cano drew the only walk, just his second free pass in his last 23 games. Ben's not gonna have to eat that hat, you guys.
Manny Machado made a rather hilarious (rookie?) mistake during that eighth inning rally, but the Yankees did all their damage before that and didn't really take advantage. With Reynolds on second following his double, Ichiro Suzuki hit a little tapper back out in front of the plate that Matt Wieters picked up and threw to third. Machado caught the throw, stepped on third, then fired over to first … except there was no force at third. Reynolds was correctly called safe and Ichiro beat out the fielder's choice. That was a hoot.
The 2013 season in a nutshell: the Yankees won a big game and lost three players to injury. A-Rod (hamstring), Nova (triceps), and Austin Romine (concussion) were all removed with injuries. Joe Girardi didn't seem too concerned about A-Rod and Nova, but a concussion is a serious injury and they'll proceed carefully with Romine.
Number milestones: Rivera's save was his 42nd of the season and 650th of his career. The first number has some neat symbolism, the second … man that's a lot of saves. The most all-time, I hear.
Box Score, WPA Graph & Standings
MLB.com has the box score and video highlights, FanGraphs some other stats, and ESPN the updated standings. The Red Sox beat the Rays, so the Yankees are three games back of the second wildcard spot in the loss column. They Indians lost as well, so New York is one back of both the Tribe and Orioles. Cool Standings has their playoff odds at 11.7% with 17 games remaining.

Source: FanGraphs
Up Next
The Yankees and Orioles are just halfway through this four-game set. Andy Pettitte and right-hander Scott Feldman will be the pitching matchup in the third game on Wednesday night.