For the first seven innings on Wednesday, it looked like the Yankees were on their way to losing their fifth straight game without putting up much of a fight. A big eighth inning rally and some splendid escape work by Mariano Rivera resulted in a desperately needed 4-3 win over the Blue Jays.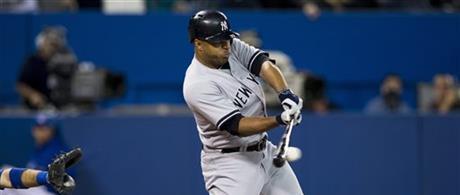 Runs Are Like Air: You Don't Appreciate 'Em Until You Stop Getting 'Em
Prior to this game, J.A. Happ had thrown a total of 24 pitches in the seventh inning in his 15 starts this season. He came into Wednesday averaging just 4.8 innings per start and only three times in those 15 starts did he complete six full innings of work. So, naturally, Happ threw a season-high seven innings (plus one batter) and only needed just 101 pitches to do it. It was the first time he threw a pitch in the eighth inning as a starter since April 10th, 2011. He allowed three singles, three walks, and one double.
Fortunately, that double came from Brendan Ryan to lead off the eighth inning. Manager John Gibbons lifted his starter — the "send the starter back out, then lift him after he allows the leadoff man to reach base" move, a personal fave — in favor of matchups galore. Lefty Aaron Loup allowed a single to Curtis Granderson in an 0-2 count, the only man he faced. Righty Steve Delabar struck out Alex Rodriguez on six pitches before Robinson Cano (one-run single), Alfonso Soriano (one-run double), and Vernon Wells (two-run double) followed with three straight hits. In the span of five pitches, the Yankees went from being down three with men on the corners and one out to being up one with a man on second and one out. Five pitches!
That four-run inning could have been a few more had the Bombers not shot themselves in the foot with a double steal — Mark Reynolds was thrown out at second easily — and by letting Lyle Overbay bat against a lefty. Joe Girardi had to know Gibbons would bring a lefty out of the 'pen when he pinch-hit Overbay, right? I guess he preferred Overbay against the fresh lefty to Eduardo Nunez against a laboring righty. Weird. The four runs did the trick though.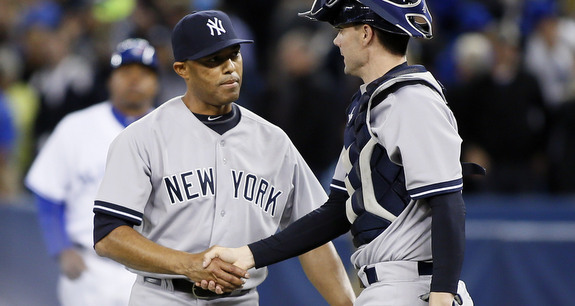 Escape Job
Once the Yankees had the lead, Girardi went to his two most trusted relievers for the final six outs. David Robertson recorded two quick outs in the eighth before Rajai Davis singled, and as soon as he (predictably) stole second, Girardi went to Rivera. Lifted Robertson right in the middle of the at-bat. Mo got Brett Lawrie grounded out harmlessly to second to end the threat.
Rivera came back out for bottom of the ninth after the offense failed to plate an insurance run in the top half — shout out to Ichiro Suzuki for stayed glued to first base after his leadoff single — and the Blue Jays immediately put something together. Adam Lind and Colby Rasmus opened the frame with back-to-back singles, and pinch-bunter Munenori Kawasaki was sent up to, well, bunt. He did bunt, but it was right to the charging Overbay, who threw over to third for the force out. A routine ground out by Ryan Goins and a three-pitch strikeout of the dreadful J.P. Arencibia later, the Yankees were winners. Rivera had two one with no outs in a one-run game and didn't allow a run. Pretty awesome. Vintage Mo, even.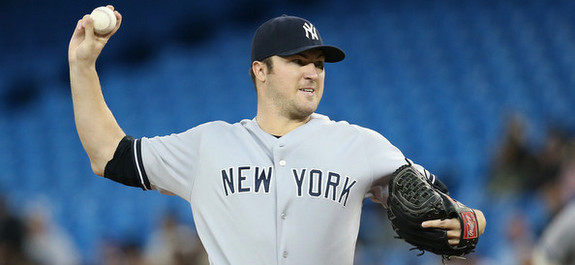 When Two Bad Pitchers Equals One Decent Pitcher
When Girardi first employed the tandem starter thing last week in Baltimore, Phil Hughes and David Huff combined to allow two runs in six innings. They were again effective on Wednesday night, putting together seven innings of three-run ball. That's a quality start! It's probably quite a bit better than what either guy could do on their own as a starter as well. They combined to strike out five (three by Huff) and zero walks.
I do think the whole tandem starter thing would work better if the pitching change was planned a bit better than what Girardi has shown in these first two games. It seems like he's simply replacing Hughes at the first real sign of trouble. A super short leash, basically. Phil allowed a two-run homer to Rasmus in the fourth and was lifted immediately, with Huff coming in to face the right-handed Moises Sierra. Wouldn't it have made more sense to bring in Huff earlier in the inning to face the lefty hitting Lind and Rasmus? I get that there's some "feel" to this whole thing, but still. Not allowing Hughes to face the other team's two best lefty threats a second time seems like the whole point of this tandem system.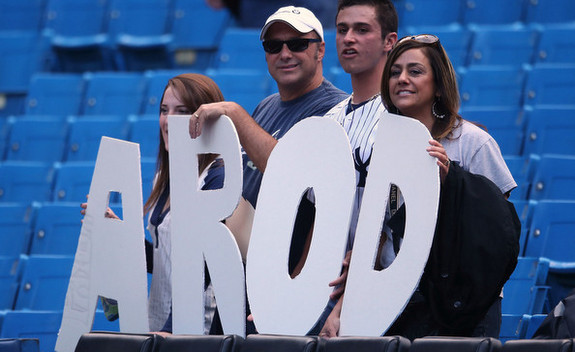 Leftovers
The 3-4-5 hitters did pretty much all the damage. Cano, Soriano, and Wells went a combined 5-for-11 with one walk while the other six hitters went 4-for-23 with three walks. Rookie backstop J.R. Murphy went 0-for-3 with two strikeouts and was the only starter who failed to reach base. Only two hitters — Granderson and A-Rod — saw more than 15 pitches on the night. This lineup … they're up there hacking. No doubt about it.
You can tell A-Rod's hamstring/calf injury is bothering him because his swing is almost all arms, kinda like late last year but not as extreme. He hit three balls right on the screws on Wednesday but all three were moderately deep yet routine fly ball outs. His timing is fine, but he's not getting anything from his legs to help drive the ball. That's no way to hit.
Prior to that four-run eighth inning, the Yankees had scored a total of three runs in their previous 37 innings. That went back to Cano's two-run game-tying double in the seventh inning of the series opener against the Red Sox.
Rivera has four appearances of four outs or more this month, one more than he had the last two years combined. Obviously he missed most of last summer with the knee injury. He's leaving it all out on the field this month.
At 28-15, the Yankees have baseball's very best record in one-run games this season. That means they have heart and know how to win, or something.
Box Score, WPA Graph & Standings
MLB.com has the box score and video highlights, FanGraphs some other stats, and ESPN the updated standings. The Yankees are three games back of the second wildcard spot in the loss column with ten games to play. Time's a runnin' out.

Source: FanGraphs
Up Next
At long last, this ten-game road trip is coming to an end. The Yankees are sending Hiroki Kuroda to the mound against right-hander Todd Redmond in the rubber game on Thursday.