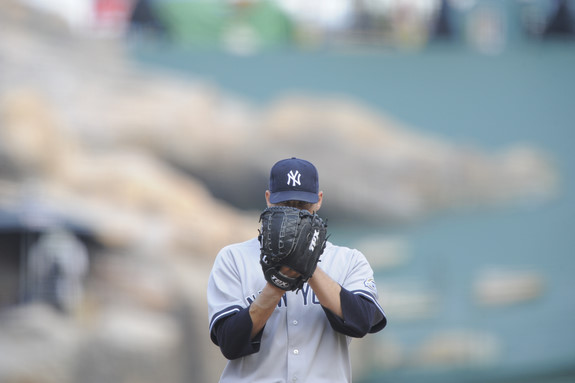 For the second time in three years, Andy Pettitte is retiring from baseball. The veteran left-hander announced his intention to retire following the season on Friday afternoon, prior to the start of the team's final homestand of 2013. Both Joel Sherman and Ken Rosenthal reported the news earlier in the day. Here is Pettitte's full statement:
"I'm announcing my retirement prior to the conclusion of our season because I want all of our fans to know now—while I'm still wearing this uniform—how grateful I am for their support throughout my career.  I want to have the opportunity to tip my cap to them during these remaining days and thank them for making my time here with the Yankees so special.

"I've reached the point where I know that I've left everything I have out there on that field.  The time is right.  I've exhausted myself, mentally and physically, and that's exactly how I want to leave this game.

"One of the things I struggled with in making this announcement now was doing anything to take away from Mariano's day on Sunday.  It is his day.  He means so much to me, and has meant so much to my career that I would just hate to somehow take the attention away from him."
Pettitte, 41, first announced his retirement following the 2010 season. He sat out the entire 2011 season before making a comeback in 2012, citing the itch to compete. The comeback was a successful one — 2.87 ERA (3.48 FIP) in 12 starts — aside from the fluke broken leg he suffered on a hard-hit comeback ground ball. That cost him close to three months.
The injury drove Andy to continue pitching in 2013. The Yankees re-signed him to a one-year contract worth $12M last November and he was in their rotation right from Opening Day. Pettitte has pitched to a 3.93 ERA (3.76 FIP) in 28 starts while missing time with back and lat problems this year. He had a real rough patch in the middle of the summer that made him look very much like the oldest starting pitcher in baseball, but Andy rebounded and has been the team's best starter for a good month now.
Pettitte owns a career 255-152 record with a 3.86 ERA (3.74 FIP) in parts of 18 big league seasons, all but three with the Yankees. He has gone 19-11 with a 3.81 ERA (4.09 FIP) in 44 career postseason starts and was an integral part of five World Championships. Andy is the Yankees all-time leader in strikeouts (2,009) while ranking second in starts (436), third in wins (218), innings (2780.1), and WAR (50.9), and fifth in games pitched (445). He's a borderline Hall of Famer andsimply the greatest Yankees starter many of us have ever seen pitch.
Andy is scheduled to start two more games this season — in Yankee Stadium this Sunday and one in Houston next weekend. It's fitting his final two games will come in the two cities he called home during his career. Mariano Rivera is retiring after the season as well, and it's kinda neat that he and Pettitte are going out together. The two have teamed up for 72 win-save combinations over the years, by far the most in baseball history. It's bittersweet to see Andy retire (again), and no, I definitely don't expect another comeback attempt down the line.