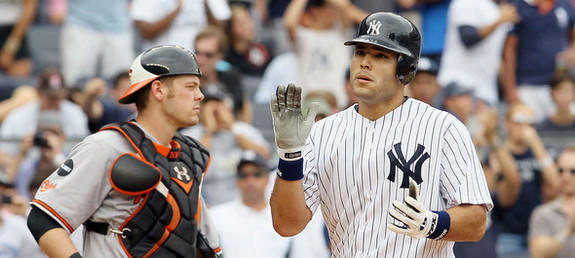 Like April, September is a fun month if you want to dream. Guys get off to hot starts in April and we hope it's a sign he's breaking out when no, usually it's not. Just a small sample size thing. September is fun in a different way because prospects are involved and everyone loves prospects. Their potential is limitless and every single one will be the next great Yankee. At least that's what we hope. Very rarely are we actually right though. It's the nature of the beast.
Shane Spencer, who whacked eight homers in 14 September games in 1998, remains the patron saint of September call-ups. Very, very rarely does someone come up when rosters expand and actually have an impact like that. Few get the opportunity, really. They have to produce right away to get a long enough look to make a difference. Spencer was a one of a kind, just like the entire 1998 team.
The Yankees have had a few notable call-ups in recent years, notable in terms of production and not necessarily their name. Guys who performed well in their limited opportunity. Let's take a look at how they helped the club.
2011: Jesus Montero
Despite getting subpar DH production all season, the Yankees waited until September to call up their top prospect. Montero, then just 21, hit .328/.406/.590 (167 wRC+) with four homers in 69 plate appearances that month, giving the lineup a shot in the arm. He actually made the postseason roster that year and singled in his only two October trips to the plate. Those 71 total plate appearances are all Montero has contributed to the Yankees to date given the amazingly unproductive trade with the Mariners the following offseason.
2010: Greg Golson
Golson was actually up with the Yankees for a few games earlier in the 2010 season, but he got the majority of his playing time as a pinch-runner/defensive specialist in September. He only received 18 plate appearances that month, but Golson will always be remembered for his game-ending throw to cut Carl Crawford down at third base in an important series against the Rays. The Yankees actually carried Golson on their playoff roster and regularly used him as a late-inning defensive replacement. He didn't make an impact with his bat, he did it with his glove and (especially) his arm.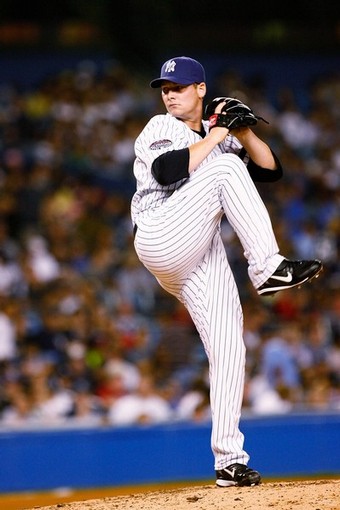 2008: Phil Coke
Prior to the 2008 season, Coke was nothing more than a fringe prospect who was in danger of being released should a roster spot be needed. He pitched well with Double-A Trenton that summer (3.01 FIP) and forced the Yankees to add him to the 40-man roster in September. Coke very quickly emerged as a bullpen force for Joe Girardi, pitching to a 0.61 ERA (1.63 FIP) in 14.2 innings while holding same-side hitters to a .227 wOBA. He didn't make the playoff roster because there was no playoff roster to make in 2008, but Coke came to Spring Training the next year with a bullpen spot that was his to lose.
* * *
The Yankees have had some veteran players come up late in the season and make an impact — 2006 Brian Bruney and even 2008 Cody Ransom come to mind — but they weren't September call-ups. They were brought up a few weeks earlier to patch holes created by injuries. As far as actual call-ups go, those three guys above are the only ones who made any sort of difference in the last decade or so. Montero was the golden child and the plan was to give him regular playing time right out of the chute, but Golson and especially Coke had to earn it. When they performed well, they earned a longer look.
I think New York has one call-up with a chance to play his way into something of a regular role both this month and potentially next year: Cesar Cabral. He made an impressive big league debut yesterday, most notably striking out both lefties he faced on six total pitches in a scoreless innings. It'll be rather easy for Girardi to find spots to use Cabral in the coming weeks. Dellin Betances has too many quality right-handed relievers ahead of him — at best, he's behind David Robertson, Shawn Kelley, and Preston Claiborne on the righty setup depth chart — to think he'll get a real shot this month. David Adams got a look earlier this year and Brett Marshall probably won't pitch much, plus J.R. Murphy figures to play third fiddle to Austin Romine and Chris Stewart as long as the Yankees are in the race.
September call-ups are more about adding bodies to soak up innings and at-bats in blowouts or in case of injury. Few players are actually called up and given an opportunity to legitimately help the club. The Monteros are few and far between. As long as the Yankees remain in the hunt for a playoff spot — they come into today three games back of the Rays for the second wildcard spot in the loss column with a 11.0% chance to make the postseason according to Baseball Prospectus — expect them to ride their regular players as long as possible. As usual, the call-ups are just along for the ride.