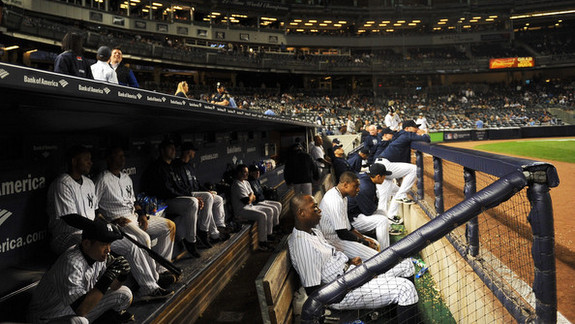 This was a question of when, not if. The Yankees were going to be eliminated from postseason contention at some point and that some point just so happened to be last night. As I said in the recap, it's pretty amazing they were still in the race after 157 games. They should have been dead in the water weeks ago. Let's start the eulogy:
1. I have absolutely no idea what to expect this offseason. Usually, after the season ends, we have a pretty good idea of what the Yankees will do over the winter, at least a general direction of some sort. This year? No idea. I could see them making serious changes — front office level changes — just as easily as I could see them tinkering and making little moves but nothing major. I could see them continue to target veterans or finally decide to go young. I really have no idea and that's actually kinda exciting. Exciting and nerve-wracking. This is going to be the team's most fascinating offseason in a long, long time. Maybe of my lifetime.
2. Just eyeballing the 40-man roster, the Yankees will have five open spots after the season. Twelve players are due to become free agents but six have to come off the 60-day DL, plus Frankie Cervelli has to come off the restricted list. Matt Daley, David Huff, and Mike Zagurski are under team control as arbitration-eligible players but are prime release/non-tender candidates, so it could be eight open 40-man spots. The Yankees have seven interesting at worst, very good at best prospects eligible for the Rule 5 Draft this offseason — the list is in last week's mailbag — so it'll be interesting to see how they handle the roster crunch this winter. Unless they go in-house to plug every hole (lol), they'll need to make 40-man space for like two starting pitchers, half a bullpen, the left side of the infield, at least one outfield spot, and the bench.
3. I wonder if the Phillies would have any interest in Ichiro Suzuki this winter. They were reportedly one of the teams that offered him a two-year contract this past offseason — the Giants were the other — so maybe they'll still want him for 2014. Obviously Ichiro has no trade value, but if the Yankees could flip him for like $2M in savings and a Grade-C prospect, they should jump all over it. Replacing a no-hit, all-glove fourth outfielder isn't exactly difficult, so the move would be all about saving a few extra bucks under that all-important $189M luxury tax threshold. Phillies GM Ruben Amaro Jr. can't help himself when it comes to big-name players. Maybe the Yankees will get lucky.
4. This season was cool for like three weeks and it started to suck after that, but it's still going to be sad when the season ends on Sunday. Baseball is all about routine and come Monday that routine will be broken. Yeah, the playoffs are always fun, even when the Yankees aren't involved, but it's not the same. Regular season baseball has this everyday monotony that can be described as both beautiful and awful. Playing every single day is both the best and worst thing about baseball. As frustrating as the 2013 Yankees were for most of the summer, I'm really going to miss them. I'm not ready for the offseason yet.