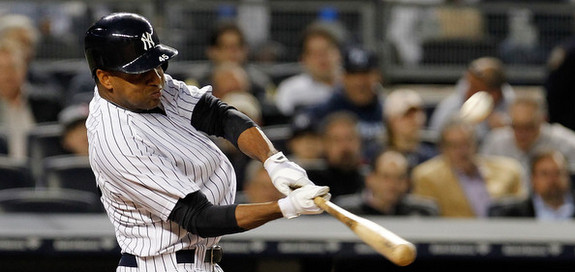 Last week we looked at the five longest homeruns the Yankees hit this season, so now it's time to flip the coin and look at the shortest. Given how hilariously homer-friendly Yankee Stadium plays, you can be sure the Bombers hit a ton of cheap homers. Not as many as they hit in Fenway Park though — the four shortest outside-the-park homers were hit in Boston this year. That kinda surprised me, but I guess the Green Monster and Pesky Pole offer some advantages.
Anyway, as I mentioned last week, the Yankees hit 101 fewer homers in 2013 than they did in 2012. That's the largest single-season drop from one year to the next in baseball history. That decline probably would have been much greater if not for the short right field porch in the Bronx, which saw its fair share of cheapies this summer. You know what I'm talking about, the homers that hit off the top of the wall or just sneak over. The ones that make you chuckle. With a big thanks to Hit Tracker, here are the team's five shortest homers from this past season.
August 13th: Alfonso Soriano vs. Joe Blanton (video)
I was at this game! That's kinda fun. The Yankees demolished the Angels during a four-game series in the middle of August, and this game featured two homers by Soriano. The first was a normal-distance two-run shot that turned a one-run deficit into a one-run lead, but the second was a three-run shot that really turned the contest into a laugher. The full count slider caught a little too much of the plate, and Soriano lifted it out to right field for a dinger off the top of the right field wall. We've seen some cheap homers change games dramatically, but not this one. It was already a blowout. Distance: 339 ft.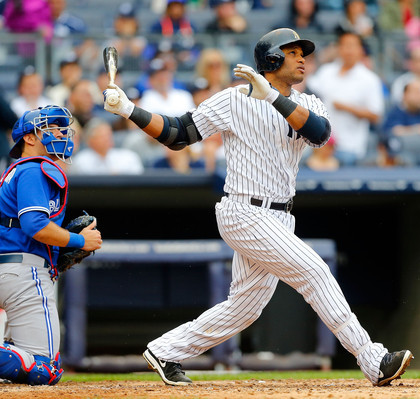 May 18th: Robinson Cano vs. Brandon Morrow (video, 0:43 mark)
Another two-homer game, this one with two two-run homers for Cano. Both came against Morrow, but it's the first that winds up on our list. This one was a line drive more than a high fly ball, making it a little more legitimate in my opinion. Those balls that hang up in the air and land just over the wall rather than settling into the outfielder's glove as a can of corn are the ones that make me roll my eyes. Cano hit this one right on the screws and gave his team a much more comfortable 3-0 lead. His second homer off Morrow was a bomb into the bleachers in right-center. Gone off the bat, no-doubter … all that stuff. Not a candidate for this post, basically. Distance: 338 ft.
July 28th: Soriano vs. Matt Moore (video)
This game was memorable for several reasons. First, the Yankees honored Hideki Matsui's career prior to the game with on-field ceremony in which Godzilla officially signed his retirement papers. Second, Derek Jeter made his (second) return from the DL and homered on the first pitch he saw. Third, Soriano, who had just been acquired from the Cubs, had his first big "welcome back to New York game," going 4-for-5 and driving in three runs. Two of the three scored on his third inning homer, which just snuck over the right field wall to give the Yankees a one-run lead. Watching the replay, you can almost see the exact moment Soriano had the epiphany and realized how friendly the right field short porch can be. Distance: 338 ft.
August 27th: Soriano vs. J.A. Happ (video)
Yep, Soriano again. Of his 17 homers with the Yankees this year, six were classified as "Just Enoughs" by Hit Tracker, meaning they cleared the wall by less than ten vertical feet or landed less than one fence height behind the wall. Unlike the other homers in this post though, this one was not hit in Yankee Stadium. It's yet another two-homer game, with the second one being a third inning solo shot that literally hit the top of the Rogers Centre left field wall and scooted over for a dinger. With all due respect to Kevin Pillar, a better fielding (better jumping, really) left fielder has a chance to bring this one back. Distance: 337 ft.
May 1st: Ben Francisco vs. Erik Bedard
Yes, Ben Francisco actually hit a homerun as a Yankee. Just one though, and in fact this was the only run he drove in during his 21 games (and 50 plate appearances) in pinstripes. The dinger required a perfect storm: a homer-prone (1.1 HR/9) left-hander in Bedard, a belt-high 89 mph fastball in a 2-0 count, and a ballpark that was just small enough to let the ball carry out. To his credit, Francisco hit the homer out to left field  and didn't take advantage of the short porch in right. The MLB.com video isn't working for whatever reason, but fast-forward to the 0:30 mark of the embedded video above for Francisco's season-short tater. Distance: 335 ft.
The 30 clubs combined to hit 4,661 homeruns this past season. Of those 4,661 homers, only eleven traveled a shorter distance than Francisco's according to Hit Tracker. Two of those eleven were inside-the-park homers, and, believe it or not, there was even one inside-the-parker that traveled farther than Francisco's blast — Angel Pagan's walk-off inside-the-parker clanked off the AT&T Park right field wall 388 ft. from home plate. Pretty crazy.