The 2013 season is over and now it's time to review all aspects of the year that was, continuing today with a young player who failed to take advantage of a good opportunity.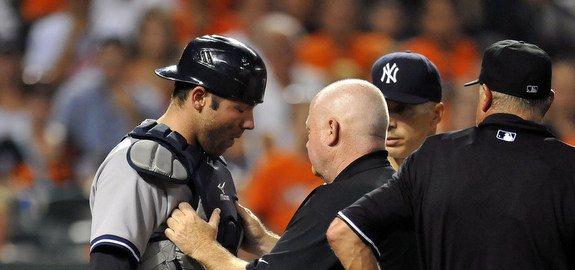 After Russell Martin signed with the Pirates and the Yankees declined to bring in another catcher, it was obvious Austin Romine would get a chance to play at some point this past season. He was slated to open the year with Triple-A Scranton while Frankie Cervelli and Chris Stewart held down the fort at the big league level, but the opportunity was inevitable. Either someone would get hurt or play their way off the roster.
Sure enough, the opportunity came towards the end of April. Cervelli took a foul tip off his right hand and was expected to miss several weeks with a fracture, but a setback and a 50-game suspension eventually ended his season. For all intents and purposes, Romine was the backup catcher to Stewart this season. The opportunity came and it came early.
The first ten weeks in the show were a total disaster for Romine. He hit .132/.145/.176 with 17 strikeouts and zero walks (!) in 71 plate appearances from late-April through mid-July, a span of 23 starts and 32 games played. I get that playing sporadically — it was obvious Joe Girardi had an affinity for Stewart and would play him whenever possible — is tough to do, especially as a kid when you're used to playing everyday, but man were the first weeks ugly for Romine. He looked completely overwhelmed.
Romine spent several weeks working with hitting coaching Kevin Long while also getting input from his father Kevin, a former big league outfielder with the Red Sox. His performance started to turn around in mid-July, right before the All-Star break. Romine played in three of four games before the break and went 3-for-8 with a double and his first walk of the season, which was something to feel good about. I think that "something to feel good about" part was rather important. There's no doubt the kid needed a confidence-booster.
The playing time remained sporadic immediately after the break but Romine kept hitting, enough that Girardi started playing him a little bit more. He started ten of the first 25 games after the break and went 13-for-32 (.406) with five walks, four doubles, and his first big league homer, a monster solo shot to dead center field at spacious Petco Park. Three weeks later, he had his best at-bat of the season, working a nine-pitch bases-loaded walk against David Price.
The mini-hot steak came to an abrupt end in mid-August and Romine went only 3-for-27 (.111) with seven strikeouts the rest of the way. His season ended on September 10th against the Orioles, when he took a foul tip to the face mask and suffered a concussion. Romine was actually cleared to play late in the season but Girardi didn't take a chance. They basically shut him down for the year, which was a wise move.
All told, Romine hit an awful .207/.255/.296 (48 wRC+) with just the one homer in 148 plate appearances this season. He only threw out eight of 38 attempted base-stealers as well, a well-below-average 21%. I thought he was okay on balls in the dirt and stuff like that, but who really knows. There isn't an easy or reliable way to quantify that stuff.
What we do know is that Romine was terrible at the plate and at throwing runners out. Really terrible. The little hot streak was encouraging but who knows if it was a glimpse of what he can really do or just that, a hot streak. Either way, Romine was given a great opportunity this summer and he couldn't capitalize. The starting catching job is wide open both right now and for the foreseeable future, yet he was unable to take advantage. Romine could have cemented himself in the team's long-term plans with a strong showing this summer, but it just didn't happen.